I recently picked up a used set of Mavic Aksium Race wheels. They're several years old, at least, but seem solid. My intention is to use these not for touring, but for unloaded gravel riding. The wheels use 20 bladed spokes, as opposed to 32-spoke wheels I've more commonly used, this means that they're probably not quite as robust, but somewhat lighter.
The rim is 15mm internal wide (about 20mm external). I'd prefer a bit wider, but this'll do for now. The wheelset came with skewers, as well as tubes and tires (Maxxis Raze 700×35), and set up for singlespeed. I payed $100 for the set.
I swapped the singlespeed over to an 8-speed cassette, after messing around with both 7-speed and 9-speed setups. (See notes below for info about required spacers).
The weights seem good. I have not weighed the wheels naked, but setup ready to roll, the front is at 1336 grams (2.95 pounds) and the rear is at 1852 grams (4.08 pounds). I found some 2010 specs online that say the front wheel is 900 grams and the rear is 1064 grams, which was rated as a "reasonable weight". So I guess they're decent, certainly lighter than what I had before.
I installed the wheels on my Nashbar 4050. The bike originally had 27-inch wheels, but there was enough brake reach adjustability to handle the switch. The bike was also using 126mm rear hub spacing, and the Mavic is at 130mm, but the wheel fits in there with just a bit of persuasion.
I think the black rims look pretty cool with the yellow bike. The Maxxis tires seem to roll pretty well; I'm very impressed with them so far, actually. The tire clearance on the frame is not huge. I think I could go at least 40mm in the front, and a max of about 37mm in the rear. The Maxxis Raze tires are supposed to be 35mm, but actually measure closer to 33.
All together, I probably dropped about 1.7 pounds by switching to the new wheelset (compared to the old 27-inch wheels and tires). That's a good upgrade!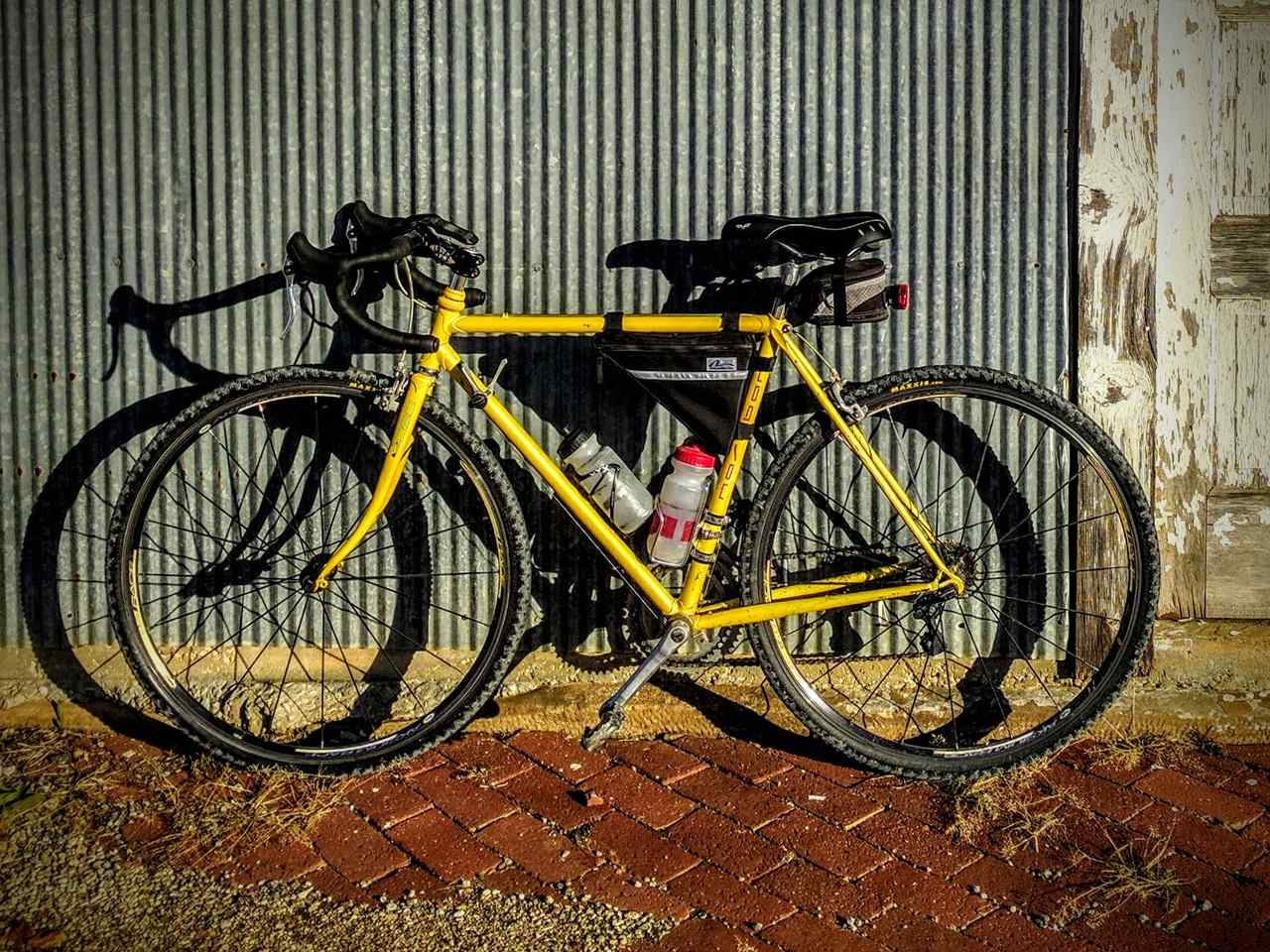 Mavic Spaces and Cassette Compatability
The following info is primarily for my own reference, but others may find it helpful as well:
The rear freehub on Mavic Aksiums is a bit odd. It has the same spline pattern as a Shimano freehub, but it's longer than a Shimano hub. So to run a Shimano cassette, it needs a spacer. A 1.75mm spacer (Mavic part number M40417) is supposed to be included with the wheel when purchased new, but since I bought it second-hand, it came without a spacer. Here's how it is supposed to be used:
For a Shimano 7-speed cassette, use the included spacer, plus a standard 4.5mm cassette spacer.
For a Shimano Hyperglide HG8 8-speed cassette, use the included spacer.
For a Shimano Hyperglide HG9 9-speed cassette, use the included spacer.
For a Shimano Hyperglide HG10 10-speed cassette, use the included spacer, plus a 1mm spacer included with the 10-speed cassette.
For a Shimano 11-speed cassette, no spacer required.
Not 100% sure about 11-speed, but that's what I've read. As for SRAM and Campaganolo cassettes, I don't know or care, at this point. More info: Sheldon Brown
In my case, with an 8-speed cassette, I robbed a spacer from the singlespeed kit; not sure what size it is, but it seems to work. The spacer goes on first, then the cassette.