I'm back home from a short 4-day 3-night tour on the Prairie Spirit Trail (PST) and the Flint Hills Nature Trail (FHNT). Here's the route, followed by a narrative, and a bunch of photos!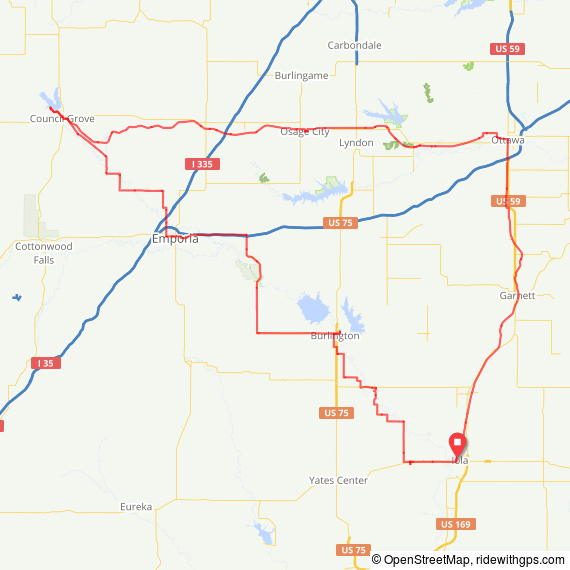 Three of us (myself, Kimberly, and Jay) took off from Iola Tuesday morning, and rode the PST north to Ottawa, pausing in Garnett for lunch. We had a nice tailwind, and so it was a fairly easy ride. In Ottawa, we ate and early dinner, then attended a community event that included a ceremonial signing of the bill designating the FHNT as a Kansas State Park. The event also presented Ottawa's concept for an outdoor event space at the intersection of the PST and FHNT, called Legacy Square. Very impressive!
We also had the chance to meet and chat with Kansas Governor Jeff Colyer. Kimberly and I were on the front page of the Ottawa Herald newspaper story about the event: Flint Hills trail becomes state park
Pretty cool, huh?!
Unfortunately, Ottawa doesn't have any good camping options, so with daylight fading fast, we had to skip out of the event a bit early, and get onto the FHNT, bound for Pomona State Park. We made it just before darkness fell, and got our tents set up. Doug had preceded us, and secured a nice campsite. Thanks, Doug! First day: 76 miles
The next morning started with breakfast at the Lamont Hill Restaurant, followed by  13 miles or so to Osage City. Jay split off from us to ride solo to Topeka, so it was just me, Kimberly and Doug. The FHNT east of Osage City had some soft spots, but no goathead thorns, thankfully. After restocking with food and drink in town, we headed west on the FHNT. The section between Osage City and Admire is roughest part of the trail, currently. It's been mowed, and sprayed, but the original railroad ballast is still in place in some sections, and some bridges are unimproved. As I understand it, this part of the trail between Vassar (Pomona State Park) and Admire is next on the schedule for improvements.
West of Admire, the trail is much better, and the scenery is outstanding. Out in the open Flint Hills, the green lushness of it just takes my breath away. Closing in on Council Grove, there is a long gradual climb. Once in CG, you can stock up on provisions (we ate at the historic Hays House restaurant), before riding north a town for a few miles to get to the campground at Council Grove Lake. Day 2: 59 miles
After a nice night of sleep at the lake, we breakfasted at the Saddlerock Cafe. Doug decided to ride the FHNT back east, while Kimberly and I rode southeast on roads (both paved and gravel), with a wonderful tailwind. We cruised through Dunlap and Americus, before stopping in Emporia for lunch and a visit to the Gravel City bike shop. After lunch, we rode on, though Neosho Rapids and Hartford, to our campsite along the Neosho River in Burlington. Day 3: 76 miles
For our last day of the tour, we rode quite a bit of gravel, from Burlington to Leroy to Neosho Falls to Piqua, then back into Iola on the lovely wide shoulder of US-54 highway. Day 4: 42 miles
Gear Notes
I wasn't happy with my tire choice. I was running 700×35 Schwalbe Marathon XR's. They have a reputation for ruggedness, but it comes at the cost of a harsh slow ride. With the rough surface of the FHNT, and even some gravel roads, it was beating me up pretty bad.
Kimberly rode her Salsa Fargo with 29×2.2 Vittoria Mezcal tires. She was a lot more comfortable on the rough stuff, and no slower on smooth road and trail. I was jealous. She was also running a bikepacking setup — Green Guru seatbag, Blackburn bar harness, blackburn fork cages, stem-mount feed bags for hydration — and that seemed to be a very good setup. I am intrigued…
I still like my front basket! Being able to carry a cold drink in a styrofoam cup is so nice.
Not sure if it was the poor tires, or the bike in general, but this was the first tour where I wasn't happy with the Retrospec Amok as a touring bike. Thinking about a more bikepacking-oriented rig for future off-road tours. Bigger/better tires for sure.
If I go with a bikepacking-style setup, I'll probably have to swap my Z-Rest foam sleeping pad for an inflatable pad, just for pack volume. I'm comfortable with the foam pad, but it takes up so much space!
All of my other gear and clothing choices worked great, as usual.
Photo Dump