I just finished up a short bike tour in eastern Kansas. It ended up being just over 400 miles in 7 days. The tour was about half solo and half with a small group.
The group had originally been scheduled to ride the Biking Across Kansas tour, but that event was canceled due to the COVID-19 pandemic, so they decided to do their own version. They had someone drive them out to the Colorado border, then rode the Trans-America Bicycle Route through mid-Kansas, before shifting over to ride the Flint Hills Trail, ending up at the Missouri border.
I opted to ride a loop, starting and ending in Iola, and overnighting in Madison, Cottonwood Falls, Hillsboro, Council Grove, Pomona, and Richmond. I met up with the group in Hillsboro, and split off from them in Osawatomie.
I rode my Salsa Journeyman, set up pretty much the same way as on my 2019 tour, except:
I used a 650b wheelset (the stock wheelset), shod with Panaracer Gravel King tires (650b x 48), setup tubeless. I've had these tires for awhile, but it's the first time I've used them on a tour. These are semi-slicks, with a nice comfy ride and seem to roll pretty well. They worked flawlessly.
I had to retire my Moosetreks frame bag after its zipper failed. This was a fine bag, but once the zipper goes, it's kind of useless. My understanding is that the zipper has been improved in later models of this bag. I replaced it with an Ibera Triangle Frame Bag, which is an inexpensive Chinese brand. Probably not the greatest quality, but I had it on hand, and it worked fine on this tour.
I used some new panniers, Altura Ultralite Vortex 30 Panniers. Altura is a UK brand, and this particular model seems to be discontinued. It's basically a pair of dry bags that can be attached to a rack. The mounting system is very fiddly and not designed very well, but with a bit of extra velcro, I made it work, and the panniers worked fine on this tour. Their main advantage is weight, which at 550 grams, is considerably less than a pair of Ortlieb Backroller Panniers (1900 grams for 40 liters), and less than a single Roswheel Sahoo 14891 Pannier (720 grams for 15 liters), which is what I used on the 2019 tour.
Since I ran a pair of rear panniers, I dropped the handlebar roll bag that I had used on the previous tour.
I added a pair of Topeak Versacage's to the fork. I used them to hold extra hydration: a Nalgene-style bottle on one side, and a Gatorade bottle on the other, each in an insulated bag. Not sure if that's the most efficient use of those cages, but it worked fine.
For even more water capacity, I added an insulated bag attached to the rear rack. I ended up not using that water too often, but with long dry hot miles through remote Flint Hills country, it was reassuring to have.
I ran aero bars again, in a similar configuration as last time. Although I did occasionally use them for their intended purpose, I actually value them more as accessory mounts. In this case, I used them to carry a bluetooth speaker (Puridea), and an extra bottle between the bars. The bungee straps provide a place to attach even more small items, if needed. Here is a picture of my cockpit. A bit busy, perhaps, but very flexible and functional: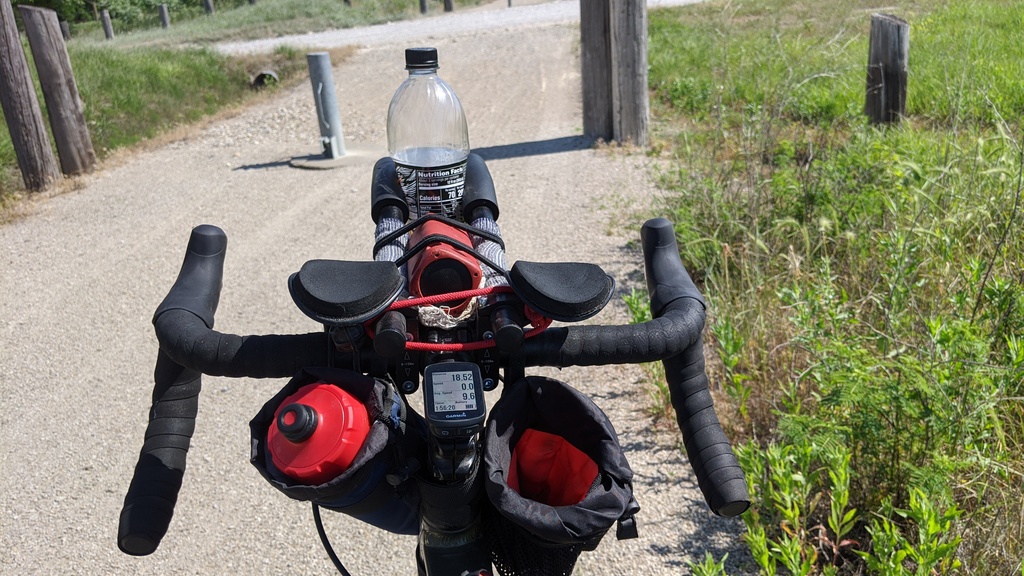 Some more photos from the trip: