With the heat wave that's stalled over the midwest finally breaking up a bit, temperatures have moderated, and made it more comfortable to be outdoors. I haven't really been bicycling all that much, but did manage to get away for an overnight camping trip recently.
My destination was Richmond City Lake, about 55 miles southwest of my house. The lake offers free camping, so I wanted to check this out and get some pictures for Kansas Cyclist.
I'd had thoughts of making it a three-day trip, spending the middle day making a loop southwest of Garnett, but my wife wanted me home, so it became a simple overnighter.
In all, it ended up being just over 120 miles. Would have been closer to 55 each way, but I meandered and did some exploring along the way.
Some pics:
This is a former railroad bridge on the Flint Hills Nature Trail, just west of Ottawa. The trail group is still in the process of working on this section of the trail (and indeed, the "finished" part ends just west of this bridge). The bridge is over the Marais des Cygnes River, and there's a low-water dam just upstream from the bridge, so it's a rather scenic place.
The bridge is missing railings, but with the smooth and wide concrete deck, it's not scary to ride over at all.
This is me, leaning against an old building in downtown Richmond, Kansas. Not many services in the little town — a water fountain at the Prairie Spirit Trail trailhead, and a soda machine in front of the gas station. Luckily, I had filled up on food and drink earlier.
This is the view from my campsite at Richmond City Lake. Clouds were gathering, and the air was mostly still, so there was a nice reflection off the water. Beautiful sunset.
Here's my campsite the following morning. I had originally set up the tent near the fire ring, but impending rain had me reconsidering my choice. I didn't want to be surrounded by mud, in case it really rained. So I ended up moving the tent onto the (dried) grass.
It rained (or, more accurately, sprinkled) off and on throughout the night, but it never really amounted to much. Still, it was nice falling asleep to the sound of raindrops on the tent fly.
There were a surprising number of people at the lake. Most were fisherman, who ended up leaving my 11pm or so. One vehicle came in late, drove back to my campsite, then turned around and drove out. Saw them shining a spotlight around as they left, so I expect that was a sheriff's patrol. Good that they check up on the place.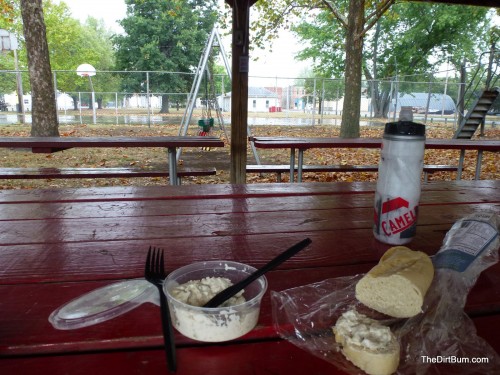 After a bit of breakfast and packing up the tent, I headed east towards the town of Greeley. By the time I reached it, it was raining pretty good, so I pulled off into the local city park and enjoyed a second breakfast of chicken salad on sourdough bread.
This rather creepy clown swingset was in the Greeley city park. Wonder if the little ones have nightmares about that — I thought it kinda had a freaky vibe…
Soon enough the rain let up and I moved on. I came across this unique mailbox made of a mixture of bicycle, motorcycle, hand plow, and who knows what else. Neato.
As soon as I left Greeley, the rain picked up again, but it was still pleasant riding. Very little traffic on a Sunday morning, as I rode east to the town of Parker. The rain let up and the sun came out as I traveled north through Osawatomie, Paola, Hillsdale, and Spring Hill.
It was a great little trip; wish it coulda been longer!