Another weekend bicycle camping excursion, this time with a more urban flavor.
My wife wanted to go to an estate sale at 47th & Woodland in Shawnee, so I decided to take along the bike and start from there. That gave me a bit of a head start, allowing me to avoid some familiar roads, while spending more time exploring.
The destination was Leavenworth State Fishing Lake, which is located in Leavenworth County, Kansas, near the town of Tonganoxie.
My first challenge was to get over the Kansas River. There are very few bridges in the city that are bicycle-friendly, so choices are limited. I opted for the K-7 bridge. It's a 4-lane divided road (nearly a freeway), but it has decent shoulders. I've ridden it before. It's not pleasant, but safe enough.
Or would be, under normal conditions.
Unfortunately, there was bridge repair work going on, and it was one lane each way, with minimal shoulders. But I made it across the river without incident.
Once across, my plan was to get off at the first exit and take K-32 Highway. Of course, that exit was closed due to the construction, so I ended up staying on K-7 for another few miles, but there was good shoulder, so not a big problem. I got off the highway at State Avenue, which is a 4-lane rural/suburban arterial road. Not much better than K-7, but traffic was rather light on a Saturday morning, so it worked out.
I stopped by at the National Agriculture Hall of Fame. I've been inside, though it's been a few years ago, but it didn't look much different from the outside. No one else was around, it appeared.
This sign, in Wyandotte County Park, tells some of the history of Kansas City, Kansas.
And this sign provides information on the Indian tribes that lived here, or were relocated here.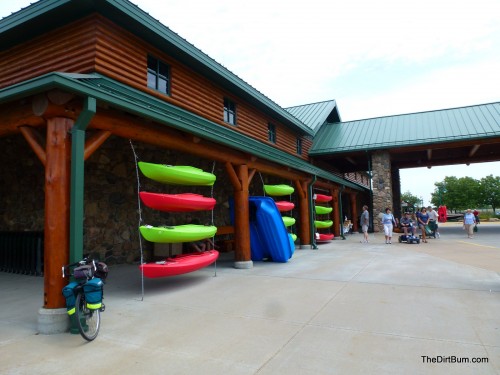 Next stop was Cabela's, which bills itself as the "World's Foremost Outfitter", and is, improbably (at least to me), the top tourist attraction in the state of Kansas. I stopped in to check out some camping gear, but the store is primarily hunting and fishing stuff. No bike rack, naturally.
I rode around Wyandotte County Lake, which I'd never visited before. Very pretty.
This wall (and much of the stonework around the lake) was built in the 1930s by the WPA. Impressive.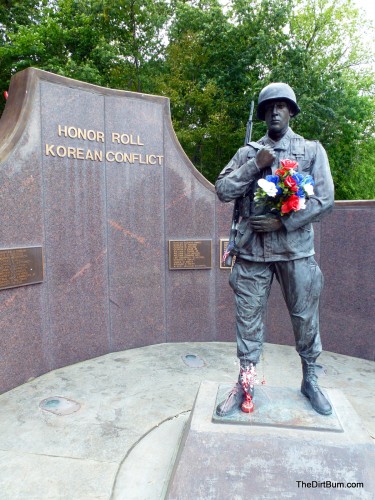 The Veteran's Memorial at the lake focused on the Korean and Vietnam wars. The flowers were a nice touch, though the "Made in China" labels on them seemed ironic.
This is Stranger Creek, northeast of Tonganoxie, as viewed from the Leavenworth Road bridge. The bluffs don't feel like Kansas at all!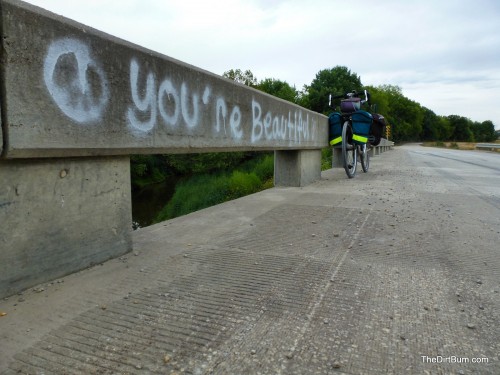 "You're Beautiful" … indeed!
In Tonganoxie, the old railroad depot has been preserved, but is now for sale.
This mural in downtown Tonganoxie depicts horse-drawn wagons on a muddy main street.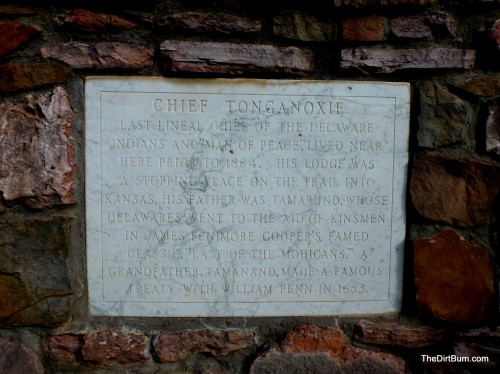 This marker tells the story of Chief Tonganoxie of the Delaware Indians, for whom the town is named.
Heading out of town towards the Leavenworth State Fishing Lake, I encountered this sign. Meant for other types of "bikes", I imagine, but I'll take it.
The road leading to the lake was curvy, tree-lined, and very scenic.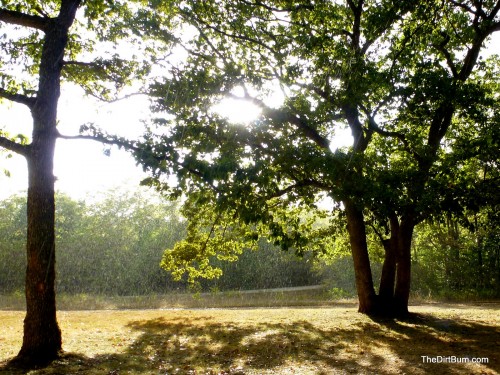 I reached a campsite, sat down at a picnic table, and had a bite to eat. While I did so, the rain arrived. It was a nice little shower, but didn't last long, and was kind of surreal, with bright sunshine filtering through the trees as the rain fell.
Soon, two trucks pulled in to the next campsite over, and several teenage boys started setting up camp. Loud talking about beer and calling friends to join them convinced me to move on and find a quieter place to pitch my tent.
The next camping area down the road proved to be just such a place, so I went ahead and set up the tent.
(The sharp-eyed will notice that this is a different tend than I normally use. This is, in fact, a new tent I'm testing out. The main advantage being a 2.5-pound weight, versus about 6 pounds for my old Eureka. The downside is it's smaller and less well ventilated. I'll save further comment until I've had a chance to use it for a few more trips…)
Unfortunately, the peace was short-lived.
After it began to get dark, and I had settled into the tent to sleep, a large groups of young boys pulled in and began to deploy their camp. Yelling, screaming, running, fighting ensued.
I thought it was quite rude to show up after dark and make so much noise, but there wasn't much I could do about it. They had every right to be there. And I didn't expect a request for quiet would do much good, at least for long. I could envision their raising hell for half the night.
So, amidst much grumbling and no small amount of cursing under my breath, I packed up the tent and left.
At that point, I didn't know if I'd find anything better, in the dark, but it could hardly be worse. If nothing else, I figured I'd stealth camp if all the formal campgrounds were unacceptable.
But I was in luck. I backtracked to a campground that I'd bypassed earlier, and found it empty.
I found a flat spot, set up my tent, crawled in, and crashed in the blissful silence.
Oh well, at least I got to practice taking down and putting up my tent in the dark, which is always a useful skill…
This was what my campsite ended up looking like the next morning.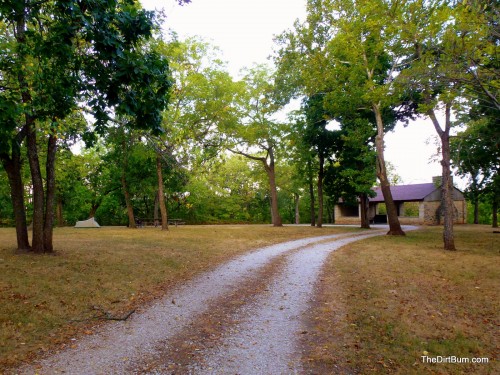 And a broader look at the campground in the morning light.
Heck, this was much nicer than either of the two campgrounds I'd tried earlier. Third time was indeed a charm!
On the way home, I stopped at the Delaware Indian Cemetery near Eudora.
I crossed back over the Kansas River at Eudora, where these boaters were working their way through some snags in the low water.
And these soft-shelled turtles were basking on a sandbar in the river.
I made it back home with about 110 miles over two days. Some frustrations, but a good little trip nevertheless!