I've been itching to get out on a bicycle tour for months, and one thing or another always seemed to get in the way, but I finally got my chance the second week of July.
I'd hoped to get away the weekend before, but brutally hot conditions caused my wife to veto that idea (instead, I did a long one-day Beat The Heat ride). But with temperatures moderating slightly (mid-90's°F instead of 100+°F), I decided to go for it. And good thing I did, because after I got back, the temps have shot right back above the century mark…
(Warning: This is gonna be a rather long post! So settle in for a few words and many photos…)
Here's a rough map of my route:
I'm showing the route beginning and ending at the high school in Spring Hill, Kansas. I actually started at my house, but in an effort to maintain a bit of privacy, I fudged the start/end point.
I had several purposes for the trip. Mostly, I just wanted to tour. But this also gave me a chance to check out and get photos of some campsites (and potential campsites) for the bike camping directory at Kansas Cyclist. I also wanted to check out the Gunn Park Trails in Fort Scott, and test out the strange Fort Scott Bicycle Registration Ordinance.
---
Day #1 – Home to Marais des Cygnes Wildlife Area
Here's the loaded bike prior to launch. Pretty much my normal touring setup. A few minor differences:
I have a new warm-weather sleeping bag, an REI Travel Sack. It's rated for 55°F, so should be perfect for summer. Plus it's about half the weight and size as my old sleeping bag.
Knowing I might be in remote areas, I brought an extra water container, a 64-ounce bottle that formerly held cranberry juice. That, plus two 21-ounce insulated bottles and a non-insulated bottle, should be enough.
I brought along a soft-sided cooler, in which I can keep food or water semi-cool. That goes in one of the panniers.
I rode east, then mostly south, detouring to Drexel and then to Amsterdam for supplies.
Empty coal cars after feeding the beast …
… the La Cygne Power Plant. Looks like they're adding on. The new tower is different than the older one's so not sure what's it's purpose is.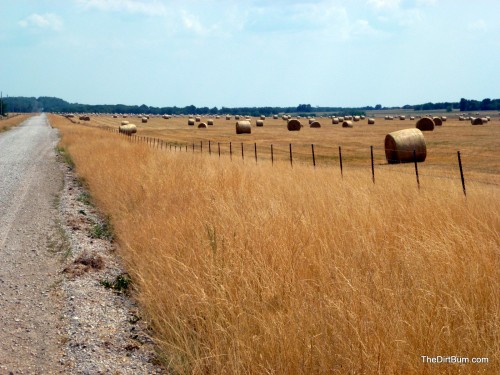 This dried grass was an amazing color, but sure did produce an abundance of hay!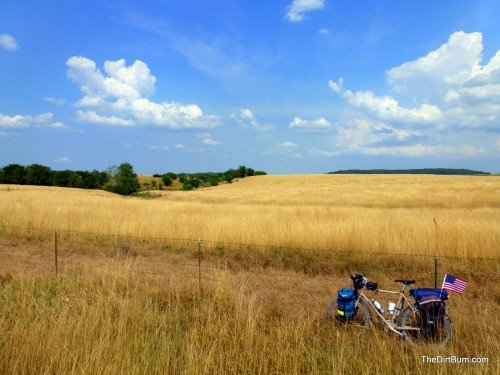 Across the road from the hay field was this unmown field, and some slightly hillier country.
The heat, which had been pretty mellow in the morning, was beginning to close in by mid-afternoon. I was glad I had taken the detour to Amsterdam to fill up on extra fluids. I thought I had one more opportunity before my campsite, but I wasn't 100% sure it'd be open, or have water.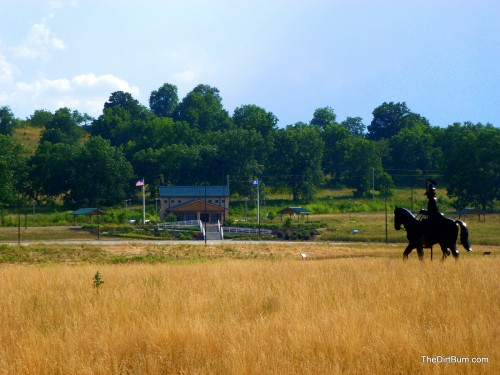 But I needn't have feared. The rest area along US-69 highway, near the town of Trading Post, has water, restrooms, and vending machines. I filled up all my water and jugs, and headed on to my campsite in the Marais des Cygnes Wildlife Area.
I hadn't realized how beautiful it was along the Marais des Cygnes River. Lots of fish swimming in the river — bass, carp, gar, some I couldn't identify — made me wish I'd brought my fishing gear (not the last time I'd wish that).
This is where I camped along the river. There are just a few "designated campsites" on the Wildlife area. This happened to be the first I came to, and it looked nice, so I stopped and set up camp. No services (water or electricity or toilets), just this picnic table and fire ring, but no traffic, either. I was here for around 12 hours, and only one truck came by. I could hear the highway (about 1 mile away), but just barely. I hardly needed the fire, but it's somehow comforting nonetheless.
This turned out to be the best campsite on the whole trip!
Day #1 total: 72 miles
---
Day #2 – Marais des Cygnes Wildlife Area to Fort Scott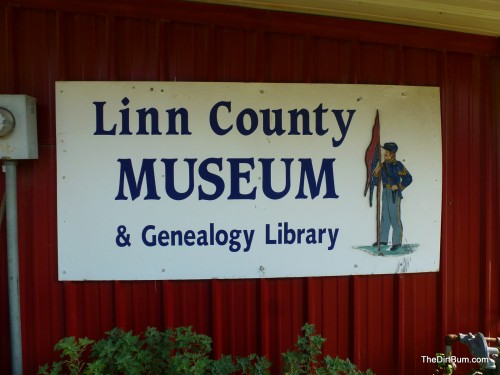 First stop was Pleasanton, where I grabbed some food and drink, and checked out the Linn County Museum, which was unfortunately closed. However, the city park had a restored train depot, moved from the nearby town of Goodrich. Just seemed to be an empty shell, though.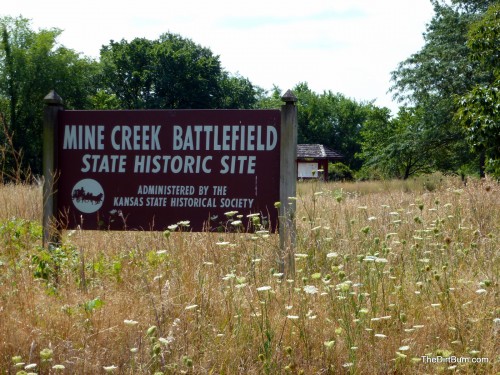 Heading south, my next stop was the Mine Creek Battlefield State Historic Site. I've been in the museum before, so I didn't go there, but instead went to this former roadside park, now mostly grown up in weeds, though there's an informational kiosk, and a trail (pedestrian only, no bikes allowed 😕 ) that leads to part of the creek itself.
Continuing south, I found some nice rollers.
The next town was Prescott, which had two beautiful old schoolhouses. This one, which was originally the Prescott Rural High School, and then was Prescott Elementary, and is now Prescott City Hall, was built in 1924, and is on the National Register of Historic Places. Walking inside, you find most of the original interior intact, and maintained. The old gymnasium, old lockers, schoolrooms, restrooms … it's like stepping back in time. The high school closed in 1972, and the elementary school in 2006.
Small-town schools are often sad places, so much of the heart of a town dies when a school closes and kids are bused off to bigger towns. But this one still serves a useful and important purpose for the town, so it's better off than most.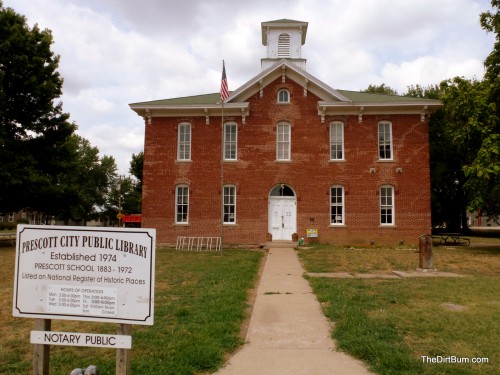 The nearby Prescott School is another one that's been saved, and repurposed. Built in 1883, and holding classes until 1972, it now serves as the Public Library. It was closed when I was there, so I didn't get a look inside. It is also on the National Register of Historic Places.
After Prescott, I crossed over US-69 Highway. At this point in time, 69 is essentially a freeway. It doesn't carry all that much traffic, but speed limits are 75 MPH. Bikes are not prohibited, but I'd certainly prefer not to ride there. Not that it would be unsafe, but Lord, would it be boring. "Old Highway 69" is what I followed instead.
An aside: In Prescott, I was talking with someone, and they said that when the highway moved away (it originally ran through the middle of town), it "pretty much killed Prescott". I wonder, when KDOT plans highway "improvements", whether they take into account the negative effect their superhighways have on the cities they once connected, and now bypass … I doubt those "costs" are part of the calculations.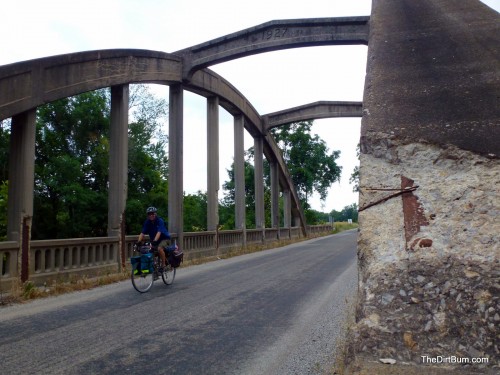 This is the Fulton Bridge, located just north of Fulton, Kansas, on Old 69. It was built in 1927, and as you can see, is not in the greatest of shape. But it's a beautiful old structure.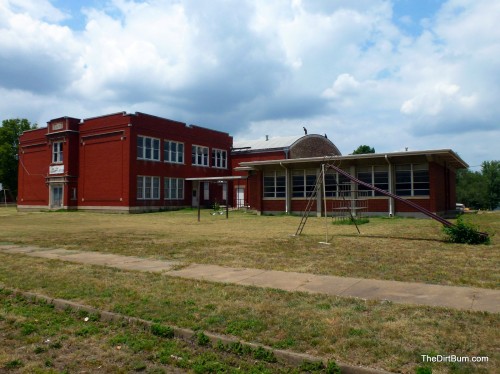 This is the old school in Fulton, built in 1917. The gymnasium in the rear was built in 1936. The school and gym are signed as a community center, but are run-down, and don't appear to actually be used any more.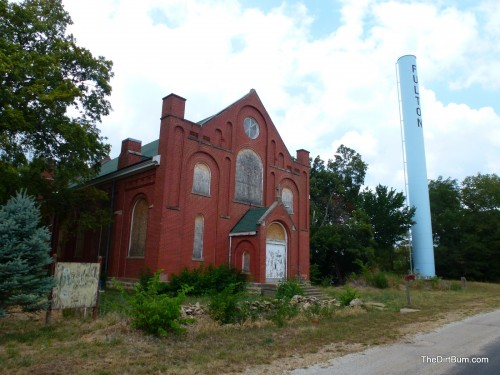 This is the former St. Patrick's Catholic Church in Fulton, long boarded up, apparently.
I get the feeling that Fulton was once a larger and more prosperous town than Prescott, but that's no longer the case. There's not much in Prescott, but Fulton has nothing. A few houses, but almost no businesses, and its historical structures appear to be largely neglected and falling into ruin. It's a depressing place (though interesting).
Near Fulton, I came across this goat running free, crying and trying to get back inside this fence. I opened the gate and tried to round it up, but it ran away, and refused to be herded. I eventually gave up and moved along.
A few miles later, this: Billy Goat's Revenge, a goathead thorn in my rear tire.
Since the flat occurred at this lovely locale, I opted to leave the thorn in place and move to a location with more shade and better ambiance.
I ultimately rode all the way to Fort Scott, pumping the tire up several times. When I finally found a nice shade tree to fix the flat, it turned into two punctures (and two other smaller ones that held until I got home three days later). Dang goatheads…
Bourbon County has a small population of Amish residents, so I couldn't resist this "Share The Road" sign.
I find it odd that on Share The Road signs, whether for horse and buggy or for bicycles, the vehicle is shown alone, without a person depicted driving it. Do these signs dehumanize and depersonalize interactions between motor vehicles and non-motorized vehicles?
This was my campsite for the night, in Fort Scott's Gunn Park. It was a nice enough campsite, but the light pollution and noise pollution form passing traffic was a bit bothersome.
I had a good time exploring Fort Scott. The town reminds be very much of my hometown of Lexington, Missouri — a rich history, old victorian homes, a river town, lots of antique stores.
As part of my adventures, I registered my bicycle at the police station (learn about Fort Scott's Bicycle Registration Law), and had fun Riding The Gunn Park Trails.
Day #2 total: 71 miles
---
Day #3 – Fort Scott to Bronson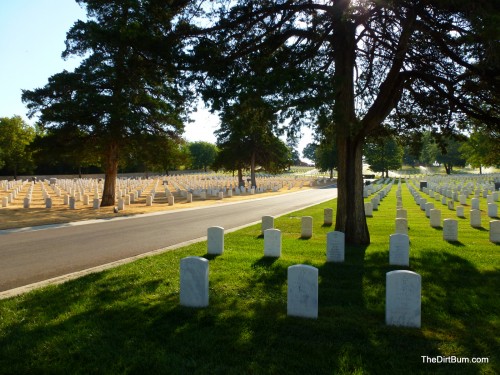 At the Fort Scott National Cemetery. Beautiful and solemn.
Fort Scott Middle School is another beautiful old school that has lived past its educational usefulness, apparently. It now privately owned, with plans to turn it into a community recreation center.
At Rock Creek Lake near Fort Scott. Some nice free campsites here! I missed the waterfall, unfortunately.
Wild plums! I picked a handful, and munched on them throughout the day. These were the only ones I noticed on my entire trip.
This road leading to the Hollister Wildlife Area was rough. A few miles later, I noticed my front wheel was shimmying, and found that the front skewer had somehow opened up, and the front hub had started to loosen up. Hand-tightened it, and it held up OK for the rest of the trip.
The city park in Redfield, Kansas was a life-saver. When I reached it, all my water was warm and unappealing. This park had a working water hydrant, and shade, and was most appreciated!
The old bank in Redfield has apparently become a youth center: "You Can Bank On God".
The Redfield grade school has also been repurposed, and now houses Bandera Stone, a stonemason and stonecutter shop (this entrance is obviously unused).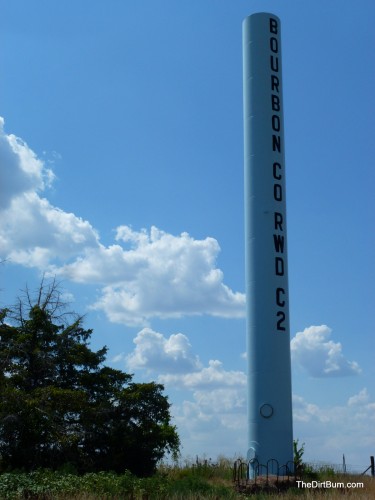 Seeing this made me wonder just how much Bourbon the tower would hold, and what it might be worth. No clue, but something to ponder as the heat of the day closed in, and I kept on pumping the pedals.
Old US-54 Highway runs a few miles south of the new US-54. It's now called Maple Road, and turned out to be one of my favorite stretches on the entire trip.
The section from Uniontown to Bronson is hilly and winding, with a deteriorating road surface — all things that keep the high-speed automobile traffic away, and makes it a genuine pleasure on a bike.
I took a bunch of pictures, but none of them really conveyed the feel of this road. This one came closest. Just glorious riding!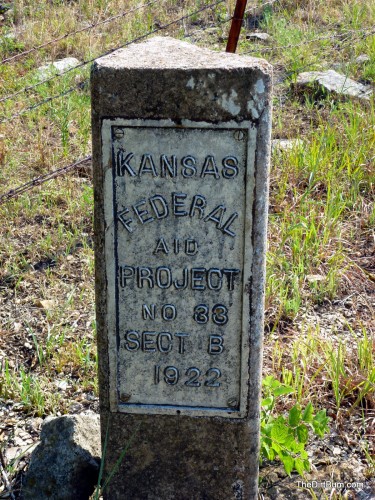 Midway through this amazing stretch of road, I came across this marker. It says, I assume, that this road was built in 1922 as part of Federal Aid Project Number 33. I tried looking this up online, but didn't turn up much information. The opposite side of the marker is identical, except it says "Sect. C". The original building of Highway 54, I guess!
Once through the hilliest part of the route, the road runs along a ridge, with great views of the surrounding country. Again, none of my photos really captured the feeling of this road, but this hay field turned out kind of nice.
This mural was next to a business called the "Bronson Locker". It wasn't open, but was a butcher, I think.
My intention had been to head south from Bronson, and camp at the Bourbon State Fishing Lake, but it was getting a little late, and I wasn't quite sure how far it was, and I was thinking that it might be a good idea to shorten tomorrow's ride (since the lake was in the wrong direction), so I checked out the city park, found it to be nice, then inquired at the library (the only thing still open in town) about whether camping in the park was allowed. The librarian said that there was no ordinance against it, so I could if I wanted.
So after a grand tour of the small town, which didn't take long, I settled in at the picnic shelter at the park.
This Civil War Memorial statue is located in Bronson City Park. The sign reads "In Memory Of The Heroes Of '61 – '65. May The Deeds Of Valor Of Them And Their Comrades Forever Inspire Love Of Liberty And Country."
No one else was enjoying the park when I got there, but as the sun dipped low and the temperatures moderated, people began arriving, kids mostly, to frolic in the playground. I determined that I would wait until the people left before setting up the tent.
It took awhile. There was one group of teenage boys and girls who, I swear, swung on the swingsets for well over an hour. I couldn't figure out what was so fascinating, but they were having a grand old time. Suppose it's a far better way to pass the time than some teenage alternatives…
Eventually, everyone left the park as it got dark, and I set up the tent in an out-of-the-way corner. There were automatic lights in the park, which I figured would burn all night, so I tried to selected the darkest area.
I was a little nervous, sleeping alone in a public place like that, but no one bothered me. I set up the tent, and covered it with the rain fly for extra privacy, even though that severely restricted the airflow (it was sweltering in there). I otherwise did a minimum amount of unpacking, just in case police or whomever came along and told me I needed to leave. I even locked up the bike to the tent.
The night turned out to be peaceful, except for the fellow in one of the houses across the way, who sounded jealous when his wife/girl came home at 1:30am. He accused her of all manner of behavior, then bellowed "I know every sonofabitch in this town!" before driving off with tires squealing. Well, no, but I didn't feel the need to speak up…
I got up soon after dawn, packed up, and slipped out of town as soon as I could get away. Here's what my camp looked like just before I packed up the tent:
That was my first time "sort of" stealth-camping in a public place. I'd read about other touring cyclists doing this, and it sounded like a neat idea, but it was sort of nerve-wracking.
I think that a different configuration — the park on the edge of town, rather than surrounded by houses in a residential part of town — it'd be a much more comfortable experience.
Still, it worked out, and I appreciate Bronson's hospitality!
Day #3 total: 62 miles
---
Day #4 – Bronson to La Cygne
My first stop was the town of Moran, where I got a bit of breakfast before heading north on US-59 highway, a 2-lane road with narrow shoulders, but traffic was light, and what there was of it was not impatient, so it was easy pedaling.
I checked out the former town of Bayard, but nothing left there except a couple houses and a few old building. One was a schoolhouse, and one might have been an old feed store, but it was hard to say, because there wasn't much left.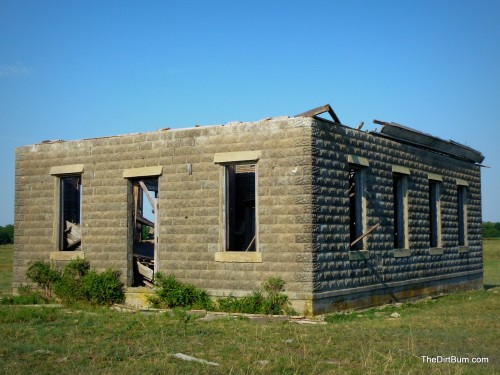 I'm not sure what this structure was — a house? a school? a church? — but it had some really interesting walls. Is this formed concrete blocks? Whatever, the walls appeared extremely sturdy, while the roof had collapsed.
Flowers line a road near Bayard, Kansas.
Mildred is an actual ghost town — at its peak it had a population of about 2,000, but when the Great Western Portland Cement Company closed down, the population all but disappeared. As of the 2010 census, the city population was 28. This business — Charlie Brown's Market — remains, as do a few run-down houses all but hidden behind weeds and junk, but not much else.
According to Danniel Fitzgerald: "When the depression years hit, the plant closed down. Much of the plant was dynamited, and left to rot. The town went dramatically downhill to its present near ghost town status. The town is interesting enough, but the plant is unbelievable. You can still visit the cement plant today. Buildings sit in enormous underbrush and growth just north of the town. They look like ruins from some Aztec civilization. One building after another rises in the underbrush. Out on the highway that runs next to Mildred is one left-over cement grain elevator that is a direct descendent of the plant. Be careful!! The plant, while unbelievably large and a photographer's dream, also contains dynamite holes in the concrete that force severe drop-offs with no warning. Just watch your step and spider webs and you will be okay." Daniel, author of a number of "Ghost Towns of Kansas" books, lists Mildred as #2 on his Top Ten Ghost Towns of Kansas list.
Unfortunately, I only found this out after I got back home, so did not attempt to explore this old plant…
This is the old school in Kincaid: "Rural High School Dist. 2 B". Another lovely old building that has been maintained and repurposed (as city offices, I believe).
Otherwise, Kincaid was rather sad, though. It has a bank, a cafe (with limited hours), and not much else. It had a city park, but it looked rundown and unmaintained, so I didn't bother asking if it was permissible to camp there. Many towns seem so poor, I think it would be in poor taste to expect them to maintain a public space for the occasional traveler, when they're barely staying alive as it is…
The old school in Blue Mound is different, at least visually. The native stone and whitewashed concrete give it a distinctive look. It's labeled as both a high school and elementary school, but appears to be unused.
I found this sidewalk near Blue Mound interesting. It runs for about 1/2 mile along a rural road, from the town to a cemetery. It's obviously fallen into disrepair, but must have been quite an investment for a small town to make, back in the day, solely for the purpose of allowing townspeople to visit a graveyard.
Blue Mound strikes me as another place that was more prosperous, once upon a time. I went back and looked at some old maps, and there were once two railroad lines running through town, and two train depots. Now there are none of either.
But the town still boasts quite a few businesses on its old main street. I lunched at the Feed Lot Cafe, and it was packed with locals, discussing farming, mostly.
I had intended to visit the town of Mapleton next, but road construction caused me to detour, and I ended up coming across this road. It wasn't marked as a "minimum maintenance road", but that's how it looked, so I had to give it a go, naturally.
It turned out to be my favorite road on the entire trip. It ran for about two miles, right on the border between Bourbon and Linn Counties. It was rough, rocky, and steep enough to make me walk the bike both uphill and down. Damn, it was fine.
Just south of Mound City, I came across this — one of those cute/clever/creepy/crazy things that are pure Kansas…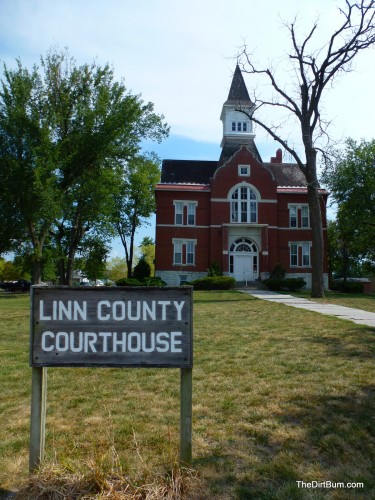 The Linn County Courthouse in Mound City is a pretty impressive structure — built in 1886, it is the second-oldest courthouse still in use in the State of Kansas (after Cottonwood Falls, I believe), and is listed on the National Register of Historic Places. I've ridden past several times, but need to actually go inside and check it out one of these days…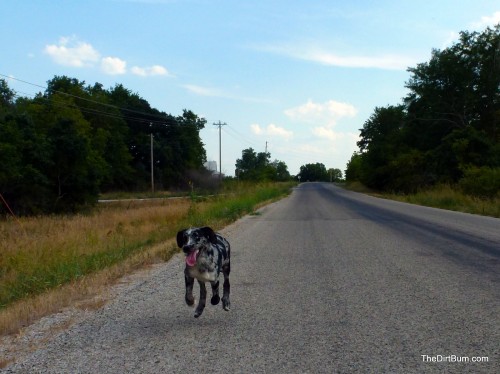 As I rode north towards my destination in La Cygne, this dog started following me. It didn't bark, and was very friendly, but just followed for several miles, even on a very hot day. No wonder it was able to keep up so easily — it had mastered the "running on air" technique. I eventually left it behind on a long downhill.
As I got closer to La Cygne, the road was wet in places. I'd apparently missed a short downpour. This photo shows a haze of steam rising over a field of soybeans. It was still very hot, and sunny, so what little moisture fell from the sky evaporated pretty quickly.
This was my campsite in La Cygne City Park, very peaceful and quiet (once the R/C airplane enthusiasts finished making noise). The RV and I were the only two campers.
Day #4 total: 85 miles
---
Day #5 – La Cygne to Home
Riding home from La Cygne, I was on familiar roads, so few pictures…
This is the Smith Ranch, a large spread along Somerset Road, with uncommonly nice fences.
I've been on this minimum maintenance road before, so it wasn't a surprise, but still a pleasure.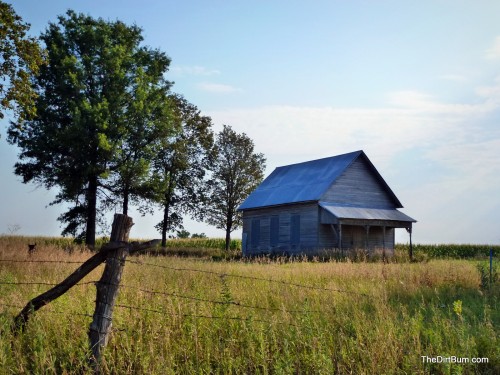 My favorite one-room schoolhouse, in rural Miami County. So tiny!
These grains bins and I seem to be sharing the same red while & blue theme.
Vickers School, near Paola. 1869-1966. Not sure what it's used for today.
Day #5 total: 46 miles
---
Grand total: 336 miles, at a 10.36 MPH average pace.
Not sure how I managed to ride so slowly. Didn't really feel like I was that slow. I did make a lot of stops to explore, and did take a lot of breaks on account of the heat. And I did ride some trails and off-road sections, and had to push the bike a bit. Maybe that explains it. Oh well.
This was my first real self-contained, unsupported solo tour. And I loved it!
I was definitely tired and heat-fatigued by the time I got home (and a real shower felt so good!), but I enjoyed every day and every mile.
I especially enjoyed exploring all the small towns. Their plight is mostly sad — so much lost, so much waste, so much short-sightedness — but it's oh so interesting to find out their history, and try to visualize what they were like in their heydays.
Can't wait to get out and do it again! (Hopefully in slightly more comfortable temperatures.)