The temperature gauge read 107°F, the odometer read 115.9 miles, so can can say that I beat the heat! Might not have been the brightest idea to embark on a century on such a hot day, but it worked out to be a memorable ride.
It had been a rather long time since I'd ridden long — since March 31st, to be exact — so last weekend's triple-digit meltdown was a bit of a struggle.
I'd ridden every day in April (594 miles), every day in May (554 miles), but the streak was broken in mid-June when I contracted some sort of virus that laid me up for most of a week, and I only had a bit over 300 miles for the month, an no single ride over 45 miles.
Still, I was itching for a long ride, and this one, despite the brutal heat, turned out to be a fun and memorable excursion.
I got an early start, rolling out at 4:30 in the morning. The temperature was already 80°F at that point, but the wind was gentle, and the nearly traffic-less roads were a delight.
The forecast called for south or south-westerly winds up to about 20 MPH, and a forecast high of over 100. So I decided to do a cross-wind ride. At those temps, a true tailwind can feel like no wind at all, in terms of the heat. A cross-wind at least gives you a nearly constant breeze. Or at least that was my theory…
Daylight found me nearing Douglas State Fishing Lake, a picturesque little lake near Baldwin City, Kansas. I had lugged my tent along, because I wanted to get some photos at the lake, for a project I'm thinking about taking on. So I took some time there to set up the tent and get some shots.
I then continued west to Lone Star Lake, and further west still to the town of Overbrook, then back home via Centropolis, Baldwin City, Edgerton, and Gardner.
Shortly after sunrise at Douglas State Fishing Lake.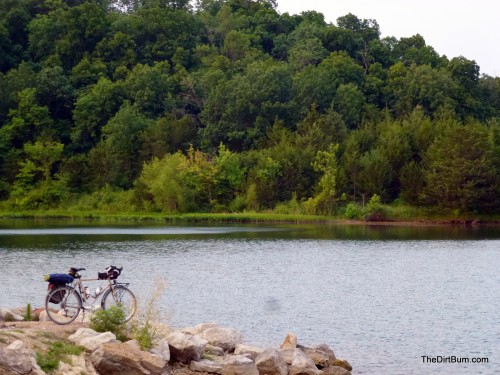 At Douglas State Fishing Lake. I was riding the Long Haul Trucker, with one pannier (loaded up with extra water in a cooler), plus a tent strapped to the rear rack.
A bevy of buzzards (er, Turkey Vultures) awaited me on the Douglas State Fishing Lake dam. They would not have me this day!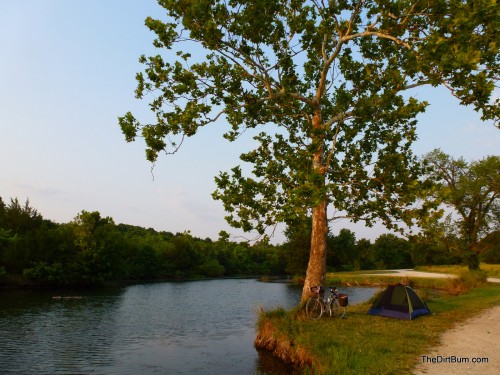 A nice little campsite at Douglas State Fishing Lake, right on the water, with a big old cottonwood. I need to come back here and actually camp out sometime!
This is an excellent stealth campsite behind an abandoned rural church — shielded from the nearby road, nice grass, quiet neighbors, and even an outhouse!
A look at the interior of the church — clean, but not maintained, looks like it seldom gets used for anything. Too bad.
My next stop was Lone Star Lake, where I checked out another campsite. This is a view from the dam, with Wild Lettuce in the foreground.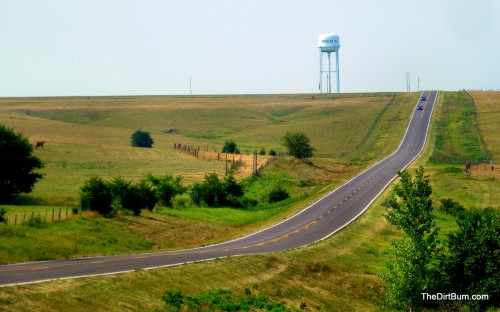 Heading south from Lone Star Lake on Douglas County 550, this is one of my favorite stretches of road. I had been here once before, on a May 2010 century ride, and took a similar photo.
After 550 Road, I missed a turn, and ended up on US-56 Highway for a half-dozen or so miles. Not my favorite type of road — two-lane, 60 MPH speed limit, no shoulder — but traffic was pretty light, and motorists were considerate. I took to the ditch once, to let a semi truck and some cars pass going up a hill, but that was more out of consideration than necessity; I didn't want anyone getting antsy and trying to make a stupid pass attempt.
The wind, by this point, had picked up, as had the heat, and it turned into a bit of a slog.
I was happy enough to take a little break when I came across this sign and monument marking the Santa Fe Trail.
And stopped again for this great old barn, built in 1911.
Finally, I reached Overbrook (which I did not overlook), and was very happy to find a c-store with an ice cream machine — the twist cone hit the spot, and they let me fill up on ice and water.
On the southeast side of town I decided to check out the Landon Nature Trail. Frankly, I hadn't expected to find it rideable, but was very pleased to not only find it open, but quite nice in places. The tree cover was certainly welcomed!
Other sections were less pleasant, with big chunky rocks that made passage difficult.
The trail had only been cleared for about 0.8 miles, but it's good to see progress! Eventually, it will stretch from Topeka to the Flint Hills Nature Trail near Pomona Lake.
Heading homeward in the heat of the day (and with a slight tailwind), I took frequent breaks. This allowed me to notice scenes like this, with cattle taking cover in the shade of a shed (smarter than me), and Ironweed covering part of the pasture.
The signage at this intersection confused me. They put up these "Dangerous Intersection" signs rather than "Stop" or "Yield" signs. Presumably the signs make the intersection less dangerous. But if that's true, then the signs are inaccurate. But if the signs don't improve the safety, then they serve no purpose, and shouldn't be there. So they seem to be superfluous in either case.
This bit of circular illogic occupied my mind for many miles…
Stone fence, brown pasture, green roadside. Not sure why the pasture appears to dry, while the roadside does not. Just different plants, I guess.
Another view of the grasslands, rippling in the wind.
And another very dry pasture, though the Compass Plants seem to be thriving.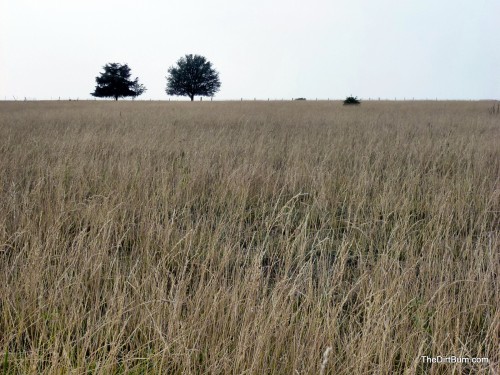 Another very dry grassy field. Not sure why, but these types of scenes resonate with me somehow, beautiful yet stark, lush yet desolate, lonely yet inviting.
In the heat of the sun, my cyclocomputer blacked out. But it barely mattered; speed wasn't an issue, and the miles weren't either.
On this day, I wore a Columbia PFG "Omnishade" shirt that I picked up on clearance last year on our trip to California. It's supposed to have, in effect, built-in sunscreen in the fabric, equivalent to SPF-40 or so, which couldn't hurt on a blistering day like this one.
Even better, it's loose-fitting, and vented in the back. As long as I keep moving, there's a nice airflow over my upper body, which makes it much easier to keep cool even in 100+ degree heat. I would have preferred a lighter color, rather than this dark blue, but it worked.
The bank thermometer in Baldwin City read 107°F, which I suspect is rather higher than it actually was, but it was certainly hot enough.
I ended up back home at nearly 7:30 — 15 hours after I'd begun. The odometer read 115.9 miles, with nearly 10 hours of pedaling time, for an 11.6 MPH average speed.
That's my slowest century ever, by quite a large margin, as well as my longest day on the bike.
But I'm quite happy with it. I was hot, but never felt in danger. I pulled out all my tricks — a cooling towel around the neck, a headband re-wetted every 15 minutes or so, water and Gatorade kept in reserve in a soft-sided cooler inside a pannier (which worked quite well), frequent breaks, loose-fitting clothing. It all worked well.
Physically, I was pretty good. I'd expected the legs to be sore, but they really weren't too bad. I had a nasty bit of saddle chafing on one side that was causing discomfort, and my hands and neck were getting sore, but nothing was too bad. Still, I was glad to be done.
I went through countless bottles of water, and was fortunate to have c-stores at frequent enough intervals to re-supply on the road. I also stopped and refilled my water at a rural church that had an outdoor spigot.
I went through 2 bottles of Gatorade, 2 cans of soda, a V-8, 2 ice cream cones, a Clif bar, a turkey sandwich, some gummy worms, and some red licorice. Not exactly health food, but it worked.
I loved the land west of Baldwin City. I've ridden through there a few times, but seldom enough that it still feels fresh and new, with surprises and delights galore.
A memorable century!