After getting back from Arkansas, the weather back home was warm and dry, and thew wind was mild. I set out on a trip to the grocery store, which is normally about 10 miles round trip.
But I ended up taking quite a detour, getting in a 74-mile ramble by the time I was done.
I rode from home southwest to Rantoul, Kansas for a short trip on the Flint Hills Nature Trail, and back via Wellsville.
One of those days it feels like you can just ride forever…
Some pics:
Snapping Turtles fighting in a small pond (or are they mating?). Sorry for the picture quality; this is at the extreme range of my camera's digital zoom…
White Pelicans resting at Hillsdale Lake. They've wintered along the Gulf of Mexico and are migrating back north.
I believe this is Wild Plum along a roadside near Hillsdale Lake. I'll go back and check on them in a couple months…
I managed to stumble across a Minimum Maintenance Road I hadn't ridden before, and it was actually dry enough to ride. Not a particularly exciting road, though, unfortunately.
The bright green color of the winter wheat makes me smile … 🙂
Some of the first flowers are in bloom along the Flint Hills Nature Trail.
Dodging dung along the Flint Hills Nature Trail.
And here come some of the culprits now…
I encountered three groups of equestrians in the short distance I was on the trail. I saw way more hoof marks (and horse apples) than bike tire treads, but it's great to see folks using the trail!
Resting at a low-water crossing.
Purple carpet of flowers cover a field of corn stalk stubble.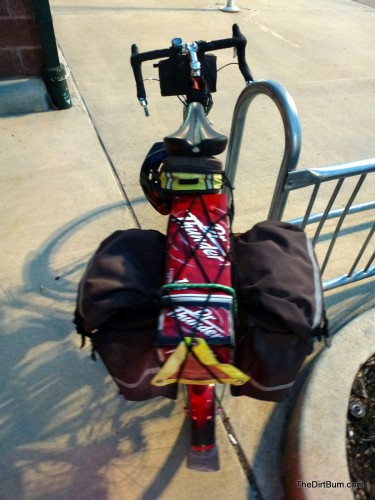 And yes, I did remember to pick up the groceries on the way home — a full load!
This turned out to be the longest ride I'd done on the Long Haul Trucker since last August. All my recent long rides have been on the Puch, but it felt good to ride the Trucker long once more. Not quite as fast as the Puch, but a more comfortable ride, I think, due to the higher-volume tires.