My week in northwest Arkansas was a blur of soggy days, but by the time Friday rolled around, the rain had mostly moved on, and I was able to get out for one more ride before we headed home.
The day was cool and damp, and I was glad I'd brought my hat, gloves, and long pants.
I started the ride in Eureka Springs, and headed southeast on County Road 302, which was paved, and mostly downhill for the first few miles, making for a fast and frigid start. But once the uphills kicked in, I warmed right up and ditched the fleece cap, though keps the long-fingered gloves.
I rode into the northern reaches of the McIlroy Madison County Wildlife Management Area, where the road turned to that distinct brand of Arkansas red dirt and rough gravel.
I missed my first turn, and didn't realize it until I reached the bottom of a long twisty hill, so I had to turn around and climb the bugger before making the correct turn and coasting down another long and winding road.
Eventually I hit my destination, Rock House Road, and took it all the way into the Kings River valley before heading back via Rock House Road, AR-221, and County Road 302.
All told I got in about 23 miles, and the sun never did break out until I got back to the car. Oh well, it was still plenty fun.
Here are some photos from the ride:
This old house along 302 has seen better days.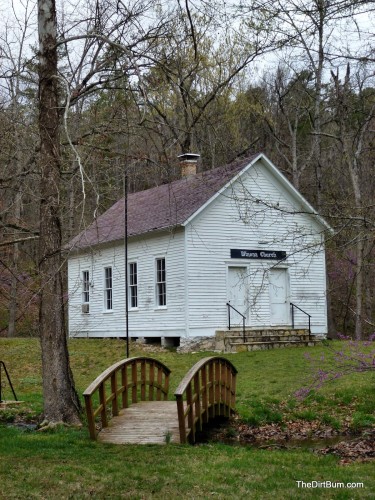 The Winona Church and School was built in 1860 as part of the now-extinct community of Winona Springs. The Arkansas Historic Preservation Society calls it "a good example of the vernacular Plain-Traditional style seen in rural church/schools of the Ozarks".
Tall moss.
Close-up of a different type of moss.
This was a common sight for me. I lost the bottle at least four times on the rough gravel roads, usually headed downhill. But the Camelback Podium Chill was tough enough to survive pretty much unscathed.
My cyclocomputer was not as lucky. I lost it somewhere along the line…
Small wheels, wet roads, and fresh rock made for slow going in some places.
Got my shoes and socks wet on this crossing! It actually turned out to be a bit deeper and faster than I expected, but the wheels didn't slip at all on either crossing (I rode back across). Not sure that it did anything good for the bike, but it didn't feel particularly dangerous. Perhaps not the wisest choice, but fun, and I got a neat photo out of it.
Gray skies and black wings over the Kings River.
A bucolic scene along Rock House Road.