Yes, it's true: I'm a bit of a tightwad. I don't mind saving a few bucks when I can.
And it's also a fact that I rode 129 miles on March 31st to take part in the Kansas State Parks "Open House" day, in which all state park entry fees were waived, including the $3.50 daily use fee for the Prairie Spirit Trail.
And while it may not be 100% accurate to say that I rode 129 miles for the express purpose of saving that $3.50 entry fee, I can definitely say that the savings was a good excuse for a long bike ride.
As is the case for a lot of my rides, not a lot of planning went into this ride. Once news of the state park open house broke, early in the week, the Miami County Velo Cycling Club (MicoVelo) announced that they were putting together a ride on the trail. Their plan was to meet up at Princeton, and ride to Garnett and back on the trail, for a total of about 30 miles.
That wasn't enough for me, of course, plus I didn't want to drive, so I mapped out the route from my house, which turned out to be about 200K. Doable.
I vacillated a bit on bike choice. I initially chose the Puch, but in the end decided to ride the Long Haul Trucker. I'd already done one 200K this year on the Puch, and fresh off the prior weekend's 74-Mile Grocery Run, I wanted to do another long one on the Trucker.
In an effort to streamline the bike as much as possible, I stripped the rear rack off the LHT, took off the handlebar bag, switched to a less-weighty tail light, and minimized the contents of my seat bag. That got me down to about 33 pounds. That was as good as it was going to get.
The temperature was mild — in the mid 50's range to start, with highs predicted in the 80's — so I elected to go with shorts, a short-sleeve jersey, arm warmers, wool socks, and sandals. Those choices turned out to be perfect.
I set off at about 6am, giving me plenty of time to dawdle in the 40 miles to Princeton. I had about an hour of darkness before dawn, and the Lezyne Power Drive once again worked perfectly, with plenty of light for gravel roads, even at its lowest setting.
My route took me through Wellsville, west on Shawnee Road through Le Loup, north on Montana Road, to Ottawa. From there I hopped on the trail and took that to Princeton, met up with the group, rode to Garnett and back, then headed cross-country through Osawatomie, Paola, Hillsdale, and Spring Hill.
On the cusp of dawn, near Hillsdale Lake.
Shortly after dawn, near the town of Le Loup, I came across another cyclist riding in the opposite direction. We both waved, but neither of us slowed. Turns out that was another bike blogger, Bill Penland from Ottawa, who wrote about his ride at New Vistas (Images From a Kansas Morning Ride):
It was very gratifying to see a few cyclists out this morning. Close to my turnaround point in the middle of nowhere, I passed a cyclist headed the other way, whose gear bespoke a "dedicated" cyclist (such as I'm evolving into).
That "dedicated" cyclist was me, I expect. Sorry I didn't take the time to stop and talk with you, Bill!
No payment required on this day!
I saw many different types of trail users in Ottawa, including this old cowboy on a Hoveround, an old farmer in overalls with a cane, and numerous walkers and runners. No cyclists.
Just outside of town I came across a man pushing a woman in a wheelchair. They were hunting for mushrooms, and had already found a few.
Trailside Flowers.
Some of the fields along the trail had recently been burned, and fresh green grass was beginning to peek through the blackened earth. The burning is a Spring ritual in many places in Kansas — it kills off invasive weeds and brush, and provides nutrients for the grass to grow.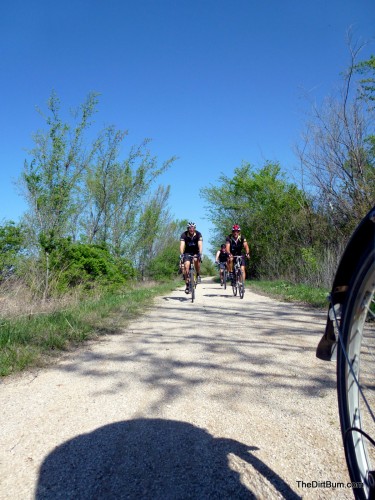 Riding with MicoVelo. We had quite a nice little group of nine riders, some of which turned back before we reached Garnett.
People weren't the only ones enjoying the Prairie Spirit Trail today. This Western Rat Snake was sunning itself on an old railroad trestle between Richmond and Garnett. It was a big one, perhaps 5 feet long.
This beautiful Rough Green Snake was also making it's way across the trail, and was nearly run over.
We also saw turtles, rabbits, squirrels, and many types of birds!
Entering Garnett, the trail goes from gravel to asphalt.
There was a reception inside the old depot, with snacks and drinks, as well as health evaluations and information about the trail and nearby attractions.
We had lunch at a Mexican restaurant in downtown Garnett, then headed back north on the trail.
Wild Strawberries in bloom along the trail.
This was a nice scene visible from the trail. The flowers are called Yellow Rockets.
Back at Princeton, the rest of the group loaded their bikes onto their cars, while I made a quick stop at the local c-store, then started east on John Brown Highway.
This 17-mile stretch turned out to be the toughest of the day for me. Part of it was a mild but persistent cross-wind, but more than that, it was the unseasonable heat. The first few rides above 80°F are always a bit of a challenge to get through.
The half-moon was rising into the afternoon sky, slightly veiled by wispy clouds.
At some point, I stopped to pick Lilacs from a bush at an abandoned homestead, and enjoyed the sweet aroma for the next 30 miles or so.
This is the Indianapolis Schoolhouse, an old one-room school that appears to be not long for this world…
In Osawatomie, I stopped for a $1.00 hamburger, a Lemon-Berry Slush, and a water refill. Refreshing!
The rest of the way home was uneventful, on familiar roads, with a slight tailwind.
I ended up with right at a 14 MPH average. Not bad, considering that I did 8 miles of gravel roads in the dark, a fair amount of low-speed exploring in Ottawa, and about 40 miles of gravel trails.
Bike-wise, there were no mechanical issues. The LHT performed flawlessly.
Physically, I was very good. Had a little bit of "saddle fatigue" by the end of the ride, but legs were good, hands were good, neck wasn't sore, and my energy level was fine.
I rode 129 miles, and I saved $3.50. It was a glorious day!