I'm back from a long-planned road trip to the southwestern United States, visiting many places I'd never been before, and seeing some amazing sights. My wife and I drove some 4600 miles in all, which is a depressing total, but at least I got to take along my Dahon Vitesse folding bike, and was able to ride at most hotel stops along the way, and get a bit of a feel for the cities outside of a car.
Outbound, our route took us from Kansas City to Santa Fe, New Mexico on day one, then on to Albuquerque, then to Flagstaff, Arizona, to Phoenix, to Tempe, then to San Diego, where we my wife's sister lives. In San Diego, we mostly stayed pretty near to "home", but did make one short trip to Las Vegas, Nevada. The homeward route took us to Phoenix, Las Cruces, New Mexico, and Amarillo, Texas before arriving back home, finally, safe and sound.
Whew.
I'm not going to attempt to cover all that in detail, but will share a few photos and highlights from the trip:
Looking over Santa Fe, New Mexico
Cottonwood grove along the Rio Grande River in Albuquerque, New Mexico
Trail along the Rio Grande River in Albuquerque, New Mexico
Sunset at Continental Divide, New Mexico. Would love to get out and explore this country by bike.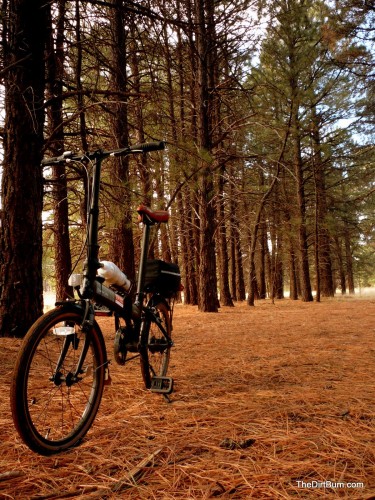 A trail covered in pine needles in Flagstaff, Arizona. The trails in Flagstaff were awesome. Actually, everything was pretty amazing in Flagstaff. I loved the Ponderosa Pines. I loved the proximity to the mountains. Nearly every main road in town had bike lanes. Even the mud was of a different sort than Kansas, not sticking to the tires nearly as much. Would definitely want to come back and ride in the area again. Not sure about road riding, but mountain biking opportunities are amazing.
Dried flowers along the Arizona Trail in Flagstaff, Arizona … bet this is pretty when the flowers are in bloom and the grass is green.
Training a dog sled team in Flagstaff, Arizona … mush!
In the shadow of clouded mountains in Flagstaff, Arizona.
Red Rock near Sedona, Arizona. This in Oak Creek Canyon, between Flagstaff and Sedona. A lovely drive. Would be even better by bike, but I imagine that the road would be rather scary to ride — no shoulders, lots of steep hills and sharp turns. But it would be an incredible experience.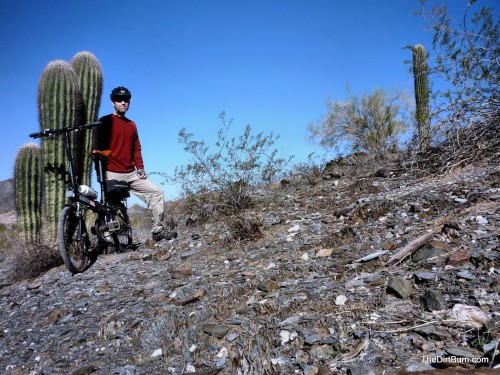 At the Phoenix Mountains Preserve in Phoenix, Arizona. My first time in the desert. Probably a furnace in the summer, but quite nice when I was there.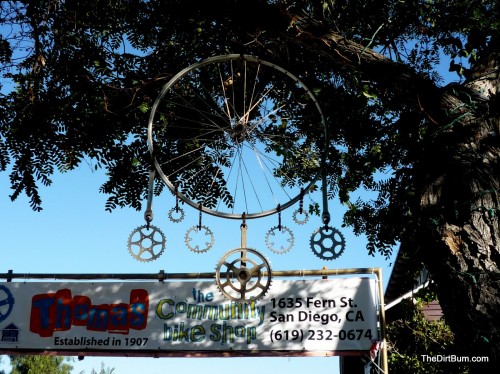 Simple but cool art at Thomas Community Bike Shop in San Diego. I lost my trusty Planet Bike Superflash tail light somewhere in Arizona, so I picked up an XLC tail light (basically a Superflash clone) here.
While I was in San Diego, I got to ride my brother-in-law's sweet Benotto 850 road bike. He doesn't ride anymore, so it had been sitting in storage for at least 10 years, but still shifted incredibly smoothly. But the city streets didn't do this bike justice — it needed to be taken on the open road and ridden at speed. Sadly, I wasn't able to do that…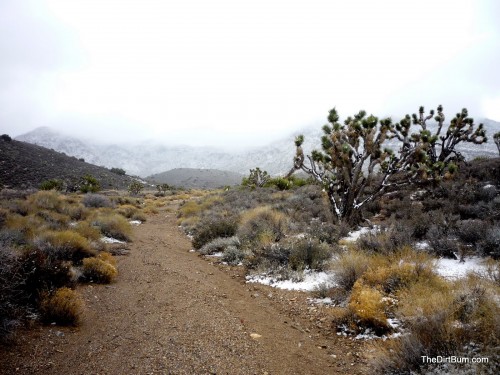 Snow in the Mojave Desert, with Joshua Trees.
Mountains in the Mohave Desert. It was a bit surreal, with rain at lower elevations, and snow higher up. Came across a few touring cyclists, and even with the rain/snow and heavy wind, I was very jealous. Definitely want to come back and spend a few days exploring and camping in the desert. It's forbidding and inviting at the same time.
Lonesome road leading to mountains in the Mojave Desert. I wanted to ride it, big time. But alas, it'll have to be another trip…
Urban mountain bike trails in Florida Canyon, San Diego. Some really sweet trails, right in the heart of the city.
Looking down at a winding trail in Mission Trails Regional Park, San Diego, CA. The folder climbed just fine (except for a few steep pitches I had to walk). A few moments after taking this photo I reached down for a drink, and found my water bottle had gone missing. I had to backtrack a couple of miles, to find where it had bounced off on a rough rocky section.
The old Polar bottle died a couple days later, with the cap splitting and no longer holding water. I replaced it with a Camelback Podium Chill. So far, so good.
At Sweetwater Regional Park near San Diego. Lots of great mountain biking here. The trails weren't all that tough, but too steep to ride in a few places.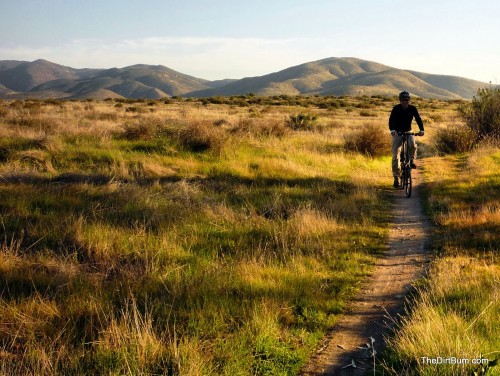 Riding at Otay Lake, just a few miles from the Mexican border.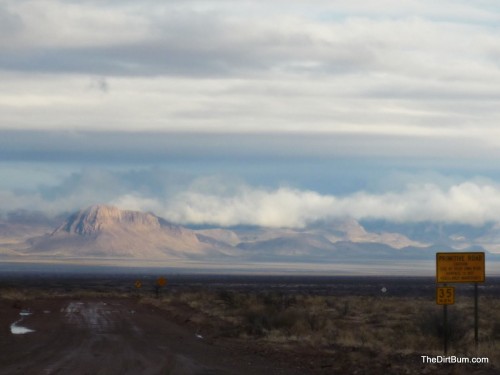 A Minimum Maintenance Road, Arizona style. Another rainy day in the desert. Weird.
Sierra Blanca Peak near Ruidoso, NM. US-70 between Las Cruces and Roswell would make a most excellent bike tour route — nice shoulders most of the way, big climbs, long flats, mountains and desert.
Wrap-Up:
It was a great trip. Driving home through Texas, Oklahoma, and Kansas was relatively boring — though my heart lifted as we passed through the Flint Hills at dusk; I'm not sure if there's anywhere quite like it — and acclimating to the weather and terrain back home is harder than I thought it'd be.
My thought are still on the road…
Places I definitely want to go back and ride someday:
Flagstaff, Arizona — There was no city we passed through that impressed me more
The Mohave Desert — This one surprised me a bit, but I was quite attracted to the idea of bicycle touring there (perhaps using drycyclist.com as a guide). Actually, I think a fat-tired bike (e.g. Surly Pugsley) would be the idea bike for such an adventure.
US-70 between Las Cruces and Roswell, particularly the Hondo valley and the road through the Apache Indian Reservation.
The folding bike performed well. I enjoyed riding it, though I didn't put in as many miles as I'd hoped, and I was quite happy to ride my full-sized bikes when I got home. The folder served its purpose.
Regrets: I didn't get to do the overnight tour I had planned. Other things got in the way, and time slipped away from me. Oh well.
All in all, a great trip!