My wife and I were in Kansas City, near the Plaza, for a family wedding this weekend, and I had a bit of time to spare between reception setup and the actual service. Naturally, I had stashed the Dahon in the trunk of the car against just such an eventuality, so I took off for a bit of urban exploration. This would be the first time I'd ridden the folding bike on city streets (as opposed to suburban or rural roads).
The bike performed well, as expected, over about 14 miles of residential streets, city parks, busy streets, and multi-use pathways.
It was actually something of a one-person Tweed Ride, as I was "dressed up", wearing slacks, shirt, and dress shoes. No problem!
Here are some photos:
A gorgeous old Cottonwood in Hyde Park.
This wicked steep little hill is in the Union Hill neighborhood. I've been down his hill before (rather scary, with the rough bricks and a stop sign before a busy road at the bottom — better have good brakes!) but this is my first time to climb it. And it's also the steepest hill I've attempted on the Dahon. But no problem, the little bike just spun right up without issue.
Looking over the West Bottoms, and into Kansas.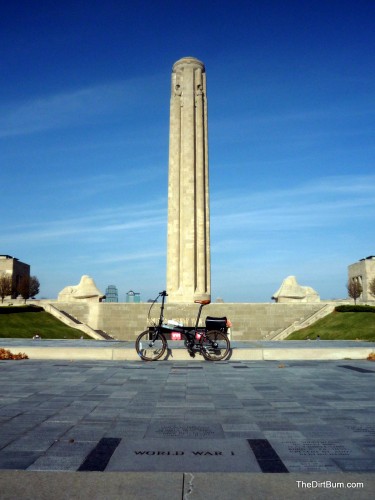 At the Liberty Memorial, which "is a memorial to the fallen soldiers of World War I and houses the The National World War I Museum".
Coincidentally, while I was there, a wedding party was using the site for photos. It's a lovely locale, with the Kansas City skyline visible over the wall.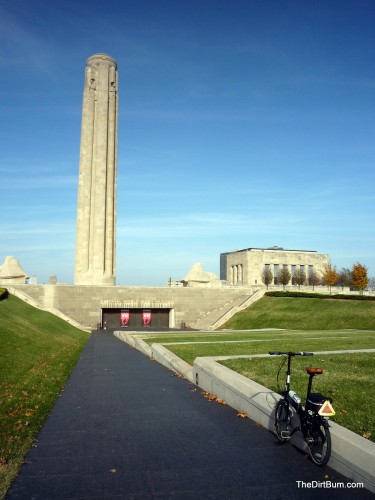 Here's another perspective of the Liberty Memorial and grounds.
Near the memorial there was an encampment for OccupyKC, "a movement of citizens who have come together to reclaim our democracy from the 1% who have hijacked it. We will not allow this injustice to continue". Not much was happening while I was there. Just a few folks lounging in tents, and no one eager to talk apparently.
And in Westport I stumbled across a gathering for Bank Transfer Day. They yelled "Yay bikes!" as I rode past… 🙂
Also in Westport I found this grafitti. Not sure what it originally said, but I like what's left of the message: "Dude! Riding A Dinosour?"
This is a view of Brush Creek, which flows near the Plaza, and has a nice multi-use pathway on each side of the water. Saw a few walkers (and a few men who had apparently camped under one of the bridges), but no other cyclists.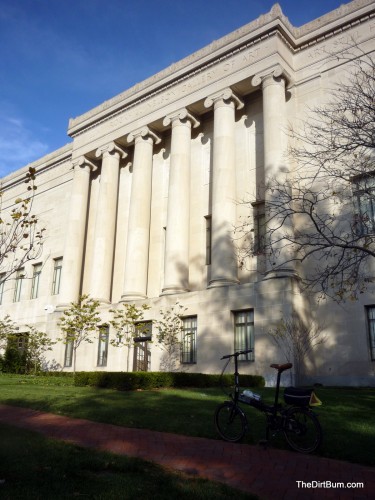 Finally, I rode on the grounds of the Nelson-Atkins Museum of Art for a bit. No time to actually go inside, unfortunately.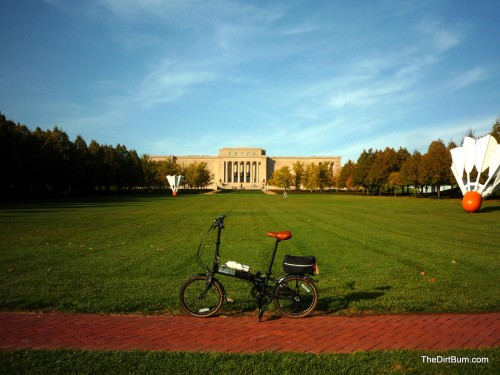 This is the "front lawn" in front of the Nelson, where giants play badminton.
(As I took this photo, a man came up and asked me if the bike was for sale. This isn't the first time I've been asked that. I don't think I'll have any trouble getting rid of this bike when its time comes…)
This pathway on the Nelson grounds looks very European, I think.