My wife and I are planning a road trip later this year, and I'm planning on taking my Dahon Vitesse D7HG to do some exploring, and hopefully at least one overnight camping trip.
I'm lucky, because the Dahon was pretty well configured for touring as I received it, with reasonable gearing and a rear rack. I knew my Nashbar panniers would work, but I was unsure how everything else would come together, and how the thing would ride loaded, so I went ahead and did a dry run of the Dahon in touring mode.
Here's a side view of my setup. My tent is strapped cross-ways across the panniers, and an insulated six-pack-size cooler is strapped in front of that. Both appear to be reasonably secure, and additional stuff can be strapped on top if need be.
The rear view shows the panniers and tent, along with my reflective triangle and a Planet Bike Superflash tail light I installed in place of the rear reflector.
So how did it ride? Well, I didn't have a super-heavy load, but it rode very well. The weight is mostly low to the ground, so handling is really not affected.
With all the weight on the back, though, I did notice that the front end can get a little squirrely at times. Once, when slowly cranking up a steep little ride, I thought I felt the front wheel come off the ground. But for normal riding, it was no problem.
One aspect that is negatively affected by the touring load is the kickstand. The kickstand seems to be just a bit short, and the bike threatens to topple over if I'm not careful about where I park it. Angling the front wheel away from the lean does help, usually.
Here's the Dahon on a pathway at a local park. Love those fall colors!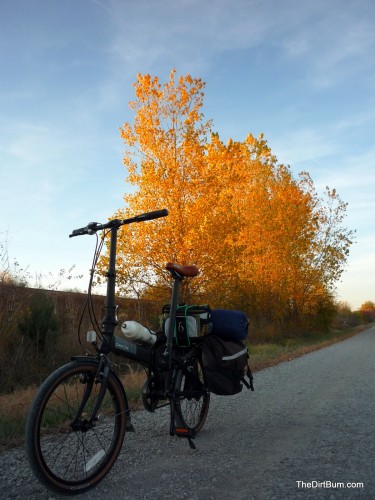 And here is the Dahon on a gravel road. No problem.
And finally, I also got around to swapping out the round grips for ergo grips. These are "XLC Ergonomic Grips", made specifically for a single twist grip, with the left grip 135mm long, and the right grip 92mm long. They feel pretty good. I'm still thinking about adding bar ends, but haven't found a deal yet…