Looking back on the year of 2011, here are the biggest memories for me, personally:
Utility Cycling
In 2011, I made a conscious effort to use my bike(s) for more than just recreation, but for everyday things like shopping, errands, and appointments.
The Long Haul Trucker was the go-to-bike of choice for these tasks, and it spent most of the year loaded with panniers.
A lot of my bike trips during the year were for utility (at least in part), and the LHT made a great platform for that. The two Nashbar ATB panniers hold just enough groceries for most trips, and I can strap extra stuff to the top of the rack if need be.
However, utility cycling is not necessarily the most exciting type of riding. There's only so many times you can do the same routes on the same bike without going a little stir crazy.
Which was why I was happy to acquire two …
New Bikes
I purchased the Puch Cavette II at a garage sale in September, and picked up the Dahon Vitesse D7HG a few weeks later at a bicycle swap meet. Neither were planned purchases, but both have worked out well.
I've quite enjoyed riding the Puch. At first I thought it was slightly too big for me, but after about 400 miles, it feels like a pretty good fit. The bike is still largely stock. After experimenting with a different stem and handlebar, I've gone back to the original, only changing to different brakes, and adding bar wrap and grips. I've also swapped out the old tires and tubes, added a frame-mount pump, added a bottle holder, seat bag, and cyclocomputer, and swapped the platforms for SPD pedals.
The Puch has led me to rediscover the joy of riding fast(er than normal). I'm not sure if it's the 27″ wheels vs. the 26″-ers on the LHT, skinnier tires, or just that the Puch is less loaded down, but I definitely feel faster and more agile on the Puch. I hate to relegate the LHT to pure utility and touring, but the Puch has been so much fun that I've taken it on all my recreation rides recently. It makes me wonder what a lighter, more modern road bike would be like…
I've only put about 250 miles on the Dahon, despite taking it on a long road trip. It's a fun little bike to ride, and it even functions admirably as a mountain bike, but I don't see myself using it for long rides or extended touring. But I'll keep it around for easy transport inside the car.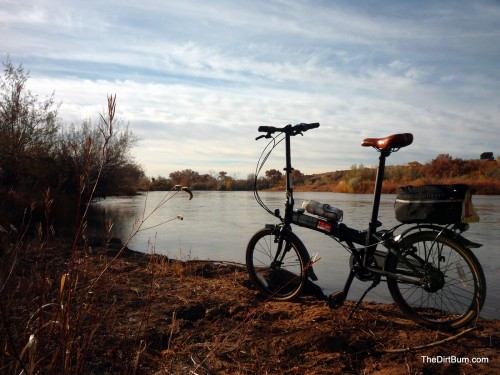 Bike Camping
I didn't get to do any long tours this year, but I made up for it with seven bike overnights (S24O's):
Leavenworth in early May
La Cygne in early June
Cedar Cove in early June
Middle Creek in late July
Hillsdale Lake in mid-August
Hillsdale Lake in late August
Miami State Fishing Lake in mid-October
Four of those were solos, three with friends. Three were at official campsites, one on private property (with permission), and three were wild-camping on public land. This was the first time that I'd "stealth" camped, and it was fun and very peaceful, if a little unnerving at first. I wasn't trespassing, but my the sites weren't exactly sanctioned, either, so there was an element of unease. But I hope to do more of that in 2012. I just wish there were more public land in Kansas.
My touring style changed a bit over the year. I used front panniers for the first three trips, but went with just a front rack and a cooler on the last four. Saves a bit of weight and give me more space for food/drink, though slightly less for gear. I'm not sure if the front rack and cooler would work for longer tours.
What's Next?
I'm not sure what 2012 holds for me. I definitely want to do more bike camping, whether that's overnights or multi-day trips (hopefully both!).
I did not do a single organized pay ride this year, so that's probably something I should get back to.
I didn't do as many day trips (driving somewhere then riding a loop) as I did in previous years, so that's something I'l like to do more of as well. There are so many places in Kansas that I'd like to explore, but are not within easy biking distance.
I set a goal for the year of 5200 miles (100 miles per week), and came up short by about 730 miles. I'm not too bothered by that; not sure if I'll set a 2012 mileage goal or not.
A nice surprise to end 2011: A 50+°F day on my birthday, December 29th. Can't beat that!