Here are some pictures from this year's trip to Eureka Springs, Arkansas. Unfortunately, family health problems cut the trip rather short, but I did at least in one good ride.
Like last year's trip, I headed down on a Saturday. My mom accompanied me this year, so I first drove to central Missouri, before heading down MO-13 Highway. We passed through Springfield, where I stopped for a quick visit at Sunshine Bike Shop before we continued south on 13 through Kimberling City, then west a bit and into Arkansas at Holiday Island.
Once we were settled in, we headed over to Beaver, Arkansas. I rode the bike around for a bit while my mom walked the trail and tried a bit of fishing (no luck).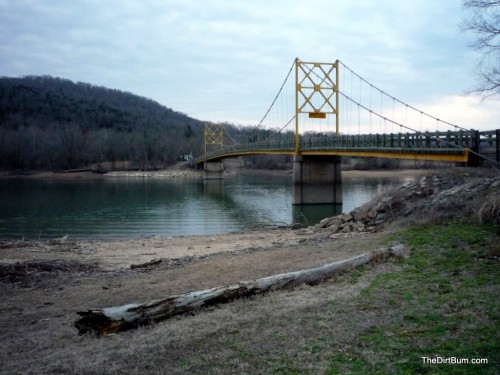 This is the beautiful Beaver Bridge over the White River (now part of Table Rock Reservoir). It's over 550 feet long, and one lane, so traffic has to stop at each end to make sure the span is clear. If two cars meet on the bridge, one of them has to back up to let the other pass.
A few years ago, Tyson Industries (huge agribusiness with lots of chicken & turkey farmers in Arkansas) was pressuring the Arkansas Department of Transportation to destroy this bridge and replace it with one suitable for truck traffic. I can see the need for a truck route (many of the roads there are narrow and winding), but replacing this historic bridge with a dull concrete slab would be pure short-sighted madness. Apparently, the company has backed off, and the bridge has been saved. Whew.
This trail runs along the bluffs next to the lake. It's only about a half-mile in length, but it's lovely. Too bad more of this old railroad route (the Missouri & North Arkansas Railway) couldn't have been saved when the line was abandoned in the early 1960's — it would have made a spectacular trail through the mountains.
The next day was threatening rain, but it was sunny when I rolled out for a quick loop up through the Mark Twain National Forest. I rode over the Beaver Bridge, then west on AR-187 until it turned south, and a gravel road continued west.
This is the view from one point along that gravel road, running through a lovely bucolic valley, with rolling mountains rising on either side, cattle grazing on the newly-green grass, and a stream never far from the road.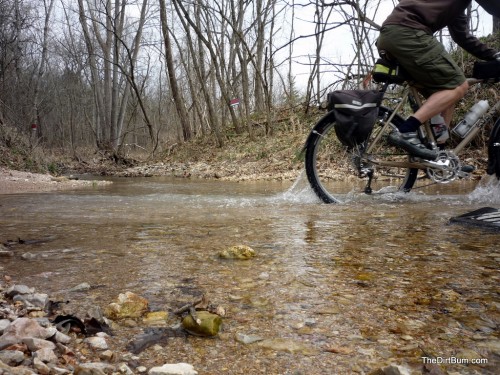 At one point the road passes through a low-water crossing, and I marveled again at the clearness of Arkansas streams (compared to the muddy creeks back home). And no worries about bogging down in mud — there is none! — just rocks.
The road passed by this old homestead with a ruined stone house. Actually, this place must have been an impressive sight at one time — it's big, and surrounded by stone fences and terraces.
Near the house was this circle of daffodils. Not sure what was here at one time … perhaps a garden?
When the road passed from Arkansas into Missouri, I entered the Mark Twain National Forest. I took the first road to the right (I'd missed this road on last year's ride, and got a bit lost), and was immediately surrounded by trees.
The sun had disappeared by this time, and a mile or so later, the first light drops of rain started to fall. I stopped and put on my rain jacket, and was thinking "This isn't too bad, but if it really starts raining, I'm going to get soaked."
About as quickly as that thought came to mind, it did start raining harder. Not pouring, but steadier by the minute. I soon rounded a corner in the road, and was greeted with the sight of a huge rock bluff rising to the west, just off the road. And at the base of the bluff, an overhang that looked not only dry, but roomy enough for both me and my bike.
It was if in answer to an unvoiced prayer. Pretty amazing how the shelter appeared just when I needed it.
I waited out the rainstorm beneath the rocks, comfortable and dry. Turns out that there was indeed plenty of space. There would have been plenty of space for a half-dozen cyclists and their bikes.
Here's a little video I shot while I was waiting. Sorry about the sound; the built-in microphone on my camera isn't very good apparently:
The rain let up after about 20 minutes or so and I went back out to the road. The gravel forest road was wet, but not muddy in the least, and I resumed my ride, a long, twisting ascent to a ridgeline that carried me back east through the forest.
I stopped at this overlook for a quick break, and to enjoy the view.
Once out of the forest, I was on paved roads, but traffic was thankfully light, and I crossed back over Table Rock Lake on MO-86, then turned south back into Arkansas, and by steep twisty back roads to the condo.
I ended up with about 27 miles.
The next day was rainy and quite cool, so we drove to Eureka Springs and explored the old town for awhile. I stopped at one point to get a closeup shot of this daffodil wet with raindrops.
I intended to ride the rest of the week, but got a call in the morning from my wife, letting me know about the health problem, so we packed things up and headed on home.
On the way back I drove north on MO-39 through Aurora, Mt. Vernon, and Stockton. From there, I took a back road, Route J, which was a great little low-traffic route with nice scenery. I'd like to go back and ride that route again by bike sometime.
We hooked up with Highway 13 near the town of Collins, and from there it was a straight shot back to my parents house, then home by familiar roads through Kansas City.
So the grand total of the week was about 30 miles of riding, and probably 800+ of driving. Not exactly the ratio I prefer, but oh well.
Better luck next year, I hope.