On Labor Day, I hooked up with Bill Poindexter (carfree American) for a ride on the Flint Hills Nature Trail. We started the ride off in Osawatomie, at John Brown Memorial Park, then took off down John Brown Highway, headed for the trail.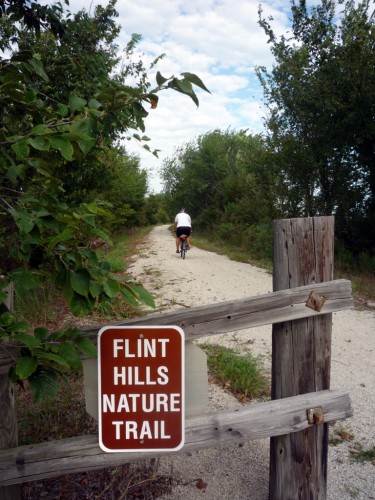 The trail starts a couple miles west of town, running towards the northwest.
At Pressonville Road we took a short detour to check out Carey's Ford Bridge, built in 1909 and listed on the National Register of Historic Places.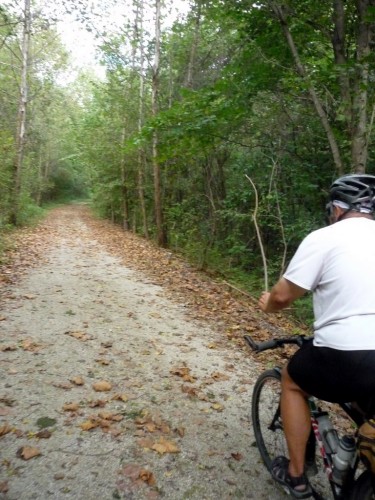 Back on the trail, the trees quickly closed in, and spiders became a problem. It's unnerving to be riding along and suddenly feel a web on your face or a creepy crawly on your arm. At one point Bill picked up a stick and began waving it in front of him, hoping to clear the path. It really didn't work too well…
Eventually we made it through the worst of the webs, and stopped for a quick break next to this crumbling old retaining wall.
Upon setting off again, we saw a small dark animal ahead of us on the trail. It was long and low to the ground, but had no difficulty staying ahead of us.
"What the heck is that?" Bill asked. "A river otter?"
"This sounds crazy," I said, "but I could have sworn it was a wiener dog."
We passed the spot where it disappeared from the trail, and looked around, but couldn't spot anything. There was a bridge a short way later, so we pulled over and stopped.
Soon this little Daschund came running up, tentatively at first, then friendly.
Strange. We were miles from any houses, but he must have been a pet, since he had a collar and rabies tag from a local vet.
The dog was scared and dehydrated, and we weren't sure what to do with him. We hated to just leave him on the trail, since his tired little legs might not carry him all the way home, wherever that was.
So we elected to take the dog to the nearest house, which I judged to be about a mile up the trail.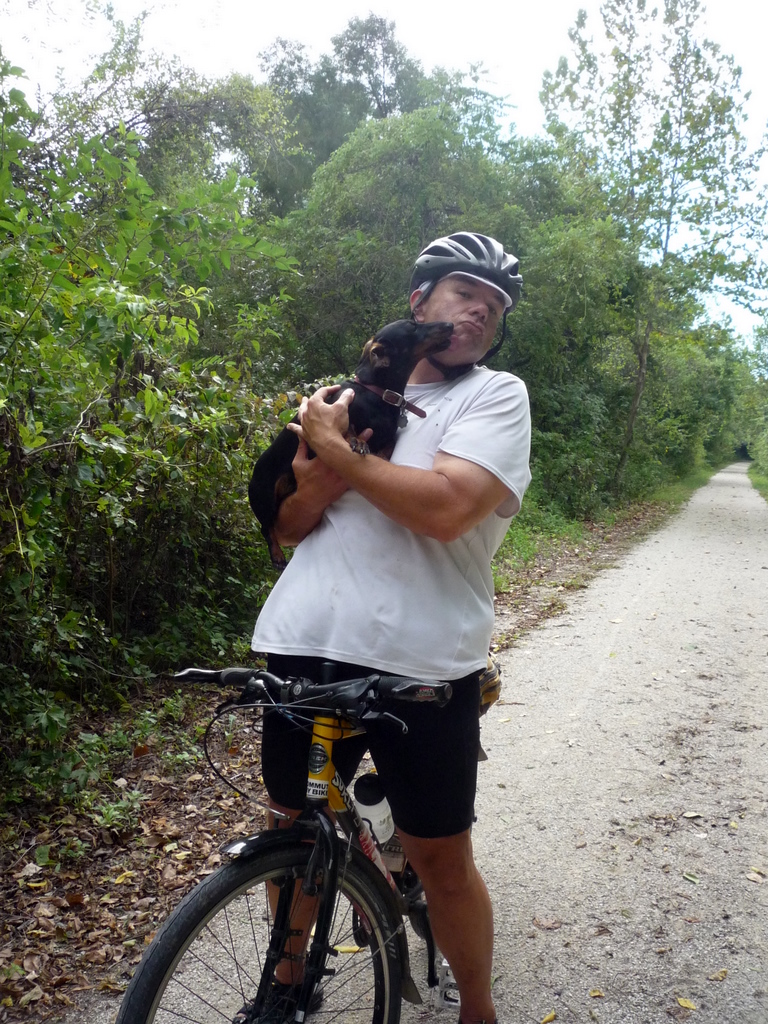 Bill rode with the dog cradled in one arm all that way (it's harder than it sounds). We stopped and took a few breaks. The little puppy was very sweet, even going so far as to cover Bill's mug with doggy kisses.
We talked with a woman at the first house we came to, but she didn't know who the dog belonged to, and wasn't willing to take it. We asked at the next house as well — same result.
We knew we couldn't take the dog much farther, it was just too awkward. And since it was a holiday, neither the vet nor animal control were open. It seemed heartless to just leave him to fend for himself. We eventually called the police, and after a bit of pleading, a couple of very nice sheriff's deputies came along to take the dog off our hands.
He was a such a friendly, sweet-tempered little thing, we were sorry to see him go. Hope he ended up back home!
After that, we stayed on the trail, purchasing drinks from the vending machines in Rantoul, then continued west on the trail.
As the trail crossed Labette Terrace, we came across this scene:
I pumped up the saturation to bring out the colors, but this really was a pretty magnificent view, with yellow flowers filling the prairie, and two lonely trees on the hill.
From there, I had plans to take gravel roads back to Osawatomie (and hit up a minimum-maintenance road along the way).
So we took off towards the south, right into the teeth of a 30+ MPH wind.
We didn't feel it so much on the trail, but once we were out of the trees and exposed on open road, the wind was just relentless, and the day had heated up into the low 90's. When the route crossed a paved road that headed back into Rantoul, I elected to take the path of least resistance, and get back to the shelter of the trail.
A few big hills later, another self-service stop in Rantoul, and a short detour to check out the "airplane graveyard" (Dodson International, an airplane salvage yard), we were back on the trail.
We arrived back at John Brown Park fairly well cooked. Between the heat and the wind, it was a tougher ride than I'd anticipated, even if it only ended up being about 30 miles.