In preparation for my upcoming mini-tour (Flint Hills Bike Tour On Tap) I wanted to get in a good test ride, fully loaded, just to make sure there weren't any major issues with my equipment.
I bought a new set of front panniers from a company called Taiga. The bags are an incredible deal at only $19.95 (Canadian dollars), and even with shipping from Canada, it's an unbeatable value. The panniers appear to be really well-made. The mounting system, using a strap cinch and velcro, is a little fidgety to get attached (and un-attached), but on the bike, the bags are rock solid.
I ended up going with the Blackburn MTF-1
for the front rack. I considered using a low-rider rack, but went with the MTF-1 because I thought the platform might come in handy. Also, it appears to be a good match for the front fork of my Long Haul Trucker.
For the ride, I tagged along with Noah Dunker and Keith Gates, who were headed down to Hillsdale Lake for an overnight bake-camping trip (similar to the one I accompanied them on last year. I wasn't planning to camp out, since I'll get plenty of that on my trip, but it's be a good trial run equipment test.
The plan was to meet them in Olathe, then ride paved roads to Hillsdale, hang out for a bit, then ride on home.
Here our bikes at the meetup in Olathe: cDude's Kogswell on the left, Noah's Trek in the middle, and my Long Haul Trucker on the right. Loaded up and ready to roll!
Here are a couple views of my gear. On the front is the Blackburn MTF-1 rack and the Taiga panniers, with a Sunlite C-Sport Bicycle Handlebar Roll Bag
and Schwinn Top Tube Bag
. In the rear is the Planet Bike Eco Rack
and Nashbar ATB panniers, plus a Nashbar seat bag.
I swapped out the Nashbar CO2 Inflator/Pump, which I've been using most of the year, in favor of a Topeak Road Morph
pump. The inflator works fine, but the pump is next to useless. With just the inflator, I'd have had to haul a bunch of CO2 cartidges, and still would have been screwed if I happened to get a rash of flats. With the regular pump, at least I can never run out of air. It takes quite a few pumps to air up the big tires, but it's do-able.
We rolled out of Olathe and through Spring Hill on pavement, but elected to take a gravel road south to Hillsdale. Actually, we started out on gravel, but jumped over to a sort of a trail that runs alongside the railroad tracks for a ways. I think it's an access road for maintenance vehicles, but it has a great surface for about a half mile, then gradually the railroad ballast (think big, rough, loose chunks of flint) replaced the gravel. It was pretty rough by the time we hit the first railroad crossing just east of Columbia Road.
I'm running 1.95″ MTB tires, so it wasn't too bad for me, but it was tougher on the other guys, rolling with more road-style skinny tires. But we all made it thru unscathed.
At Hillsdale we took a quick break at the c-store, with intentions to ride the next half-dozen miles directly to the campsite. But then I asked the fateful question: "You boys up for some more adventure?"
I explained what I had in mind: basically, a 6-mile detour to hit up the minimum-maintenance section of Woodland Road. They agreed. But they had no idea what they were getting into. 😉
Pushing against a strong and gusty south wind, and being exposed on open roads for much of the distance, the 6 miles to the start of the MMR was slow going.
When we reached 287th and Woodland, where the MMR began, I pointed up to the "Minimum Maintenance – Travel At Your Own Risk" sign. Nervous jokes and laughter, but I led on.
The first half mile is pretty tame — slightly overgrown, but very rideable. But this soon gives way to a long downhill, which I've described as "a rocky, rutted, overgrown memory of a road", which I think fits pretty well.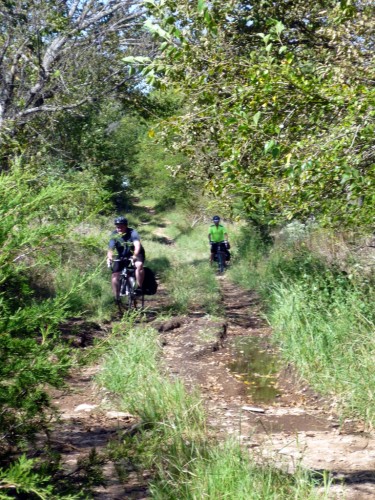 The grass gets taller, the trees start to close in, the doubletrack starts to get deeper, until it's really just two ruts with tall grass growing in the middle. Soon we reached the first puddles. We'd had rain earlier in the weak, and while the gravel and most of the MMR was bone dry, there were a few tacky spots and outright bogs. I rolled through or around these, picking up a bit of mud on the tread, but no big deal.
But Keith and Noah's fendered road bikes clogged up quickly. After navigating a rocky downhill, I stopped and looked back to find them picking mud out of their fenders. Their wheels had completely clogged up and stopped turning.
Soon enough they were back in business and making their way down the rocky decline. The road passes across solid bedrock here, with some rough loose stuff on top. It's not a smooth ride, and they approached it cautiously, but made it through without incident.
The road turns west at 295th, and the surface actually gets worse — much rockier, more rutted out, and more likely to hold moisture.
This picture is from last year, and it doesn't really do it justice, but it should give you some idea of the level of "road" this is.
Again, with my bigger tires, I could ride most of this stuff, but the skinny-tired boys had to walk quite a bit of it, with several more episodes of mud-clearing. But they kept going without complaint. Kudos!
By the time we reached the next cross street — the accurately-named "Victory Road"! — the gravel road, which under most circumstances would have seemed sketchy at best, felt luxuriously smooth and easy.
We needed more water by this point (and the day was heating up), so we headed on over to Lake Miola, where we found this potable water for drinking, bike-cleaning, and dousing. Perfect.
From there, we went by back roads north and west to Hillsdale. Just a few miles from the state park, the boys thought they were in the clear, but I had one more MMR to throw at them — 271st, between Lone Star Road and Lookout Road.
This section is comparatively easy — it's more dirt than rock, and it doesn't get too much traffic so the ruts are not as deep (though the weeds are taller). Here's Keith and Noah navigating the last little bit of rough riding.
From there, it was just a mile or so to the entrance to Hillsdale Lake State Park. We parted ways at this point, with Keith and Noah headed off to the campsite, and me headed home.
Here's the Trucker at Hillsdale Lake, with the marina in the background, where I stocked up on drink and snacks before rolling out.
I ended up with about 56 miles. I'm not quite sure of the distance or speed because my cyclocomputer wasn't working.
But everything else worked flawlessly. I had no equipment issues, with either the bike or the gear, and if it can handle that rocky ride, it should be able to handle my upcoming tour with no problems.
And I got to introduce two roadies to the joys of rough riding, the rewards of venturing off the pavement.
You did great, guys! Hope I haven't scared you away from further off-road adventures. I have plenty of other routes to torture you with …