A "Tour of Rural Fences" seemed like a fun theme for a bike ride — fences are easy to overlook, but it turns out that a lot of people take great pride in their fences, and some even come up with creative ways to build and decorate them.
So I headed off on gravel with a few specific fences in mind, just to see what else I'd stumble across:
This is a very cool fence made up of old steel wheels from vintage farm implements — tractors, wagons, etc. It goes on like this for about a quarter mile. 207th & Pflumm Road.
This is a very well-kept double fence bordering a horse farm at 207th & Switzer. A row of trees is maintained between a solid metal fence along the road and a wire-cable fence along the pasture. Beautiful!
I call this a "plastic fence", but I think it's actually vinyl-shielded fiberglass or particle board or something similar. It makes for a neat and tidy appearance. This one is at about 215th and Switzer, bordering another horse farm.
This is a barbed wire fence bordering a row of weathered round hay bales along the edge of a field of corn. Approximately 241st and Rockville Road.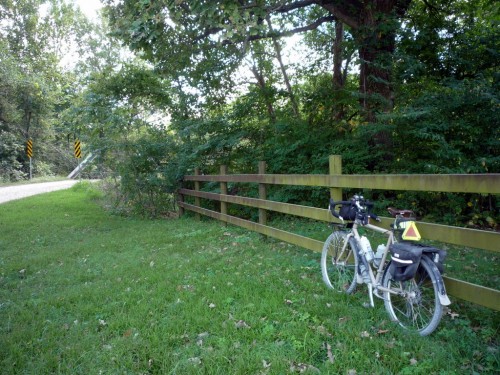 This wooden fence is located along Rogers Road southwest of Louisburg, Kansas. The bridge glimpsed in the background is the 95-year-old Branch Rabbit Creek Bridge.
This huge Oak tree is located just west of the South Wea Creek Bridge on 303rd Street. This is an old rotting-but-still-functional wire mesh fence topped by a single strand of barbed wire. A nice place to take a little break on a hot day…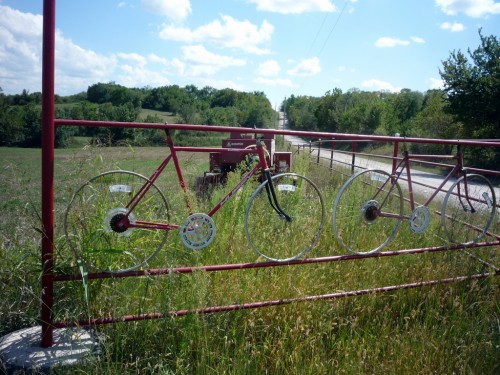 Ah, now we get to the real reason I chose this route and theme: the "Bicycle Fence" at 311th and Beaver Creek Road.
I'd first come across this a couple years back, and was hoping that the landowner had finished this project, but sadly, things haven't progressed. It's kind of a cool concept: use old bicycles as decorative components of a fence. The handlebars, saddles, cranks, and tires are removed, and the wheels, seat tubes, and head tubes are attached to crossbars. Seems pretty sturdy.
I don't think any really valuable bikes were sacrificed for this fence — a Schwinn, a Magna mountain bike, a Huffy 924, and an AMF Roadmaster Scorcher.
Hope they get around to finishing this one day!
Beaver Creek Schoolhouse, located on 299th Street south of Somerset, KS. Now private property (apparently), but bordered by a sturdy wooden fence.
This ragged barbed wire fence is located at 295th and Woodland Road, just east of Paola. It's been overgrown by these cool old vines.
This ranch gate and fence is located on a hilltop at 269th and Columbia road, south of Hillsdale, KS. There's a nice view from here, overlooking the valley below.
The final stop on our Tour of Rural Fences is a ranch gate decorated with cowboy boots and other horsey paraphernalia. This is located on Columbia road just north of Hillsdale, KS. "Pondering Practiced Here"
A few other photos from the ride:
Adding to my collection of water tower photos … this one's at 303rd & Spring Valley Road SW of Louisburg, KS.
Stopped at Somerset Ridge Vineyard & Winery for water, and picked up a bottle of Buffalo White for later. Those little panniers are handy!
This is a sweet 100-year-old wood-deck bridge over a (currently dry) branch of Wea Creek, southwest of Somerset, KS.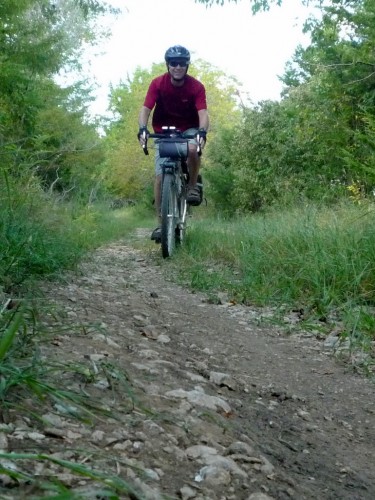 No, this isn't a trail. This is Woodland Road south of 287th Street, where it becomes a rocky, deeply-rutted, overgrown memory of a road, unsuitable for cars, 2WD trucks, or even most SUVs. But it's a heckuva lot of fun on a bike.
A train passes by on an un-gated railroad crossing on 271st Street southeast of Hillsdale, KS. I love how this photo turned out!
I ended up with about 64 miles of mostly gravel. It was much hotter than I expected — mid-90's with a stiff and gusty south wind. I went through 9 bottles of water, two 12-oz Cokes, and a bottle of chocolate milk. It was a day when even three water bottle cages wasn't really enough…
Here was the route, approximately: