Last weekend was the inaugural Adventure Monkey Flint Hills Photo-Cycling Tour. It was organized by Eric Benjamin of Adventure Monkey, and run by Eric and Lelan Dains, and took place September 10-11-12 in the magnificent Flint Hills region of east-central Kansas.
The tour began and ended in Emporia and consisted of three rides — 30 miles from Emporia to Camp Wood on day #1, a 60-ish mile ride on day #2, and 30+ miles from Camp Wood to Emporia on day #3.
To extend the tour a bit, and to give myself an opportunity for a bit of loaded, self-supported touring, I made plans to ride to and from the tour. A "pre-tour tour" and a "post-tour tour", if you will. All told, I was expecting about 325 miles over 5 days, with 2 nights of camping, and at least two days of solo loaded touring.
The trip didn't quite turn out as I planned, but it was a heck of an experience.
Here's my ride report:
Thursday, September 9th, Home to Melvern Lake
As the launch day approached, I was watching the weather forecast apprehensively. Sure enough, the forecast was calling for a 100% chance of rain pretty much all day long on Thursday.
Oh well, I could have taken the easy way out and just driven to Emporia on Friday, but I was determined to avoid that if at all possible, so I geared up for a rain ride — I put all my gear in dry bags or trash bags, and brought along a rain jacket and helmet cover.
When I left the house at about 7:30am on Thursday, the weather was more mist than rain, and I was several miles into the ride before the first true raindrops fell. And even then, they were very gentle. In fact, the whole day was pretty much like that — not once did it ever rain really hard, just a slow, steady, very mellow rain that lasted though mid-afternoon.
And the gentle rain was certainly a blessing — I stayed mostly dry, other than my hands and feet.
My feet is what I ended up having the most trouble with.
Rain and sandals are no problem, and sandals and gravel are no problem, but rain and gravel pretty well sucks, and rain plus gravel plus sandals equals major discomfort.
The problem is that the bike tires tend to pick up tiny bits of grit off the road, and fling them onto my bare feet, where they stick, and then travel into the footbed of the sandal, becoming a painful irritant.
Luckily, my route was such that I was able to stick mostly to low-traffic paved secondary roads. I tried to avoid gravel as much as I could, but still ended up on about 19 miles of unpaved roads — the last 10 miles or so the road surfaces was extremely soupy much, and my feet were just covered in crud, as were my wheels, drivetrain, and panniers. Thank goodness for fenders, or it would have been an even bigger mess.
I was able to stop in the town of Melvern and use the water hydrant at their city park to get the worst of the mud off myself and the gear, but that night at Eisenhower State Park at Melvern Lake, I spent a good long time cleaning up the bike as best I could, and re-lubing the drivetrain.
Unfortunately, my brake pads, which I'd neglected to check before the trip, were pretty much done for due to the gritty mud on the rims. The front brake was squealing, and the rear had worn down to the metal. Oh well, I'd leave early to get the brakes fixed at High Gear Cyclery in Emporia.
Here are some pictures from the day: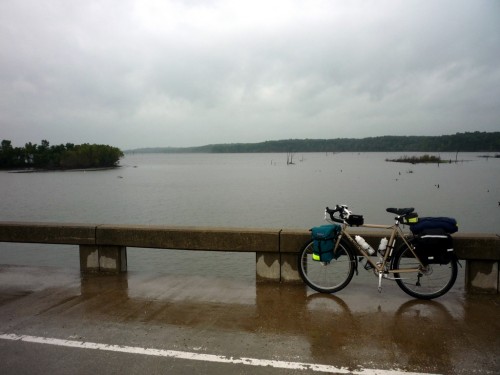 By the time I reached Hillsdale Lake (about 13 miles into the ride), it was still mostly drizzle, not really raining yet.
A few miles further along, at Rock Creek School, it had begun to rain, and the roads turned sloppy. I also, at this point, picked up a droplet of water on my camera lens, which stayed there for the rest of the trip.
Crossing the Marais des Cygnes River on the Prairie Spirit Trail in Ottawa, Kansas.
After lunch in Ottawa, I stopped at this shelter along the Prairie Spirit Trail and waited a bit for the rain to let up. After 20 minutes or so I decided to move on.
West of Ottawa is the town of Greenwood. Actually, all that's there is a few houses, the Greenwood Baptist Church, a cemetery, a community building, and a shelter, where I took a short break. Past this point, I was on "virgin" roads — one's I'd never ridden before.
The paved roads took me west for a few miles, then south. Just as I was wondering if I'd missed my turn, and thinking "If I reach the interstate, I've gone too far," I heard the sound of traffic from I-35. Yep, I'd missed my turn.
I stopped at the c-store near the Williamsburg exit, consulted my map, and determined that the shortest path to Melvern was via a gravel road.
So off I went onto soupy mud.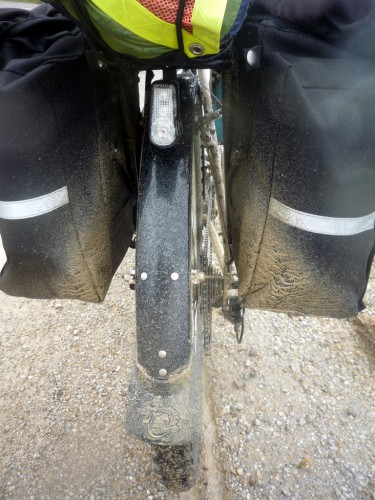 And you can see the result. Yeah, that's about as uncomfortable as it looks.
After reaching Melvern and washing off at the city park, I rode to the outskirts of town to visit the Melvern Riverfront Park & Trails. I've been here a number of times, and really love these trails. They were a bit wet to ride on this day (and I was fully loaded and getting tired), but I stopped for a few pictures.
This beautiful and historic old bridge is also located in Melvern. It was built in 1909 to carry vehicular traffic over the ATSF railroad, but it's now open for bike/ped traffic only.
From there it was just a few miles further to Melvern Lake. I checked out some of the facilities offered by the Corps of Engineers, but opted to continue on to the state park.
(Incidentally, the helmet cover works very well, even if it does look a little goofy — but looking goofy is the least of my worries.)
Eisenhower State Park is located on the north side of Melvern Lake, and it offers a lot of campsites, as well as some equestrian trails and bike trails. Again, too wet and too tired to ride them, but they're there, and look promising.
The state park was a little cheaper than the Corps ($8.50 vs. $12), and I was pleased to find that I was nearly the only person camping there, and that the restrooms offered hot showers, which felt great after a cool, damp day. It had stopped raining while I set up camp, but picked up again as darkness fell, and continued off and on throughout the night.
When I called home that evening, I got some news that would ultimately cut my tour short. There had been a death in the family that day. They weren't sure when the funeral would be. Worst case, my wife would need to come pick me up sometime during the weekend.
But even if I had to go back the very next day, it would have been worth doing. Even with the rain, this was one of my best days on the bike in a long time. I was fortunate that it was a gentle rain, and that the light wind was mostly a tailwind. Traffic was light all day, and seemed to give me plenty of room and consideration, despite (perhaps even because of) the rain. Just a very mellow day.
Friday, September 10th, Melvern Lake to Emporia
After a somewhat restless night in the tent, I got moving pretty early, eager to get back on the road and make it to Emporia in plenty of time to get my brakes worked on at the bike shop.
As I was heading out, I stopped at the restroom where I met a fellow who was curious about my bike. His name was Roger, and it turns out he was also headed for Emporia to ride the Adventure Monkey tour (after driving down from Wisconsin).
That was pretty cool, and it makes sense that the only two people foolish (and frugal) enough to camp out on a rainy night were both cyclists. 😉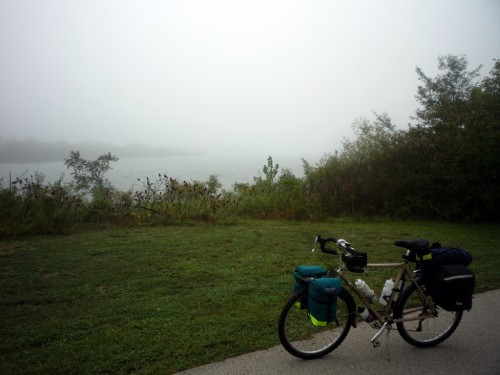 Packed up and ready to roll. Rain was done for, but the air still felt moist. It was a bit foggy near the lake and in low-lying areas.
Once out of the state park, the first few miles were gravel, and with no traffic, very light wind, and the slight haze, it was extremely quiet, just the sound of tires on gravel and the occasional bird. I was worried about riding on gravel again so soon after the rain, but the roads had firmed up nicely. A bit tacky in spots, but not a big deal.
Once on blacktop, the traffic was still light, and the clouds began to break up a bit, with occasional patches of sunlight leaking through. After a dozen or so miles I ended up in Reading, Kansas.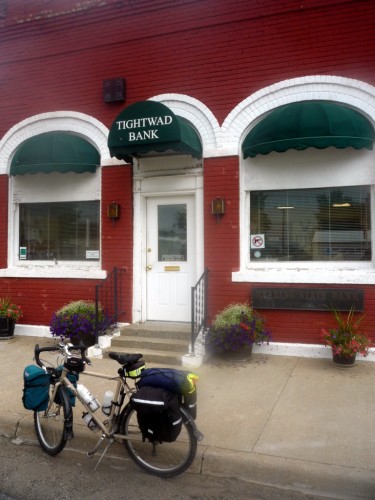 The Tightwad Bank in Reading. My kind of place!
Also in Reading is the Miracle Cafe, located in the oldest building in Reading, a house built in 1870. It's a charming little place, that still feels very much like a home. I was tempted by their wide assortment of pies, but since it was only 9am, I opted for more traditional breakfast fare, a sausage and egg biscuit. Yum!
The rest of the trip into Emporia wasn't spectacular, but it was certainly pleasant, with light traffic and gradually warming temperatures. A southerly headwind picked up at some point, but it wasn't strong enough to become oppressive.
After 30 miles or so I rolled into Emporia, and pedaled past the William Allen White House. White was a famous newspaper editor in the first half of the 20th century, and his home is now a State Historic Site. I didn't take the time to really check it out, but it's a beautiful structure.
One I reached the bike shop, I got the brake pads changed out, and then left the panniers at the shop while I went for a short tour of the town. Without the bags, it suddenly felt like a new bike!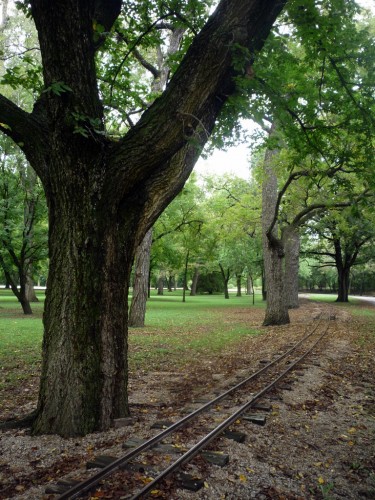 At the southern end of Emporia is Soden's Grove Park, which houses a nice little baseball stadium, and a small but well-respected zoo, which offers a narrow-gage railway that gives visitors train rides around the park.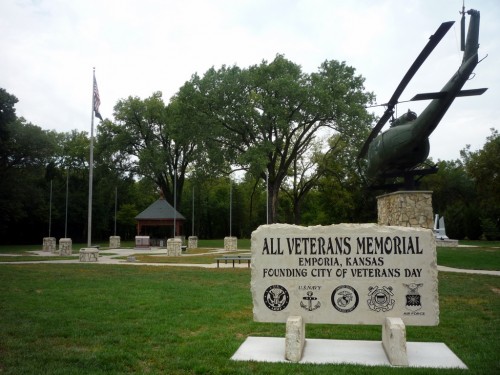 Soden's Grove is also home to the All Veterans Memorial, which commemorates the US armed forces and their service in defense of the country. Emporia is the founding city of Veterans Day.
And finally, this is me next to the Soden Grove Bridge over the Cottonwood River. This elegant structure was built in 1923 and closed to vehicular traffic in 1987. It is now open to bicyclists and pedestrian traffic only.
Maps
Here's the map of my first day's ride. I actually ended up with 83.4 miles, at a 12.MPH average speed.
And here's the map from Melvern Lake to Emporia.
I'll end this report here, and cover the rest of the tour in another post…