This post picks up where my last post (Flint Hills Bike "Pre-Tour" Tour) left off — having spend 1.5 days getting from my home to Emporia, I met up with the group of riders who'd signed up to do the Adventure Monkey Flint Hills Photo-Cycling Tour.
The plan was to ride with the group from Emporia to Camp Wood, ride 60 or so miles the next day, then head off on my own to ride home over the course of two day, heading north to pick up the Flint Hills Nature Trail near Bushong, riding it east to Pomona Lake, camping out in the state park at Pomona, then riding home the following day.
Seven riders assembled at High Gear Cyclery in Emporia to begin the tour, along with our hosts, Eric Benjamin and Lelan Dains.
(Note: I'm not going to write up the whole tour in detail — it would make a long post even longer. Besides, Eric's done a great wrap-up post on his site: The Tour. The following are a bunch of pictures that will hopefully give you a feel for the beautiful landscapes we pedaled through.)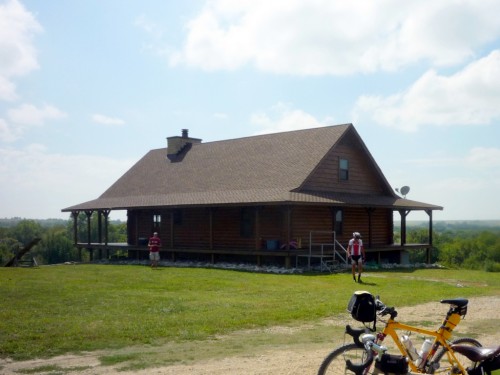 After a brief intro, we set off in cars (one of the riders let me and my bike hitch a ride) to the drop-off point, which was a beautiful log cabin-style home a few miles out of town. Another rider met us there, and then we were off!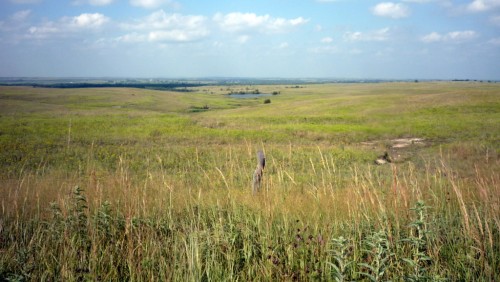 Here are a couple of breathtaking views from along the route to Camp Wood.
This is Eric Benjamin, Mr. Adventure Monkey himself, sporting a GoPro HD Helmet Cam
that can be used to capture video during rides. I haven't seen the results from this tour, but I'd love to use something like this to document some of the great trails and destinations in Kansas.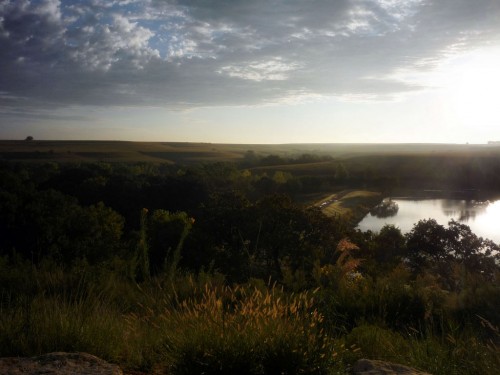 Sunrise the following morning.
And other photographers trying to capture the sunrise as well.
Stopping for early-morning photos. The day started out overcast, but the sky gradually cleared as the day progressed, eventually turning into a beautiful last-summer Kansas day.
Cyclists passing a roadside sunflower.
At one point we came across some roadside plums. There was some debate about whether these were "Sand Plums" or "Chickasaw Plums", but they were delicious, whatever they were called. The skin is slightly bitter, but the meat is sweet and juicy.
This is an old, abandoned stone schoolhouse. It's still in pretty good structural shape, and there are blackboards visible in the weathered interior.
This barn is a mixture of old and new, with a modern top half, and lovely stone arches down below.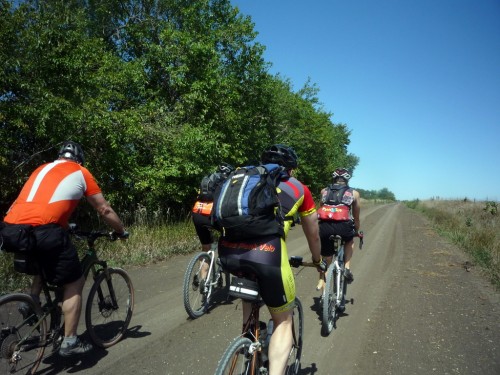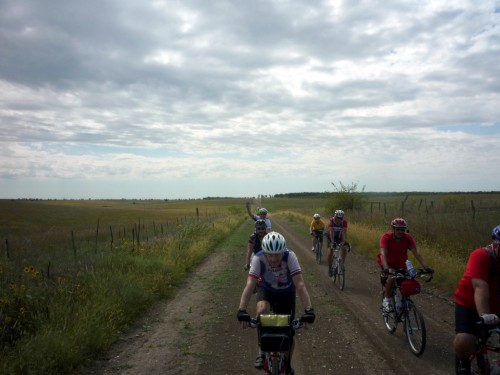 At some point we turned north, and faced a moderate headwind. To keep the group together and make good time to the lunch stop, we formed up into a double paceline, and went busting down a dirt road. Luckily, the rains had missed this area, and the dirt was smooth and dry.
Lunch was in Burdick, Kansas, and this is the town's old grain elevator.
A biker gang descends on downtown Burdick.
After lunch we stopped at a local farm and were allowed to ride through the pasture on some sweet doubletrack.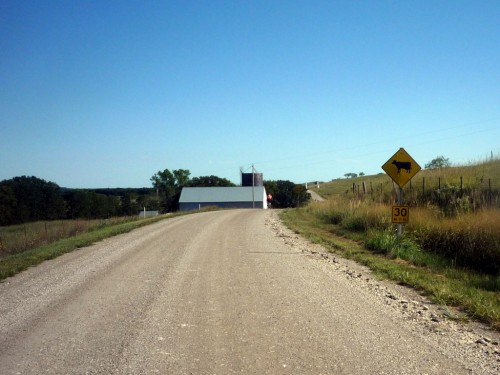 Beware of cows crossing the road at 30 MPH…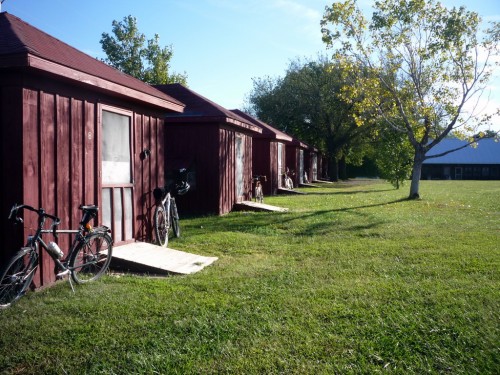 The next morning, we prepared to break camp. These are the cabins we stayed in at Camp Wood. They're made to sleep 8, but most of us got one to ourselves!
The bike tour rolls down the main street in Cottonwood Falls. Not the temperature (78°F) and the courthouse flag flapping in the stiff breeze. It was another great day to be on a bike!
As we left Cottonwood Falls, the pavement ended and we were back on gravel where we belonged.
Another great view from along the route.
The mudhole doesn't look like much in this picture, but it clogged up several bikes with mud, and riders had to stop to clear their wheels of the tacky goo.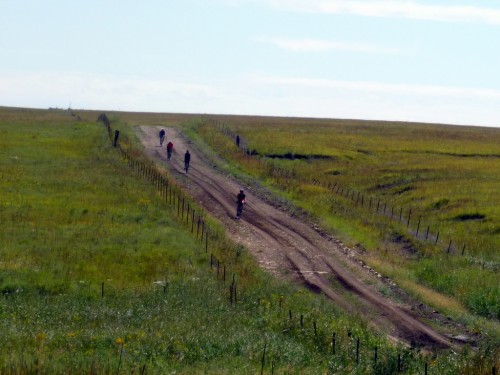 Riders fly down a fast little downhill.
Due to my family situation, I ended up catching a ride home with another rider, rather than riding home on my own. (Thanks, Bill, for the ride and for letting me pick your brain about your recently-completed cross-country bicycle tour: BetterBills TransAm Blog.)
Thanks also to Eric for putting this tour together, for providing such great accommodations at Camp Wood, and for passing along a little of your hard-earned photography expertise — hope I can make good use of it.
I finished up with about 245 miles over 4 days, memories to last a good long while, and an appetite to do more touring — what a great experience!
See also: Flint Hills Bike Tour On Tap, Shakedown, Flint Hills Bike Tour Packing List, Flint Hills Bike "Pre-Tour" Tour.