I didn't get a chance to ride the Biking Across Kansas tour this year, but the route passed not too far from my home territory, so I decided to get a small taste of BAK by connecting up with the group for part of a day and one night of camping.
I rode from my house to Baldwin City, where I met up with some friends who were riding BAK, then I rode with them to the overnight stop in Eudora.
All of this was familiar territory for me, but I just enjoy the atmosphere of being with 800+ other cyclists. Maybe I'll get to ride BAK or another tour again some year.
This was actually only the second time I'd done any loaded touring. The previous one was last year (Bike Camping, July 25-26) when i used a trailer (a one-wheel BOB-style design) to carry my gear.
This time I used panniers, and I was pleasantly surprised. I liked the panniers much better. They seemed to affect handling much less than the trailer did. I honestly couldn't feel them except when I stopped.
Here are some pictures from the trip: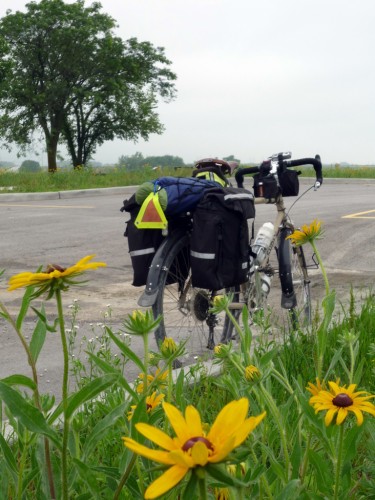 Here's the Long Haul Trucker loaded for a quick overnight tour. I'm traveling pretty light — sleeping bag and pillow in the left pannier, tent on top of the rack, and sleeping pad and clothes in the right pannier. The only real problem is the sleeping bag — it pretty much takes up the whole pannier.
By the way, these are just inexpensive Nashbar panniers I got on sale. Nothing special, but they work. Could be a little larger.
I took gravel from my house all the way to Baldwin City, and at one point came across these road graders grooming the road after several recent rains. It was rough riding in places, but not too bad.
Didn't need any KP (Kansas Petroleum) on this trip…
Every time I ride by this pasture, the dairy cattle chase me … always good for a laugh.
The entrance to Baker University campus in Baldwin City, Kansas.
This is the Osborne Memorial Chapel at Baker University in Baldwin City, Kansas. The structure was built in Sproxton, England in 1864, but dismantled, shipped to America, and re-assembled at Baker University in 1995. Services are still held here.
Here are the friends I met for lunch at Hickory Creek Bar-&-Que in Baldwin City: Robert Garcia, Tim Oberle, Randy Rasa, Mark Rainey, David Rainey, Ed Eroe.
Heading north out of Baldwin City, there's a great downhill run towards Vinland, Kansas. The official BAK photographer was stationed on this hill, and caught an image of me on this screaming 42 MPH downhill. Love this picture!
Here's a glimpse of the gymnasium at Eudora Middle School, filled with BAK'ers escaping the heat and humidity. Someone said it looked like a disaster refugee camp; that's not too far off from the truth.
For some reason, the Eudora Middle School placed the bike racks near the "handicapped parking" area, and in this view, it looks like the racks are what the signs refer to. Don't think it applies …
Pure on-the-bike energy from a bottle of honey. Sweet!
Heading home the next day, I got caught in a downpour and thoroughly soaked. At least I got a chance to find out that my panniers are not particularly waterproof. Either I need better panniers, or pack gear in trash bags in case of rain.
This little trip really makes me want to do some more loaded touring. Maybe later this summer…