Going into the Dirty Kanza, I'd already dialed back my expectations. I was expecting to go 100 miles, and saw 150 as a legitimate chance, but really didn't think 200 was in the cards.
So not finishing the ride wasn't a surprise. But calling it quits at 65 miles was a bit of a disappointment.
This is me prior to rolling up to the starting line, about 5:45 am. The motion blur was totally unintentional, but I kinda like it. It lends a surreal quality to the image (which matched the entire experience).
Here's a look at riders gathering in front of the Granada Theater in downtown Emporia, Kansas for the start of the Dirty Kanza 200. Reports said 160-170 riders started the race.
We were off promptly at 6am. It was fun rolling through the deserted streets. I hung around towards the back of the pack. No sense in getting passed by everyone…
This is the turnoff from pavement to gravel at the start of the Dirty Kanza 200. The folks up front cranked up the power and were soon gone, never to be seen again by me…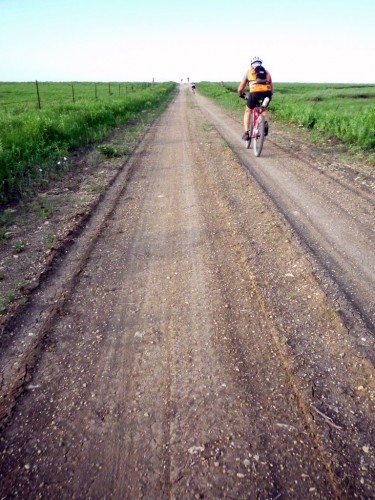 The first few miles were smooth and flat, but soon the hills picked up. I was feeling really good at this point, not pushing the pace at all, but spinning freely, just happy to be riding this great event.
To my surprise, I began to pick off riders. Not sure how many I passed, maybe a couple dozen.
There was a fairly high flat tire rate as well. I lost count of how many, but it was certainly more than ten. I paused to talk with one fellow, and he said it was his 3rd flat of the day, just within the first 15 miles. That must have been incredibly frustrating. With my new tires, I had no troubles of that sort.
Flowers lined much of the route. These are Pricklypoppies (I think), but I also saw plenty of other species, including Western Yarrow, Milkweed, Carolina Horsenettle, Tall Thistle, and I'm sure many more.
I wanted to stop for pictures, but well, this was a race, and there were other riders around me much of the time, so I just kept going.
Here's a nice vista about 20 miles in to the Dirty Kanza. Hills were lush green, but not a lot to see other than grass, cattle, fenceposts and the occasional tree. Still, spectacular.
I loved this rugged open rangeland. Rocks were large in places, and the roads were rutted in places, but it was fun riding.
Just over the ridge ahead, at the bottom of the hill there was a cattle grate crossing the road. It was a rough crossing, and I found two tail lights that'd bounced off bikes as they crossed. I stopped and picked them up. Not high-end lights, but hey, they were just lying there free for the taking…
A lone rider climbs a white road through green pasture. The country here was really remote. No houses for miles and miles, Just open country and cattle.
In retrospect, this part of the course was fairly hilly. Lots of ups and downs. But I didn't find the hills particularly difficult. Long, in places, but not too steep.
There were a number of low-water crossings on the route. Some were muddy, some (like this one) were rocky. This was probably the biggest of the bunch. Maybe 8-12 inches deep where I went through it.
After this point, things got difficult. The wind had increased throughout the morning, and now we were riding right into the teeth of it. The wind was strong — at least 20+ MPH — and gusty. And with no trees or buildings to baffle it, we got the full force of it.
I was spinning in granny gear for what felt like 10 miles. I haven't ridden that far in the small chainring for a long time. Some of it was due to the hills, but mostly the relentless wind.
And it was getting hotter. Quickly.
By the time the route turned north, I thought I'd made it through the worst of it. It was hot, and it was windy, but now I had a tailwind that would push me all the way through to the third checkpoint. Bliss!
And for a little while, it was. The route began a downhill trend, and I was cruising at 20 MPH on the flats, and 30+ on the downhills.
Then I came across a rider changing a flat. I asked if he needed anything, and he asked if I had a pump. His wasn't working. I used a CO2 cartridge on his tube, but it wouldn't hold air.
This was the third tube he'd tried, and none would hold air. He didn't have a patch kit, so I gave him one of my patches. He peeled it off and tried to stick it onto the tube. "No," I said, "it needs glue."
He'd never patched a tire before. That's a little unbelievable. Someone who's an experienced enough rider to attempt a race like this, and he'd never patched a tube.
The first patch we tried didn't hold. It held at first, but popped off as soon as he pressurized the tire. Rather than patch that tube again (a patch on a patch doesn't work too well), we moved on to one of his other tubes. I patched this one for him. This one held.
I'm glad I stopped, but by the time we got moving, we'd been passed by pretty much everyone. And pretty soon I was alone, as the guy I'd helped moved on at a faster pace. He still had hopes of doing the full 200 miles. I forgot to ask his name or get his race number, so I don't know if he made it. Hope so.
The last 10-15 miles into the first checkpoint were a slog. There was a tailwind, but it didn't seem to be helping much. My speed was decent — 14-15 MPH — but with the wind at my back and moving at nearly the same speed as the wind, the air felt dead. The temperature was rising noticeably as well. It was really hot and humid.
I rolled into the first checkpoint unsure if I wanted to continue. But my wife met me there and we had a little picnic in the shade, and that was really nice. I felt better.
A little before noon I took off. Apparently I was the last one to leave from the checkpoint. No one passed me, and I couldn't see anyone up ahead. I'd seen quite a few people drop out at the first checkpoint, but I figured there would be a few keep going. But no.
The first checkpoint was at 58.5 miles. The next was at 101. So 42.5 miles. Do-able.
I checked myself — no cramps, no chills, not lightheaded, still thinking clearly, not weaving all over the road. I was OK, I could do this. Not fast maybe, but I could do it.
The first few miles, between Cottonwood Falls (the first checkpoint) and Elmdale, were paved. One big long hill, but easy rolling. It was due west, with a wicked crosswind.
By the time I reached Elmdale, I'd decided to give it up.
I was alone. There would probably be sweepers coming along later to check the route, but no other riders. What's the fun of doing a group ride with no group?
Another factor was the heat. It wasn't so bad with the crosswind, but I knew as soon as I turned north again, the heat would drop over me like a shroud. Another 35+ miles of that wasn't too appealing.
The other factor that led me to bail was concern about my wife. She was unfamiliar with the area, and not good at reading maps or taking directions. She was really nervous about the idea of having to go "off-road" to find me. I didn't want her getting lost. At Elmdale, I was on a paved road. It was easy to find. Once I turned off onto gravel, if I had to abandon, it'd be really stressful for her to find me.
So I pulled the plug.
It's tough to make that call, but it had to be done.
I bought a coke from a machine, found shelter in a little park, and picked up the phone. No answer. OK, she's driving, and doesn't want to answer the phone while she's on the road, that's cool. Tried again a few minutes later. Still no answer.
I kept this up for awhile. Feeling better, I decided to ride back to Cottonwood Falls. It'd be even easier for her to find me there.
This is the courthouse in Cottonwood Falls. It was built in 1873 of native limestone, and is the oldest courthouse still in use in the state. Look at that flag — the wind's really blowing!
Turns out this was the weekend for the annual Flint Hills Rodeo, and downtown Cottonwood was packed with people to watch the parade. I hung around for awhile at the courthouse, enjoying the atmosphere, talking with a few locals interested in the race, and trying to get hold of my wife.
Eventually I got through. Turns out she was already in Council Grove (the site of checkpoint number two) and had been waiting inside a cool store, and had forgotten to take her phone with her. Oh well.
She picked me up just as the parade was getting started, so I just got to see a little of it. Old cars, old tractors, horses, lots of cowboy hats. It'd be nice to go back one day to see that for real.
So I ended up with about 72 miles — 65 to Elmdale, then another few back to Cottonwood Falls.
I didn't meet my own expectations, but I had fun. The first half of the first leg was some of the best riding I'd had all year. And I didn't end up in the hospital (as a few riders did).
Disappointed, but no regrets.
Will I try it again? Not next year, for sure (already have plans for this time of the year). After that? Probably not. Not absolutely saying "no", but probably not.
Take-aways:
I've found I don't enjoy training. Not that my training was all that regimented, but I found myself despising the schedule. I want to ride when I want to ride, not when I'm supposed to ride to meet some arbitrary mileage goal. Riding should be a goal in and of itself, not a means to an end.
The bike was OK. If I was serious about competing, I'd need a faster bike. The Long Haul Trucker is just too heavy and ponderous. Not that it wouldn't be possible to ride 200 miles on the LHT, but it'd be slow. Even dropping the rack and fenders, the bike was still about 33 pounds. Very heavy for a race bike.
If I did this again, I'd need to pay more attention to speed work. I've been slow all year. I'd hoped I'd get faster as the weather warmed up, but that hasn't happened. Is it the bike, or is it lack of training? The latter, I suppose. I just don't care about riding fast when I ride alone. But a little more speed would make a big difference on long rides like this.
Equipment choices were fine. Five water bottles was just enough. I had plenty of room for food and tools in the handlebar bag and seat bag. Tires felt sluggish, but no flats. No saddle problems. Hands and shoulders were a little sore, but not too bad. Knees OK. Was a little worried about wearing sandals, but they worked out fine.
I asked my wife to support me on the ride because I wanted to get her involved in my cycling. She doesn't ride, and really doesn't understand why I ride. I hoped this ride would bring us closer together. It did, and I think she now has at least a little appreciation for what it's all about, but it was asking too much of her. It was very stressful for her, and I'm sure her nervousness didn't help my confidence. Someone who I didn't have to worry about would have been a better choice.
When I signed up for this, I did so planning to ride with several other guys. One had finished the DK. Two others had attempted it more than once. Veterans. None of them actually rode, dropping out for various reasons. Totally understandable, and no hard feelings, but still, I didn't have a "team". I didn't have anyone to ride with, to support each other along the way, to keep up the pace, to keep going out of a sense of obligation to the others. That would have made a big difference, I think. Alone is hard.
Again, no regrets.
I got to experience the Dirty Kanza for the first time, and it was a day to remember. Maybe not a day to be proud of, but worth doing, certainly.
If I never do it again, that's OK. I definitely want to ride in the area again. It's beautiful. It's rugged. It's remote. It got great history. All the stuff I love.
But maybe not 200 miles in one day. Maybe not in 100+ degree heat index.
Here are some race reports from other riders:
Maximum respect for everyone who attempted this race, and kudos, especially for the 60 or so who made it through all 205 miles, some finishing as late as four in the morning. I don't know how you did it, but you folk are amazing.