In what was probably my final long ride before the Dirty Kanza 200 on June 5th, I headed out into a cool and damp morning.
I covered 110 miles at a 12.3 MPH pace. The ride really turned into a ramble more than a training ride, and that was fine by me.
The route took me through Johnson, Miami, Franklin, and Douglas counties of Kansas, and I visited the towns of Rantoul, Ottawa, Centropolis, and Baldwin City, as well as the Flint Hills Nature Trail.
The clouds cleared as the day progressed, and a nice stiff tailwind carried me home. Can't ask for more than that…
This is me on the bridge over the Antioch arm of Hillsdale Lake in Miami County, Kansas. At this point the skies were still completely cloudy and the wind was beginning to pick up.
It had been raining most days for the last few weeks, so I was a little concerned about the condition of the gravel roads, but they turned out to be fine. The road graders were out in force, but freshly-graded roads are the worst for bikes. Luckily, most were kind enough to leave me a semi-smooth strip along one edge or the other…
Rock Creek School, a one-room red brick schoolhouse in northeast Miami County that has stood for 100 years, was built in 1910 and closed in 1966. It was purchased from the school district by volunteers in the community in 1974, and today it is still used for community events. [read more]
I stop here every time I pass by, because I think it's a really neat place, and I'm glad it's survived and is still being used.
The Marais des Cygnes River was running high, and I was afraid the Flint Hills Nature Trail would be flooded (as it was last year about this time), but it was in great shape all the way from Osawatomie to Ottawa.
This is Carey's Ford Bridge near Rantoul, Kansas.
A bit of flooding on the Flint Hills Nature Trail near Rantoul, Kansas. This was the worst of it, and it was easily passable. Last year this section was completely underwater and I wasn't able to get through. Looks like the trail folk have been clearing out the trailside ditches to allow the water to drain away.
A beautiful old railroad bridge on the Flint Hills Nature Trail.
This carving is located near the courthouse in Ottawa. Tauy Jones was part Chippewa Indian and part white, and was an interpreter, advisor, and minister for the Ottawa tribe. He operated a trading post just south of the Marais des Cygnes, right where downtown Ottawa is today. On an earlier ramble, I visited the hotel he built northeast of Ottawa.
This statue is called "Buffalo Woman" and is located in front of the county courthouse in Ottawa, Kansas. The courthouse was designed by George P. Washburn who was one of the best known 19th century Kansas architects. His symmetrical courthouse designs gave unique character to 13 Kansas county seats. This building is listed on the National Register of Historic Places.
Looking up at a water tower standing alone on the prairie near the site of Globe, Kansas.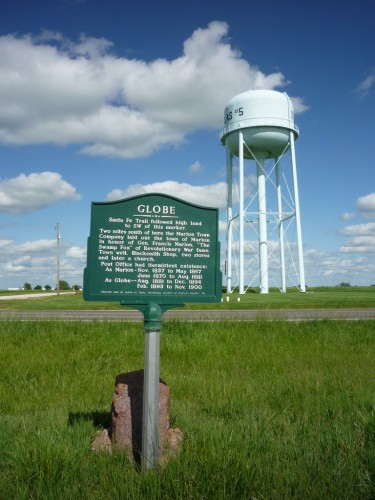 This signpost explains the history of Globe, Kansas. The stone below marks the path of the old Santa Fe Trail.
Sunlight, clouds, and shadows playing across the prairie in Douglas County, Kansas. This is my favorite photo from the day.
The Willow Springs Old German Baptist Brethren Church is an offshoot of the Lutheran and Mennonite Churches. This meeting house was built in 1883, and is located in Willow Springs township 12 miles southwest of Lawrence.
This sign marks the site of Brooklyn, Kansas, an early trading center on the Santa Fe Trail. It was by William Quantrill when he sacked Lawrence in 1863. I've passed near here several times (on the annual Mullet Ride), but had never been down this particular road. I was glad to have found this finally!
This site memorializes Chinese workers who died here in 1867 while building the railroad from Lawrence to Ottawa. This is located near Baldwin City, Kansas.