Long time no blog. Sorry about that. Been focused more on riding than writing…
Some highlights since last I posted:
On the Flint Hills Nature Trail near Rantoul, KS in early April with Ed Eroe (Ed's Life Trek).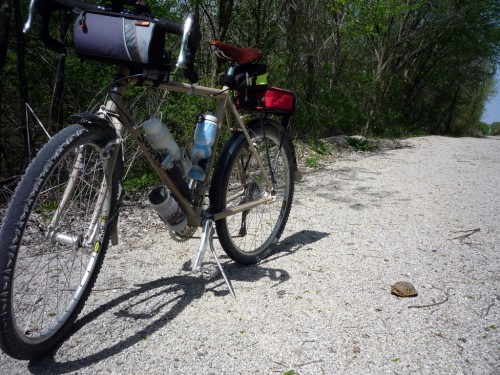 Two slowpokes on the Flint Hills Nature Trail near Osawatomie, Kansas.
This picture was part of my first solo gravel century, a ride from my house south to the town of Parker and back. It wasn't a big ride for pictures, and I managed to get bitten by a dog for the first time — the stupid mutt just ran up and bit me for no good reason. I stopped to yell at the pooch, and he just sat there like nothing had happened, suddenly friendly. It wasn't a bad bite — more like he just grazed me — and it didn't start bleeding until later. I stopped and put on antiseptic (which I always carry), and called it good.
That probably wasn't the smartest thing to do — I should have called the sheriff and had the dog tested for rabies — but I seem to have gotten lucky.
Looking for dead bodies in the trunks of these old wrecks near Lane, Kansas. These cars are used as flood-control devices — stacked, in-filled with railroad ballast, with steel cables running thru them. Kinda weird, but at least they're being put to use.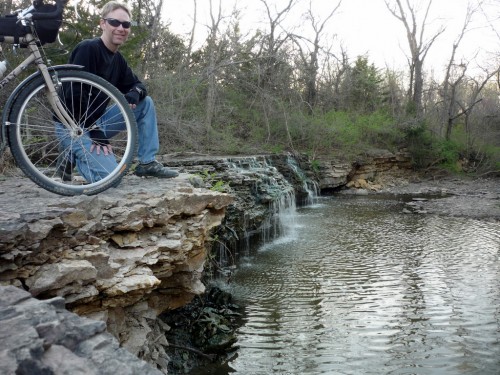 Below the dam at Cedar Lake in Olathe, KS. This is a really beautiful area along the creek.
Rode the Indian Creek Trail on the way up to a bicycle swap meet. This is the Eilert Fountain along the trail in Corporate Woods in Overland Park, Kansas. Lots of folks were out enjoying the beautiful day. I scored a brand new pair of Lake cycling sandals for a great price.
This picture was taken at Douglas State Fishing Lake near Baldwin City, Kansas.
Hmmm, which steed shall I choose … black horse, white horse, black horse, lion, or Long Haul Trucker? At Pilla Park in Eudora, Kansas.
This picture was from an 85-mile ride I did to Lawrence, Kansas on a very cool and windy day. Had to actually break out the long pants, gloves, and ear-warmers for this ride in late April!
Momma Buffalo & calf at KC Buffalo Company farm near Belton, MO.
Rows of freshly-planted corn growing near Belton, Missouri.
At the Liberty Memorial in Kansas City, Missouri. This was part of an "urban ramble" I did with Bill Poindexter (carfree American).
It's interesting — I think riding in the city is just as fun (and almost as easy) as riding in the country. There are lots of cool things to see, and the street grid makes it easy to get around safely and with very little stress. It's the places between the country and the city — the suburbs, with their high-speed arterial roads and the endless dead-end cul-de-sacs — which are bicycle unfriendly.
So no, "urban ramble" is not an oxymoron.