Some photos from this month:
A bicycle makes a perfect mulberry hunter (and carrier) vehicle. The mulberries were particularly plump and sweet this year.
There's a new bridge on the trail at Lone Elm Park in Olathe. Very rustic railings…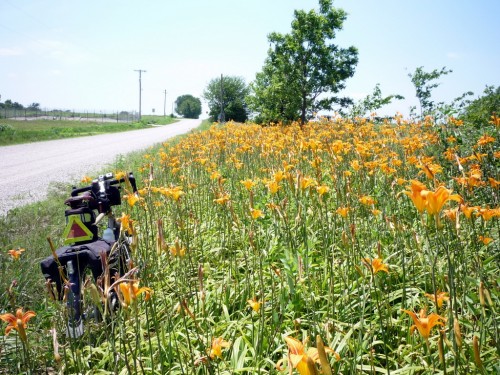 The Long Haul Trucker resting in a stunning patch of Tiger Lillies.
Taking a break on a gravel road in Miami County, Kansas. It was hot and windy!
With all the rain we had in June, the wheat harvest is running late, but this golden field looks ready…
This is the Johnson County Courthouse in Olathe, Kansas. Compared to many around the state, this one is not particularly impressive, especially considering it's located in one of the most populous (and prosperous) counties in Kansas.
This fountain is located in downtown Olathe. Nice.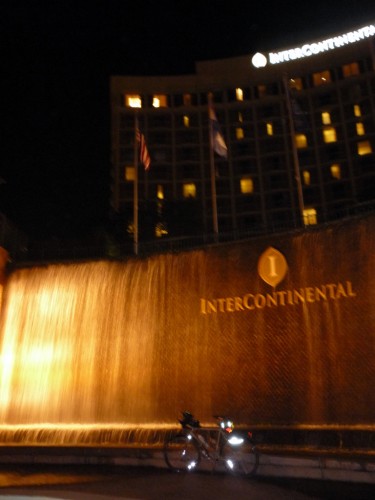 This is the fountain in front of the Intercontinental Hotel in Kansas City, Missouri about 10pm at night. It's really a stunning sight. My little digital camera didn't do it justice.
This last picture was from a night ride I did in KC. I rode up to the city in late afternoon and met up with some folks for a "Critical Pass" ride (similar to "Critical Mass", but with more manners and less drunkedness). We took a meandering route through some of the nicest parts of the city, then stopped for dinner at a Mexican place on Southwest Boulevard.
Cycling home in the dark was one of the nicest rides I've been on in a long time. It was still warm and humid from the day, but there was a nice breeze, and a full moon meant that once I was out in the country, I could turn off the headlight and see perfectly well. So peaceful…