Lake Leatherwood is located near Eureka Springs, Arkansas. It features a spring-fed lake surrounded by 1600 acres of rugged terrain, making it one of the largest city parks in the nation, particularly for a town the size of Eureka Springs.
Lake Leatherwood is formed by one of the largest hand-cut native limestone dams in the country. The dam and several structures at the park were built in the early 1940s by the WPA. Lake Leatherwood Park is listed on the National Register of Historic Places.
The park offers about 16 miles of trails, mostly single-track, arranged in a stack-loop configuration around the entire lake. The trails range from easy to difficult, with lots of short but steep ups and downs.
Given my mountain biking skills (and the fact that I was riding a road bike), I, of course, chose the easiest trails. Even so, I had to get off and walk fairly often.
Still, I'd like to go back and ride these trails again, and check out the remainder of the trail network. I'm sure it would be really beautiful in summer and fall.
Some pictures:
This is part of the creek flowing into Lake Leatherwood. It was mostly dry when this picture was taken, but I imagine it creates a nice little waterfall after big rains!
Most of the trails at Lake Leatherwood are well-marked with signs at each intersection. Each trail is named, but it helps to have a map before you venture out, otherwise the names won't mean much…
There are several small bridges over the creek that feeds Lake Leatherwood. This one is the largest of the bunch. You can see by all the flotsam that the water does get this high on occasion!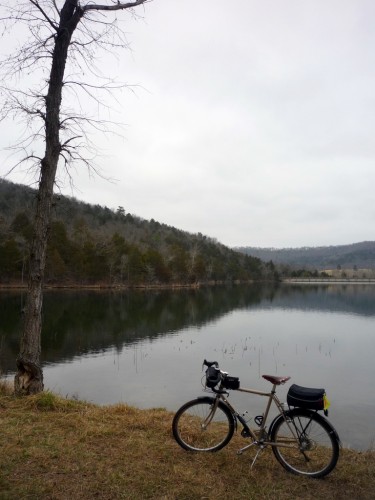 Here's a nice view of Lake Leatherwood, with the dam in the distance.
The dam at Lake Leatherwood. The dam is actually part of the Beacham Trail, and you can ride you bike across.
This is part of the Beacham Trail that circles Lake Leatherwood. This particular section is located on the western side of the lake.