Here are some more pictures from riding in and around Eureka Springs, Arkansas:
Christ of the Ozarks is a huge statue built on a mountain near Eureka Spring, Arkansas. The statue was proposed and built as the centerpiece of a proposed religious theme park which was never fully realized. Completed and dedicated in 1966, the statue was sculpted by the late Emmet Sullivan, one of the artisans who sculpted Mount Rushmore.
Jesus loves my Long Haul Trucker t-h-i-s much!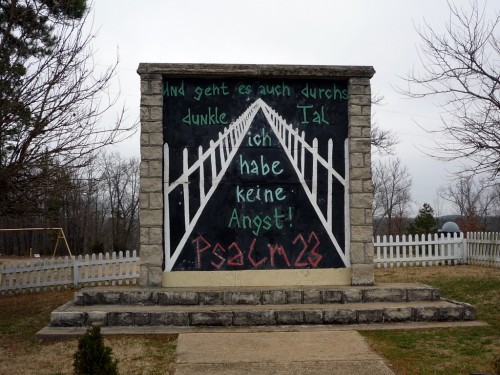 This is a segment of the Berlin Wall, shipped to Eureka Springs after the wall fell in 1989. Other than the biblical reference, I'm not quite sure of the significance…
The Great Passion Play is staged four or five nights a week from the end of April through the end of October in Eureka Springs, Arkansas.
Surrounded by a small park, Magnetic Spring flows from the mountain down the slope from the grounds of the Great Passion Play. Magnetic Spring earned its name because it was supposed to magnetize any metal object with which it came in contact.
Harding Spring was named for J. Emmet Harding, a photographer, who began the tradition of making photographs of people in front of the spring. Harding Spring was one of the original "healing springs" of Eureka Springs.
Sweet Spring derived from early townspeople, who declared the water to "have a pleasant sweet taste". Spring water in Eureka Springs is no longer considered safe to drink, due to contamination.
The Eureka Springs and North Arkansas Railway offers excursion tours, a catered luncheon train and a catered dinner train – each lasting a little less than one hour, from April through October.
This panoramic mural depicts the first 100 years of Eureka Springs history, from Indian times, through the "healing water" years, through the early days of the tourist trade.
And finally, back to bikes! Here's a road cyclist headed north on Highway 23 out of Eureka Springs, Arkansas. Brave fellow — that's not a very bike-friendly highway! And he was wearing a camouflage jacket over a regular cycling kit … very odd!