On my last full day in Arkansas, it was the nicest it had been all week — sunshine, temperatures into the 60's, and light wind. I planned a ride to take me southeast from Berryville towards Huntsville. This turned out to be my favorite ride of the week, even though I got lost a couple times, and didn't get quite as many miles as I planned.
Heading out of Berryville, I found county road 501 to be paved for a half-dozen miles of rolling, and then mountainous terrain. It wasn't until I got into rougher country that the road turned to gravel. This was really beautiful country.
I did great until I got to a point where the road numbers on my printed map didn't match the numbers on the road signs. Was I lost, or was my map wrong.
First one, then the other…
Turns out I missed a turn on an unmarked road that looked like a private drive. I found out when an oncoming car stopped to ask if I was lost. "Maybe," I said. "This is a dead-end road," the driver said. "Then I'm lost," I replied.
She gave me directions of the "take the first left after the chicken houses, then left again when you come to a Y, then left again at the next Y" variety, or something like that.
Eventually I did get back on track, and found my way to the town of Alabam. Here I had a few choices. I could stay on the planned route, and go on to Huntsville, I could head cross-country towards Withrow Springs State Park, or I could short-cut in an hook up with the return route through the McIlroy Madison County Wildlife Management Area.
I chose the latter. The day was getting away from me and I wanted to get back to Eureka Springs in time for the shop ride at 5:30.
I made the turn-off into the WMA, and after a while came to some unmarked cross roads. Also, I found that (again) the number son my map didn't match the actual road numbers.
As some point I came across a forest fire (thankfully I was upwind form the smoke, so it didn't bother me). There were rangers there managing the controlled burn, and I stopped to ask them for directions. Apparently they misunderstood where I was trying to get to, because after following their directions I eventually I found myself headed west. My destination was northeast.
I gave it a few miles, but the general direction didn't change. I realized that they were sending me out to Highway 23. That would work, but it was a long way around, and I really didn't want to ride on that fairly high-traffic road.
So I turned around and took the opposite turn a the last cross-road. That was heading in the right direction, at least. Eventually I saw signed for Rockhouse, and I knew I was on the right track. I stopped again and asked someone else, and they confirmed it, just a few more miles until I hit blacktop.
One I hit the paved road, it was another 8 miles or so back to Berryville. I ended up with about 51 miles and 4300 feet of climbing. It was after 5pm when I got back, so the shop ride was out. Oh well.
This was a really enjoyable route. Scenic, rugged, and very little traffic. The last stretch into Berryville was particularly nice — a wide, smooth road with decent shoulders, and stunning views, and yet almost no traffic at all. I don't think I was passed or met by more than a half-dozen cars on that road (Highway 221).
I'm really looking forward to coming years when I can explore this area some more…
Some pictures from the day: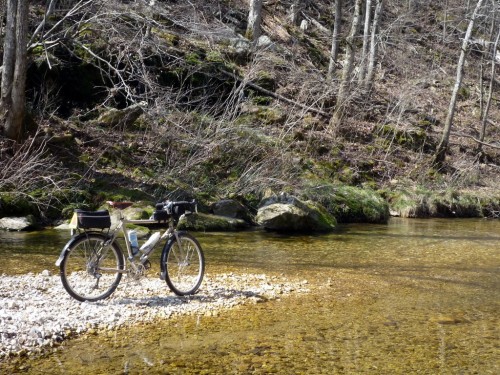 Streams are so much nicer in the Ozarks than they are in my part of Kansas. Where I live, they're typically muddy — both muddy bottoms and muddy water. Just not very aesthetically pleasing. In the Ozarks, it's clear water and rocky bottoms. Just beautiful.
It's a little hard to make out in this photo, but this entire hillside was covered in dog houses and dog pens. I could hear the non-stop barking a half-mile away, then when I came into sight, they really let loose with a cacophony of sound — hundreds of dogs making as much noise as they could muster. Needless to say, I didn't stay long. Thank goodness (for me at least) they weren't all running free!
The rough Arkansas Gravel eventually punched a hole in my rear tire (the second of the week). Later in the ride, I stopped to talk to talk with a woman who told me I was either brave or crazy to ride on these roads — they were constantly getting flat tires on their vehicles from the sharp rocks.
I suppose I was lucky I didn't have more problems than I did. These tires have nearly 3000 miles on them, and the back tire (the one I flatted on) doesn't have much tread left. I've already bought some new rubber, but plan to get as many miles as I can out of these…
This road grader was coming uphill as I was going down, so I just pulled over and let him pass. This long downhill was plenty skittish with the freshly-plowed rock, but I made it to the bottom without wiping out.
A scenic bend on the Kings River near Alabam, Arkansas.
Riding through a low-water crossing in the McIlroy Madison County Wildlife Management Area.
A low-water crossing and gravel road in the McIlroy Madison County Wildlife Management Area.
A forest fire (controlled burn) in the McIlroy Madison County Wildlife Management Area.
Here's the route map (complete with a couple wrong turns):