This training ride started in Spring Hill, Kansas and looped east and south into Miami County. It was part of the Guru's Gravel Grinders series.
The day started at just under freezing, and ended just shy of 40°F, though it never really felt that warm, due largely to a whippy wind, even with brilliant sunshine for much of the ride.
A group of a dozen riders rolled out at 10am, and dropped me on the first hill.
Knowing we were going to be facing a tough headwind on the return trip, I determined not to hit it too hard. I tried to catch up for a few miles, but didn't seem to be reeling them in, so eventually just let them go.
At one point, the lead group made a wrong turn (based on the published map), and I made the correct turn, assuming they'd figure it out and take an alternate route. I pushed it a little for a few miles, hoping to beat the group to the point I thought the routes would converge.
But I reached the spot, with no sign of them. It was at that point I realized that they were riding the route backwards. Actually, I assumed my map was wrong and I was riding the route backwards. At this point, I just proceeded with the plan, figuring we'd cross somewhere down the road.
Eventually we did, at the far southern end of the route. It was then that I learned that I was the only one to have taken the correct direction, and everyone else was riding it backwards.
Oh well. Not having the group up ahead of me made for a far more relaxed ride, since I didn't have to worry about falling behind and trying to catch up. I could ride at my own plodding pace.
The ride north into that gusty wind was tough, but I settled into a nice cadence and spun it out. By the end, I was tired, but not exhausted. I felt far fresher at the end of this 45-mile ride than i did at the end of the previous weekend's 37-mile Fog, Mud, and Hills ride.
Amazingly, I finished the ride with the last few stragglers from the main group, having reconnected with them as we wound through town back to the parking lot, so that was cool.
With the easier-paced ride, I did manage to take a few more pictures this time out:
This used to be a schoolhouse (Miami County SD #64), but now it's used as a cattle shed. (239th & Somerset Rd)
For some reason, I found this "Winding Road" sign hilarious … I would think the fact that the road is not straight would be pretty obvious, and not require labeling. "Oh no, curves! Whatever will we do?"
This is one of my very favorite bridges, but I always marvel that this magnificent old structure is private.
I love the way this little stream meanders through the trees…
Somerset Ridge Vineyard & Winery near Somerset, Kansas (about 295th & Somerset Rd) web site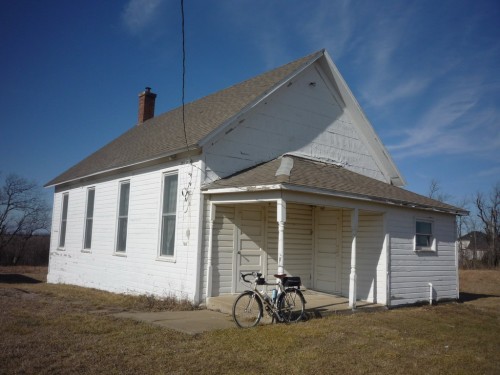 Another old schoolhouse, though one (apparently) used as a community building of some sort — at least it's maintained (327th & Somerset Rd)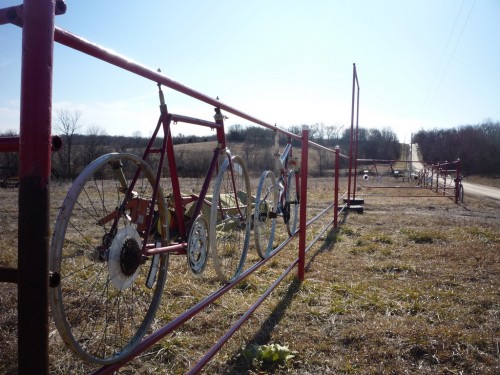 Old bicycles as part of a new fence … I can never quite decide: Is this paying homage to the bicycle, or are these trophies? (311th & Beaver Creek Rd)
This beautiful little falcon, an American Kestrel, sat still long enough for me to get a decent picture (unfortunately at fairly high zoom, hence the fuzziness).
Here's the route: