With a forecast calling for a sunny day followed by a week of clouds, cold, and snow, I figured I best get some miles in while I had the chance, so I took off at 9:30am into 25°F temperatures and 12 MPH wind.
Earlier, I'd swapping tires, putting on my road slicks (26″x1.5″ WTB Slickasaurus), which hadn't seen any action since last September. The planned route was nearly all paved, since some of the gravel roads are a bit sloppy around here.
With a southeasterly wind, I first rode east, crossing over the state line into Missouri, until I connected with Route Y, which I took due south for a ways, to the town of Freeman. From there, the plan was to head back west and north. Mileage was going to be in the 65-70 range, with optional cutoffs depending on how I felt.
Turns out I felt OK. Not great — no real "kick" in the legs — but OK. My the time I reached the turnaround, my average speed had slipped under 12 MPH, but by the time I got back home, it had crept up to a 12.75 MPH overall average, over about 68 miles. The weather forecast didn't really pan out as promised, with the sun giving out shortly after noon, and the temperature never really warming up much.
I still feel really slow and sluggish on the bike, but I'm encouraged that I was able to grind out the miles regardless. It seems I could hold that speed pretty steadily.
In fact, I was still feeling pretty good by the end. The tank wasn't empty by any means. So that's a good sign.
Physically, I was in pretty good shape — no saddle issues, no joint pain, no cramps. I was experiencing some shoulder/neck tenseness/fatigue. This seems to crop up on most of my longer rides, and it's something I need to figure out. I think it's related to my hand and arm position — I tend to settle into the drops, and have a habit of locking my arms out. I'm supposed to ride with the arms bent to help absorb shocks. Need to work on strengthening the abdominal muscles, I think.
So, I made 68 miles. I have a 200K (125 mile) ride scheduled for late March, and a 200 mile ride scheduled for early June. Could I have made the 200K today (about twice what I did)? Maybe. Could I have made 200 miles today (3 times my distance)? No.
But, given that it's still early in the year, I'll take it. I should be able to build up to the 200K in 7 weeks. 200 miles in 17 weeks? Maybe. I'm still having trouble grasping the concept of 200 miles on a bike in one ride…
This being a paved route, and winter, scenery wasn't great, but I did find a few interesting things to photograph: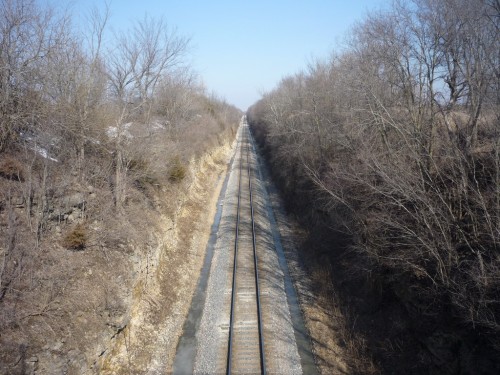 Looking down at railroad tracks running straight off into the distance, framed by rock, trees, and water.
An old barn caught in mid-collapse. Given how much of it had already fallen, it was amazing that anything at all was still standing.
West Union Cemetery on Route Y east of Cleveland, Missouri.
New Hope Baptist Church was built here in 1881, and was destroyed by a tornado in 1960.
A plaque on the building says that this is the New Hope Baptist Church, built in 1960 after a tornado destroyed the original structure. It is now home to the Baruch HaShem Jewish-Christian Synagogue. The very concept seems to me an oxymoron, but it's apparently "a synagogue in which Jewish people can come to know Jesus", with a connection to the Southern Baptist movement.
This is a shot of the partially-frozen South Grand River, on a twisty and scenic section of Groh Road north of Freeman, Missouri.
Morristown, Missouri once stood here. The town existed from 1858 to the 1870s, and the Civil War Battle of Morristown took place in 1861 (see diorama and video).
This is the strangest thing I've encountered in quite some time. It's a bit of abstract outsider art, located in a field near Freeman, Missouri — hundreds of bowling balls placed randomly throughout a field, suspended on small posts. The landowner, for reasons known only to himself, just one day decided to do this. You can read the story of the bowling ball field here.
I find the most interesting things while riding my bike!
It's that spirit of discovery and adventure, of never knowing what might appear next, that makes exploring the world by bicycle so appealing.