Sunday's gravel grinder out of Paola, Kansas didn't quite go as planned (see Winter Ride Invitation).
First, the weather didn't really cooperate. All week long, and as late as Sunday evening, the forecast called for mid-day sunshine and highs in the mid-40's. What we got was fog — very thick at the beginning of the ride, and gradually thinning as the day wore along, but never quite lifting. The sun never did make an appearance. Temperatures topped out in the upper 30's.
Secondly, the original route had included the Flint Hills Nature Trail, but I drove down on Friday to check it out, and concluded that it was unrideable. The snow was still too deep to make much progress. We tried it again on Sunday, but no go.
But we did have a great turn-out for the ride, considering the weather:
There were, I believe a dozen that started out — this group (with me in the center in yellow), plus Chris Locke, who took the picture, plus another latecomer.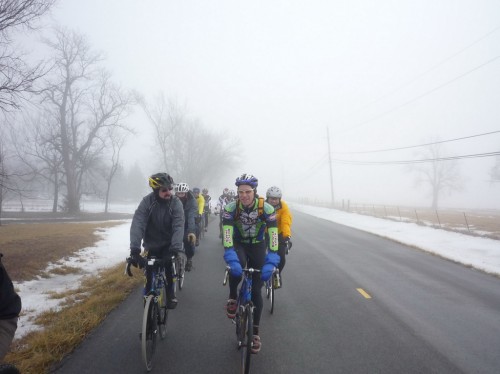 This photo was taken near the start, rolling along 303rd Street in the fog, just before we hit gravel. We were all still clean and fresh and smiling at this point, but that wouldn't last for long!
Soon the hills started to take their toll, plus the messy, wheel-sucking mud made going difficult. In all, we ended up with about 37 miles at a 12.1 MPH average (for me). I crashed at the bottom of one hill, as my front tire washed out on some leftover slush. I fell face-first into a snowbank, and my handlebar wanged my top tube pretty good (actually jamming it under the top tube), but neither me or the bike was damaged.
By the end of the ride, I was pretty wore out, and ended up walking parts of two hills (both of which I'd ridden several times before).
Oh well, at least I stayed relatively clean. Only two of us had the foresight to bring full fenders, so most of the group had mud-splattered clothing and a nice brown stripe up their back. My boots were muddy, but not much else. Even the bike was reasonably clean, except for the cranks and the chain, which was filthy.
I had the widest and knobbiest tires, for sure. A few folk were even running road slicks, which were actually a pretty decent choice, as they seemed to slice right through the muck, whereas mine kind of floated and wallowed. I don't think my normal wide semi-slicks would have been any better, though…
Here are some photos from the rest of the ride, from Chris Locke:
More photos on Facebook: Guru's Gravel Grinders.
Here's what the route ended up being:
It's too bad the fog didn't allow for better views of the countryside, as I think this area is rather pretty, even in winter.
I'm thinking of running the route again later this year, sometime in Spring or Summer when conditions are more favorable. If and when that happens I'll try to post up an announcement at least a week or two in advance…
See also: Paola Gravel (Muddy) Grinder from Chris Locke, Mud 'n' Fog 'n' Hills from Guru's Gravel Grinders blog.