I'm way behind in posting these pictures, but this ride out of Cottonwood Falls, KS on April 11th turned out to be a great little ride. We'd originally mapped this out as a 55-mile route (following roughly the same route as the third stage of last year's Dirty Kanza), and planned it for a group of 5-10 riders. Plans changed and people dropped out, and it ended up being just me and 9Toes. It also turned out to be a windy day that threatened rain the entire time we were out, so we cut the ride short (about 37 miles).
This is the Chase County Courthouse in Cottonwood Falls, built in 1873 our of native limestone and the oldest operating courthouse in Kansas.
This is me at the entrance to the Chase State Fishing Lake.
The view from the top of a hill just west of Cottonwood Falls.
Elmdale City Hall, built in 1936 by the Works Progress Administration (WAP), Elmdale, KS.
A twisted tree, rocky hill, and recently-burned grass make for a stark, but somehow compelling scene.
An abandoned one-room schoolhouse in Chase County, KS.
Me inside the schoolhouse: "Step away from the light…"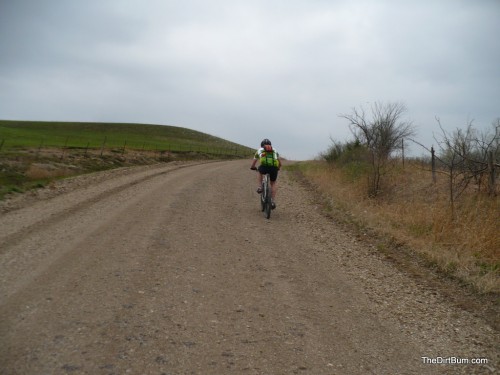 A sample of Flint Hills gravel road: steep, rough, rugged scenery.
After the ride we stopped for lunch at the Emma Chase Cafe in Cottonwood Falls.
I find the landscape here to be both stark and beautiful. I can't wait to go back and explore this area in more detail, get even further off into the country, and see it during other seasons.