It's not every day that I get to ride new roads, and the more I ride, the farther afield I have to go to find what I call "virgin roads", but these are the rides that I love — that sense of exploration, of venturing into the unknown, the promise of a new experience, a new view, over every hill and around every curve.
A few days ago I took a short trip into Leavenworth County, KS. This is actually not that far from my house — only 20 miles or so — but I'd never explored the county, even by car.
I drove to De Soto and parked there before heading over the Kansas River to Leavenworth County, then riding northwest to Tonganoxie and back.
By my calculations, about 75% of the 51 miles of this route were entirely new to me, a most excellent and highly satisfying percentage.
Here are a few pictures from the ride: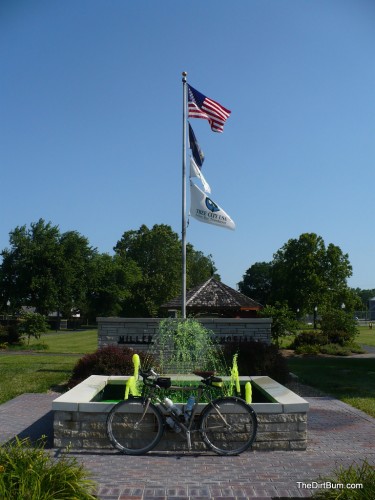 Flags and fountain at Miller Memorial Park in De Soto, KS. As you can see, the wind was blowing pretty good. I had a moderate cross/head wind on the way out, and a nice tailwind on the way back. (Not sure what the purpose of the lime-green water in the fountain is…)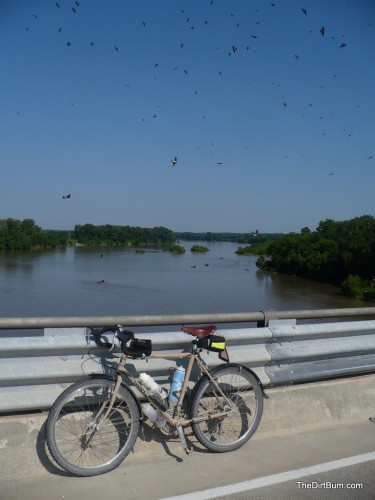 This is on the bridge of the Kansas River at De Soto. The dots in the sky are birds wheeling and diving over the water.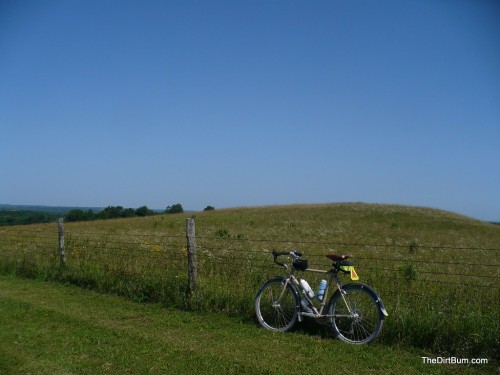 A hilltop meadow. Leavenworth County is rather hilly, and there were a number of good climbs, with nice views at the top.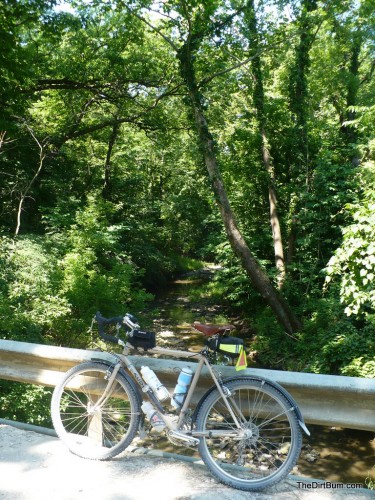 Here's a shady and rocky little creek where I stopped to take a break.

Stranger Creek Bridge, an old narrow, wood-decked bridge on a seldom-used road in Leavenworth County, KS.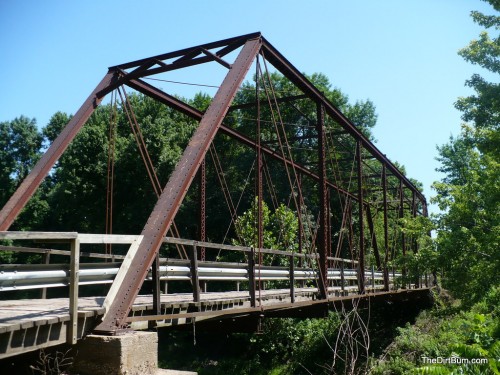 Another view of Stranger Creek Bridge.

Me looking down at the muddy waters of Stranger Creek.

The wheat harvest is in progress in Leavenworth County.

An old schoolhouse at 189th & Hollingsworth Road in Leavenworth County, KS.

I love stuff like this. This piece of folk art is wheat stalks made of old baling tines.

Lunch was at Mr. Goodcents in Tonganoxie, KS. $2.89 for a sandwich – what a deal!

A tank on display at the fine Reusch VFW Memorial Park in Tonganoxie, KS.

Finding a bit of shade on a hot summer day along a gravel road in Leavenworth County, KS.
I really enjoyed my ride in Leavenworth County, and can't wait to go back and explore some more of their amazing back roads.