Not a lot to write about recently. Weather's been spotty, but I've gotten out for a few rides. Here are some pictures: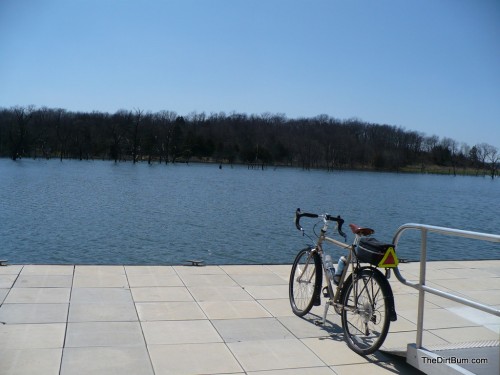 This was taken at the lake at Kill Creek Park on a cool but sunny day.
This is from Lone Elm Park (which I've written about before). The "Lone Elm" lamppost signs are new. There are three different designs: a wagon train, an Indian, and this soldier. Impressive.
This is me on a bridge in Miami County. You can't really see it from that image, but the trees are starting to bud and the land is starting to green up. And it's warm enough for shorts!
I'm not sure what these tiny purple flowers are called, but they entirely cover some fields. Very pretty.
Like my "kickstand"? That's just the bike leaning against a stick stuck in the ground. The Long Haul Trucker's back triangle has a nice place to prop a stick against. Works great (as long as there are surdy sticks to be found nearby).
Somehow, when taking the bike-in-the-field shot, I managed to walk through a patch of cuckleburrs…
Hopefully, I'll have some rides coming up that'll be more post-worthy!