Looks like my cycling season has reached a premature end.
Sunday afternoon I drove to Lawrence, KS to ride the Clinton Lake Trails with 9Toes. Neither of us had ridden these trails, so we didn't really know our way around. I lead out, and right away we hit some rather rocky sections, followed by a twisty section with freshly-worked dirt.
I was riding somewhat faster than my normal pace, and after bouncing through some dirt-covered rocks, there was a sharp left, then a sharp right. I made the first turn, but on the second turn my front wheel got a little too close to the loose dirt on the edge of the trail. The wheel slipped downhill off the trail, and I went over hard onto my right shoulder.
As I sat there taking stock. 9Toes asked if I was all right.
"Yeah, I think so," I said, "unless I broke my shoulder."
I stood up and examined the shoulder, and felt a sharp bump on top. Showed it to 9Toes, and he confirmed. "I can see it from here," he said.
Having broken my left clavicle 9 years ago playing softball, I figured that's what this was as well — a broken clavicle (collarbone).
Pain wasn't terrible, but it was definitely there.
We walked the bikes back to the truck — luckily we were only about 0.4 miles into a 13-mile trail, so the trip back was short. He drove me home to my wife, and off to the hospital we went. A few hours later I was back home with an arm sling and pain meds.
The diagnosis: A grade 2 A-C joint sprain (separated shoulder). Here's the details from an online medical site: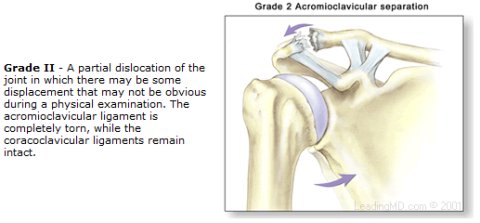 Next day was a trip to see an orthopedic doctor. He confirmed the diagnosis, and said that there's nothing to be done except to let it heal. Keep the arm in the sling for a few days, then gradually lose the sling. Do some exercises to rebuild the strength and range of motion of the shoulder. Stay off the bike.
The obvious follow-up to the last question: How long?
4-to-6 weeks was his best guess.
Bummer. Not unexpected, but discouraging nonetheless.
So my cycling season's done with. I ended up with 5950 miles (only 50 miles short of 6000!). 2575 of those on the recumbent, and 3375 on the mountain bike.
My goal for the year was 4500 miles, so I'm hardly dissatisfied with the total, though obviously I would've like to hit that next big round number.
I've kept track of my miles on BikeJournal, which lets you compare your mileage with other riders. It currently shows me as #1 in the city of Olathe, and #4 in the state of Kansas, with a pretty secure hold on those positions, unless someone adds 300 miles in next few weeks.
Sitewide, I'm at #514. I had hoped to stay in the top 500 for the year, but that's not going to happen. Not sure how far I'll slip, but I'll probably end up in the 600-700 range. Not bad.
So for now I'll take it relatively easy. I can still work on the computer, using my left hand for mousing and hunt-and-peck typing. It's slow going, but it works. I'll probably take up walking to get a bit of exercise, and maybe set up the recumbent on the trainer to do some easy spins. I'll also likely hit the road on the recumbent to begin with, since that'll keep any pressure off my shoulder. The only issue there will be whether I can hold my arm outstretched for long periods, and have the hand strength to turn the grip-shifter.
Next year: Back on the bike!