When I hurt my shoulder on December 7th, I figured my year was done for, and I'd finish up just short of 6000 miles for the year. Not so fast there.
The shoulder's getting better. I have good range of movement, and it doesn't hurt much at all, except for a few isolated movements. I still have a big old bump on the top of the shoulder, but that's probably permanent.
Although I set up the recumbent on the trainer, I never actually convinced myself to ride it (I really hate riding a stationary bike).
Then, the day after Christmas, with the temperature topping out at about 65°F, I ventured out onto the road for the first time in 18 days.
I won't say it was worth the wait, because I would've just as soon skipped this episode entirely, but dang, it felt good to be back on the bike again.
Never mind that I took it very easy. Never mind that I rode very slowly. Never mind that the wind was blowing 20 MPH. It was still a grinfest.
I ended up going about 20 miles, and the shoulder felt fine. Not good-as-new fine, but good enough. Leaning over the handlebars wasn't a problem. Putting weight on the shoulder wasn't a problem. Hitting bumps was a bit of a problem, but that was manageable.
On the 29th I did another 20 miles. On the 30th I did another 10.
Bingo, bango, that's 6000 miles for the year. 6000.7 to be exact — about 2575 on the recumbent and 3425 on the mountain bike.
Considering my goal was only 4500 miles, I think that turned out rather well.
I haven't decided on a goal for 2009. I may not even set one. I wouldn't be surprised if I ended up with fewer than 6000. That's an awful lot of riding.
One last picture from 2008, this one taken on the last ride, on the trail at Lone Elm Park: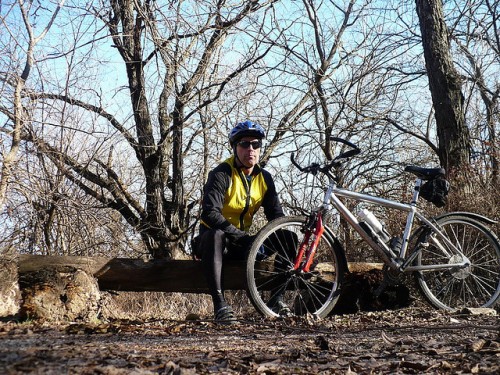 And finally, a picture that sums up my mountain biking accident:

Image courtesy of Sir Bikes-a-lot, Professional Dirt Bum
Ineptitude. Yup.