After weeks of cajoling, finally got 9Toes out on that gravel grind we've been talking about. We'd initially planned to take to do an organized ride in the Flint Hills, but faced with the prospect of a 6am start and a two-hour drive, we instead elected to keep it close to home and get started at a more reasonable hour.
After a short road trip to Paola's Wallace Park, we headed west on 303rd Street, which is paved for a few miles before it turns to gravel.
The first hill, just past the appropriately-named "Lookout Road", was a doozy, a long steady climb, followed by a small downhill, then a long series of ups and downs, including a nice gravity-fueled plunge around a blind curve, a flat run across a narrow valley, then a curvy ascent before we hit Pressonville Road and turned south.
The next miles had a few more ups and downs before we reached the Marais des Cygnes River valley. We crossed it once just south of 327th Street, on a new concrete bridge, then again a short while later on 335th Street.
In contrast to the bland concrete slab architecture of the new bridge, Carey's Ford Bridge, built in 1909, is elegant and beautiful, and still functional, though too narrow for two-way car traffic. It's amazing to think that a bridge built nearly 100 years ago inspires awe, while my only reaction to the new structure is "blah". How is it our forefathers could afford to make something both beautiful and useful, while today, with vastly improved wealth and technology, we settle for functional-but-ugly?
Down the road a bit, near the town of Rantoul, is what I call an airplane graveyard, though it's actually the home of Dodson International, a business that takes apart old airplanes and sells the parts. It's always fun to see the variety of planes around there, both large and small.
In Rantoul, we picked up the Flint Hills Nature Trail, a rails-to-trail conversion that will ultimately be 117 miles long, but today is made up of a number of isolated and partially-completed sections.
We followed the trail west of town, and it looked like the trail had been worked on recently, with new rock spread across the ground. It wasn't really ready to ride, as the rock was huge railroad ballast rock, and it was hard going, but we made it through. The trail ended at a dirt-pile after a half mile or so. We climbed the pile and looked beyond, but all we saw was a farm field.
East of Rantoul is a similar situation. The trail here is finished (and judging by the tire tracks, footprints, and horse tracks, well used), but again it peters out after a half mile or so, ending in a grass field.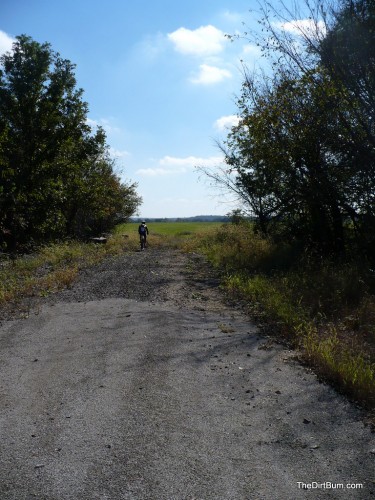 This time we kept going, following the faint line of the old railroad bed across the field, the recently-mowed stubble crunching beneath our tires. Again, it was slow going, but soon enough we crossed the field and re-entered the trail proper at the Virginia Road entrance.
A few minutes later we stopped for a break at a well-built trail bridge, before continuing along the trail, with the river on our left and tree-covered bluffs on our right, it didn't feel like Kansas. This part of the trail feels much like Missouri's Katy Trail — very scenic and serene.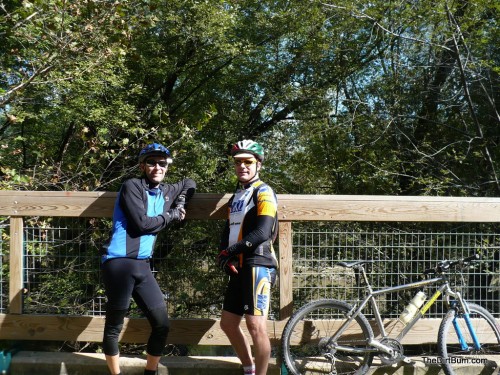 After reaching Pressonville Road, we continued on the trail heading east. Though I'd ridden the previous section before, this part was new to me. I don't think it was open the last time I came through.
In fact it may not be officially open yet. The trail itself is in great shape, but after a mile or so, the bridge over Indianapolis Road is missing — completely gone. You have to walk down a steep sidepath, cross the road, and push the bike up another steep path before getting back onto the trail.
From there, the trail goes another quarter-mile before it crosses John Brown Highway, follows the road for a short distance, then abruptly ends just before it reaches the Osawatomie city limits.
The Pottawatomie Creek Bridge is located just south of Osawatomie. Again, it's a beautiful old bridge, built in 1932. It's made of concrete, but with its three elegant arches, it's far from ordinary.
The Creamery Bridge just north of Osawatomie is nearly the Pottawatomie's twin, built two year earlier.
After leaving Osawatomie we headed back to Paola, encountering another round of knee-buckling hills in the process, before rolling back into Wallace Park.
It was a slow ride, but it was a gloriously sunny and calm day, and the pace was just fine. The roads near Paola are some of my favorite places to ride, and with the steepness and frequency of the hills west (and east) of town, it's certainly a good place to get in some hill work.