With rain in the forecast for the next several days, and a sunny (though cool and windy) day on tap, I took off for a short afternoon gravel ride, heading to Baldwin City and back.
The route followed 183rd Street due west, following the same path I rode in September (Hard Forty), with the first stop at Gardner Junction:
Gardner Junction near Gardner, KS
With a strong cross-wind, I was still pedaling fairly strong, and after crossing into Douglas County and bypassing the county lake, I reached the Ivan Boyd Woodlands Nature Trail just south of the lake with a 14.9 MPH average.
Nature Trail at Ivan Boyd Woodlands near Baldwin City, KS.
I spent some time walking the trail through the woods, admiring the old oaks on the property, and gathering some hickory nuts to take home for later. I even saw a deer, though I was too slow with the camera to get a shot off.
After saddling back up, the road took me around a winding curve and up a long, loosely-graveled climb: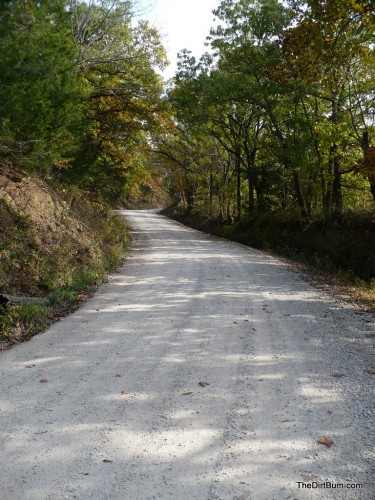 Winding gravel road near Baldwin City, KS
At the top of the hill is Signal Oak park. According to the sign: "On this quarter-acre site, overlooking three valleys — Coal Creek, Wakarusa, and Kansas — stood the famous Signal Oak Tree, a stately white oak at the time of the Civil War, whose branches were used to hold signal lanterns."
It's a cool little place, with a nice view of the land to the north, with Lawrence in the distance:
Signal Oak Overlook near Baldwin City, KS
The ride back, after a quick stop at the Santa Fe Market in Baldwin City, wasn't nearly as pleasant as the ride out.
First, clouds had moved in, and the world changed from sunshine into gray. Then the wind, which had been coming out of the north-northeast as I rode west, had switched to the east-northeast, so I had a strong and gusty headwind all the way home.
Ugh. With 20+ miles of pumping against the wind, I was lucky to hold a 13 MPH average, even on the relatively flat homeward route.
I ended up with 47 miles at a 13.6 MPH average. Not quite the 15+ pace I was looking for.
Still, the first half of the ride was great, and the nature trail was wonderful. The ride home, though, I think I'll just forget about….