I've been staying with my parents for the past few weeks, as my mother recovered from hip replacement surgery. They still live on the same farm in Lafayette County, near Dover, that I grew up on, so it's been a treat to be able to ride the roads around there. Many are familiar, others I've not seen for 35 years, or ever.
Their land is situated on the south side of the Missouri River, on the "bluffs" side of the river, so there are plenty of ups and downs, twists and turns. After riding so much in Kansas, where the road network is a strict one-mile orthogonal grid, the organic layout of roads in Missouri took some getting-used-to. There are no straight roads. There are no flat roads. Roads connect to each other at odd angles and distances. There are numerous dead ends.
After a wet Spring, nearly all the gravel roads have been recently re-rocked, and the road crews have not been stingy with their application. Fresh gravel is a pain to cycle on at any time, but I've found miles and miles of it, forcing me to slow down and carefully pick a line, or more often, to simply rattle on through when no line is to be found. The constant pounding wears on a person.
But the countryside there is pretty. The ratio of cropland to rangeland is considerably higher in Lafayette County than in Allen County — nearly every bit of tillable soil is in use.
Lafayette County has no significant trails, so all of my rides were on gravel and paved roads (mostly gravel). In all, I managed to log about 350 miles there, the longest ride being just over 40 miles, all on my Nashbar gravel bike. Here are my routes during this period: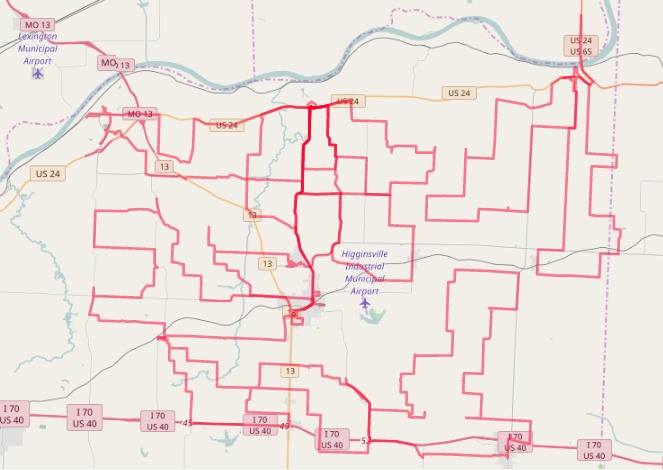 Here are some photos from the trip: