I'd planned to ride a century on March 2nd, but with the forecast calling for wind and rain, I decided to pull the plug and wait for another day. My Puch doesn't have fenders, and cold rain isn't much fun anyway.
This was the scene later than morning:
So perhaps it just as well that I bailed, though I felt a little regret at not getting to ride through the falling snow…
The next day, the weather was windy, but warmer and at least partly sunny, so I set off on a metric century. I ended up getting in 63 miles, riding a northwesterly loop through Olathe, De Soto, Eudora, and Gardner.
It's great to see this sign and finally feel that it's meant for me, too.
This is only the second time I've ridden this road (and the first was in the dark). Bicycles had been banned on this section of roadway east of De Soto for over a dozen years. The ban was lifted late last year.
I still don't understand the reasoning behind the ban. Proponents of the ban opined that the road was simply too dangerous for bicycles and motor vehicles to share, that there were too many hills, and too many curves.
Riding that road, if I hadn't known its history, it wouldn't have seemed extraordinary at all — just a normal road, not particularly hilly or especially curvy. I never felt in danger, and only one motorist was delayed by me, for a short time, and they could have safely passed if they wished.
This is Memorial Hall in De Soto, with the city water tower in the background. Someone must have planned these two landmarks with just this scene in mind, because they fit together so perfectly…
This is a view of the Kansas River, looking west from the De Soto Bridge.
And this is a view of the river from the opposite perspective, from water-level, looking east towards the bridge.
A street in the deserted ghost town of Clearview City. Hundreds of people lived here when the Sunflower Munitions Plant was in operation. Now nature is taking it back…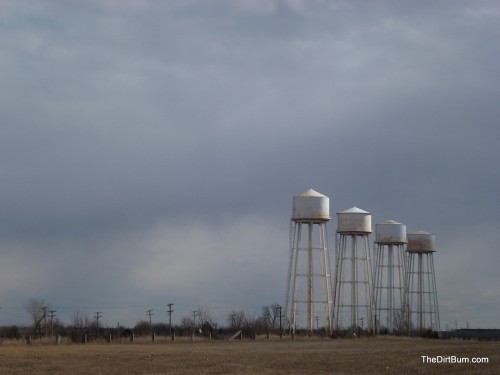 This is a view of the iconic water towers at the Sunflower Plant. The entire 10,000+ acres is closed to the public and signed as "No Trespassing – Hazardous Conditions". It is an EPA Superfund site due to environmental damage from the ammunition that produced there for decades.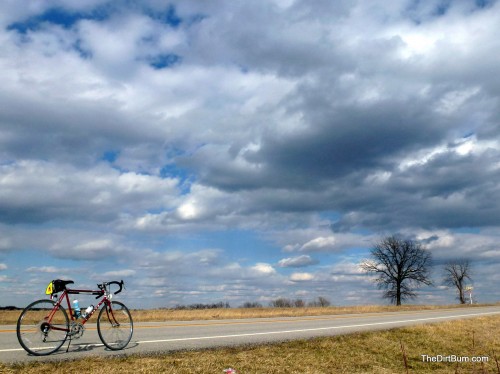 Bike and clouds along old K-10 highway in western Johnson County, Kansas. With the new superhighway a half mile to the north, this old road is quiet and mostly empty, making for a great low-traffic bike route between Lawrence and Kansas City.
This is a statue of Paschal Fish and his daughter Eudora, for whom the town of Eudora, Kansas is named. Paschal Fish was a Chief of the Shawnee Indian tribe. This statue is located in downtown Eudora, and was commissioned from sculptor Jim Brothers for the 150th anniversary of the City of Eudora.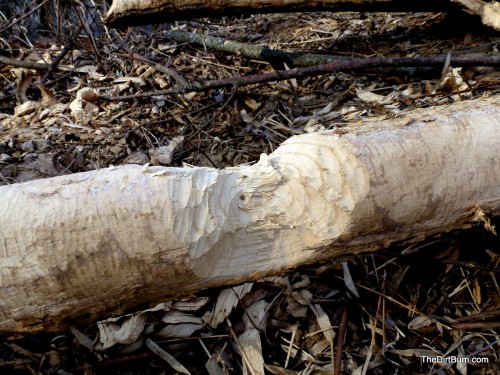 Beaver have been busy on this tree along Captain Creek in eastern Douglas County, Kansas.
A rafter of Turkeys among corn stubble in western Johnson County, Kansas.
This is probably a pretty reliable indication that oil prices are going nowhere but up: new wells being drilled in Kansas (near Edgerton). Perhaps a dozen in this field alone.