The phrase "The Scouring of the Shire"* came to mind when I saw this scene on a recent ride:
Every single tree has been cut down along an entire mile of minimum maintenance road (271st between Crescent Hill Road and Bethel Church Road in Miami County, Kansas). Some of the remaining stumps have been used as fenceposts, the logs have been cut up for firewood, and the remainders have been piled in great heaps to be burned.
Obviously, this is private property, and I don't dispute the landowner's authority to raze the fencerow, but that doesn't make it right.
Last summer it had been a pleasant tree-lined country road, and now it's been defaced and left in ruin.
Here are a couple of photos from July of 2011: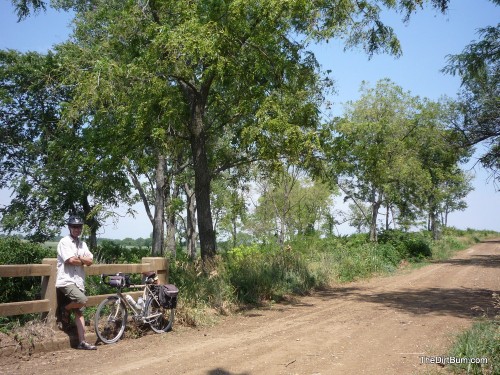 That was a super-hot day, and the trees along the road were most welcome shade!
Here's a photo from November 2009, showing the road in a wilder, more rugged state:
Now, this wasn't really that special of a road. The trees were mostly Hedge and Cedar (though some Oaks and Walnuts, too), and most weren't mature. A few were old enough to have fallen, and were perhaps a hazard (or inconvenience).
But still, did they have to cut down every single tree? There are few enough trees in Kansas; why kill so many?
* For those who don't get the reference, "The Scouring of the Shire" refers to the end of The Lord of the Rings, when the heroes return after having won the war, to find their homeland, The Shire, overrun with ruffians, who destroyed things out of spite: "The trees were the worst loss and damage, for at Sharkey's bidding they had been cut down recklessly far and wide over the Shire; and Sam grieved over this more than anything else. For one thing, this hurt would take long to heal, and only his great-grandchildren, he thought, would see the Shire at it ought to be."
That's how this felt. Destruction for no reason. A scar that won't be healed in my lifetime. It almost made me want to cry.
But, I suppose there are more remote and rugged tree-lined roads to be found and to be treasured. Just wish this one hadn't been squandered.