Coming home from last Saturday's Kansas City Tweed Ride (an awesome event, by the way … you can see my photos from the ride here), which I rode to with Carfree American Bill Poindexter, Bill & I hooked up with Corinna West, who lives in Kansas City, KS, but rides around the entire metro area, and knows about all sorts of cool and interesting little hidden places in the city.
Here's Bill and Corinna riding on weekend-empty KC streets. Bill's still in his Tweed Ride finery, and Corinna's in her Chocolate Fairy get-up.
We didn't get to ride together all that long, but she led us to a few mini-adventures:
Al-Rahman Halal Market, a local market specializing in Middle Eastern and African food. Never would have stopped in there on my own, but a really nice little shop.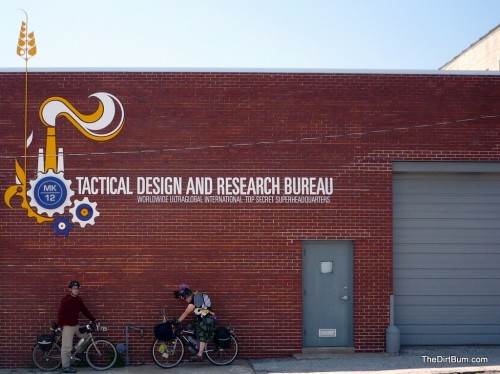 Worldwide ultraglobal international top secret superheadquarters of MK12.
"Ride a Bike" … yeah!
Graffiti in a rail yard: "Only believe what you here … welcome to the real world".
We evacuated the railroad tracks when a train came through, then stopped at the next intersection and Corinna recited a poem she'd written that weaved the "secret concrete canyon" and the "nine blue sheep" graffiti together with other stories from the city and her life. It was powerful. Stunning, actually. I only wish I'd had the foresight to capture it on video.
But luckily, here it is, recorded at a Jazz Poetry Jam, Corinna West's "816":
After that, we split, with Corinna headed north, and Bill and I rolling on south towards home.
I want to get back there some time and do some more exploring. So many hidden gems to discover in the city.
Thanks for the tour and the poem, Corinna!