A day-by-day photo-journal of the 30 Days of Biking challenge for April 2011:
April 1: Criss-crossed the Santa Fe Trail numerous times in 34 miles. This is 191st Street just east of the Johnson/Douglas County line.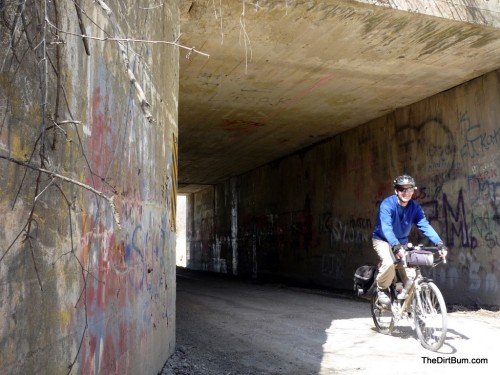 April 2: Rural graffiti in a railroad underpass near Spring Hill, KS. 36 miles.
April 3: It was crazy windy — 30-40 MPH — and crazy hot for early April — 90+°F. This is at the Veterans Memorial Park in Gardner, KS. In places, especially through open farmland, it was all I could do to keep the bike moving and keep it from being blown off the road. 16 miles.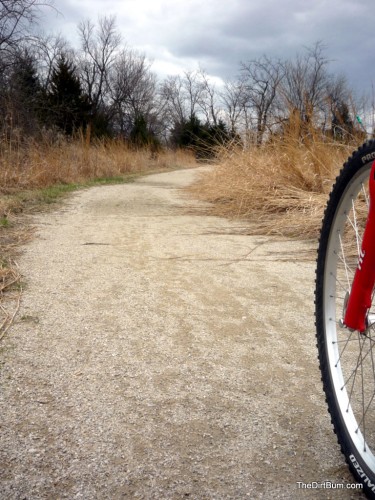 April 4: What a difference a day makes! April 3rd was 90°. April 3rd was maybe 40°. But the wind was still a-blowing, so rather than venturing out on the open road, I headed to nearby Lone Elm Park for a short ride. About 5 miles.
April 5: I rode to Leawood, KS for a photo shoot for 'Cycling the Washington-Rochambeau Revolutionary Route' with Carfree American Bill Poindexter: http://cyclingw3r.blogspot.com/. 53 miles.
April 6: This is the Elm Street Bridge over the BNSF Railroad tracks, looking north into downtown Gardner, KS. The bridge was built in 1954 and closed to all traffic a few years ago. It's inadequate for vehicular traffic, but would make a great bike/ped bridge! It was finally a beautiful day, but I was taking it a bit easy after my longest ride of the year. 19 miles.
April 7: It was a cool an windy day and rain was forecast, so I broke out the mountain bike and drove to the trails at the northwest corner of Hillsdale Lake. This bridge was built in 1920 and carries an average of 35 cars a day. Divine indeed! About 5 miles.
April 8: This old barn is located near 191st & Clare Rd in SW Johnson County. Not sure if it has any historical significance, but it's a beautiful old structure. 8 miles.
April 9: I smelled like creek water after this. What happened? a) I fell in after taking this picture; b) I walked the bike across; c) I tried riding across, but the current swept my wheels out from under me; d) I rode across successfully.
The correct answer is "d". I rode across without incident, but got my feet dunked in the deeper-than expected water. Rode the rest of the way with wet socks and shoes! 65 miles.
April 10: Looking out over the Marais des Cygnes river valley, with Osawatomie in the distance.
(OK, I cheated on this one. I rode on April 10th, but it was just a grocery run, with no photos. So I used this shot from the day before…) 10 miles.
April 11: I had a dentist appointment in Overland Park, so rode there in the morning, and noticed a group of kids riding along the sidewalk. I caught up with them just as they were parking their bikes at Cottonwood Point Elementary in Overland Park. No parental escort in sight, but with helmets & bike locks, someone taught these kids well!
Earlier, I had nearly been t-boned by a woman in a van, who pulled out onto a main road from a side street without stopping (or looking, apparently), just as I was passing by. Luckily, I was riding well into the lane, so had some maneuvering room (and should have been very visible). No harm, no foul, but I'm glad at least one of us was paying attention. About 43 miles.
April 12: This is another photo from my dentist ride. In this one, a cyclist rides through the underpass beneath Antioch Road on the Indian Creek Trail in Overland Park. When I came upon this tunnel, I recognized that it would be a good photo opportunity, so I stopped and waited for someone to come by. I waited and I waited, and finally gave up and started riding away when I saw a cyclist coming fast. I had to hurry to get back into position, and was only able to get this one shot in before he was gone. I like the way it turned out, though.
On my real live April 12th ride, I journeyed up to the Olathe Walmart, detouring for a spin around Lake Olathe, and checking out the West 127th Street bike lanes. About 22 miles.
April 13: Crossing Ten Mile Creek on Ridgeview Road near Spring Hill, KS. There's a lovely decrepit old bridge, but it's missing a deck. Hence, either turn around or take the water route. Today I forded.
You can read the full story of this little ride here: Two Creeks Crossed. About 22 miles.
April 14: Grocery getter … it's about 5-6 miles to the nearest store, and I usually make the run several times a week. The bike makes the trip fun, and discourages me from buying too much stuff. I have larger panniers and a trailer I can use if I need heavy/bulky items.
I know this isn't the most exciting or creative picture, but not every ride is an adventure. Some are purely utilitarian, and that's OK. Time on the bike is still a joy, whether it's grocery shopping or exploring the countryside. 13 miles.
April 15: Rock Creek School near Wellsville, Kansas, was in operation from 1860 to 1966. This red brick structure was built in 1910, and though it has been closed for 45 years, it's still in great shape, and is used as a community building.
For this ride, I drove to Hillsdale Lake, parked, and did the ride, a short loop headed west. It was cool and drizzling rain, so that was plenty. 8 miles.
April 16: Stone and steel. Grabbed this pic on a grocery run, about 3 miles form my house. This wall looks impressive in this shot, but it's really not. It's full-height at this one spot, but peters away to nothing within a short distance both ways. 11 miles.
April 17: This is the Middle Creek Railroad Bridge on the Flint Hills Nature Trail near Peoria, KS. Lovely day on the trail! 46 miles.
April 18: Seems everyone's complaining about the cost of gas, yet every pump was in use when I went to get fuel for the mower. Somehow it doesn't seem so expensive when you're only buying a gallon at a time. About 11 miles.
April 19: This is a rather strange bike lane, on 143rd Street in front of Havencroft Elementary in Olathe. The lane transitions from the street to a sidepath to accommodate vehicular parking in front of the school (and yet cars still park on the grass). Not a big deal, as traffic is usually light and it's easy enough to take the lane. But it's an odd configuration.
And just west of this, there are three roundabouts, and for each one, the bike lane disappears up onto the sidewalk, which is confusing, and not very useful. Again, I just ride in the road like the normal traffic that I am, and control the lane as needed. About 19 miles.
April 20: Falls below the dam at Olathe's Cedar Lake. Not the clearest water, but a nice scene. About 13 miles.
For a listing of other waterfalls in the state of Kansas, see KansasTravel.org.
April 21: No dead end!
This isn't the most interesting photo, but I think it illustrates something rather important. This is an example of an often-overlooked piece of cycling infrastructure, a short pathway that provides a link between two otherwise unconnected neighborhoods. In this case, a 200-foot section of pathway saves me a mile on a busy two-lane road. Finding these hidden links is one of the skills that a cyclist can use to get around quickly and safely in suburbia.
About 13 miles.
April 22: You know you're in for a wild ride when even the road sign has been mudded. Thoughts are with the Trans Iowa racers, who start at 4am tomorrow on a 320+ mile trek on gravel and B roads. Hope they don't see too much rain and mud!
(This is another time-shifted photo. I rode on this day (about 9 miles), but none of my photos were worth sharing. This is from my Sunday ride out of Wellsville. It was one of the few surprises on a route with otherwise familiar roads. It may look a little wet in this picture, but the mud was dried, which made for a very bumpy ride over the clods.)
April 23: Civil War history at Signal Oak Overlook near Baldwin City, looking north towards Lawrence. This was the site of a large white oak from which lanterns were hung during the border ruffian days of the Civil War, to warn settlers of slave raiders from Missouri.
I rode west to Douglas County State Fishing Lake, which usually provides me with some nice photos. Unfortunately, on this day all the good spots were fill with people fishing. Oh well, even though it was cool, cloudy, and a bit windy, it was a fun 46-mile ride nonetheless.
April 24: Well, I can't complain. This was my first flat of 2011, and my first on this tire in 3000+ miles. And it was a slow leak, allowing me to limp home and fix the flat at my leisure. This little thorn was the culprit. About 10 miles.
April 25: Storm Clouds Gather — It was a rainy day, but I got out for a short 12-mile ride between showers. I actually didn't feel much like riding this day. Not sure if it was the weather, or a bit of fatigue, but once I got outside and on the bike, I felt good.
This photo is the result of a bit of image manipulation, using the "curves" feature of my paint program to darken the shot. This was actually taken in full daylight, with gray clouds swirling overhead — visible, but not so evident as here. The framing of the bike with the tall grass was largely accidental, but I'll take it.
I like this shot. It looks rather spooky.
April 26: A view of an oft-traveled road, from a road less traveled…
This is 167th Street over I-35. The gravel roads are mostly in great shape, but a bit wet in spots, hence the mud on the tires. About 19 miles.
April 27: Big Bluestem, Big Clouds, Big Wind
It was another cloudy, cool, and windy day, so I kept it close to home. This is another shot from Lone Elm Park. About 9 miles.
April 28: A racer crosses the finish line at the PowerFiTTE 10K Time Trial in Gardner. Great turnout for this event, with some really fast riders!
It was a nice sunny day, finally, and I rode around a bit before the event, getting in about 34 miles altogether. The time trials have been held in Gardner for years, but I'd never attended. I'm glad I got a "racing" picture into the collection. Not really my thing, personally, but gotta admire the rider's speed and focus, and many of the bikes are really beautiful.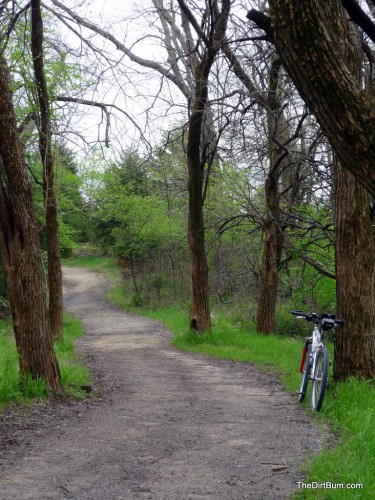 April 29: Met a hiker on this path who said he'd found a nice mess of mushrooms a few days before, but nothing so far on this day. I searched a bit, and came up empty. But the ride was reward enough. 18 miles.
April 30: The Kansas City Tweed Ride on the car-free Cliff Drive Scenic Byway.
I drove to a friend's house, about halfway there, and we rode in the rest of the way. I'd never been on Cliff Drive, nor spent much time in northeast Kansas City, so this ride was a treat, as was the ride back, which turned into a bit of an urban ramble. About 33 miles.
---
Totals for the month:
30 rides
665 miles
22 car-free days
The riding was the easy part. There were a few days I probably would have skipped without the challenge, but once I got out the door I didn't regret it.
The harder part was finding 30 unique and interesting photos, especially since I was limiting my driving days.
Suffice it to say that I used up a lot of the material within an easy ride from my house, and if I ever do this again, it'll be very difficult not to repeat myself!
What's your favorite photo of the month?