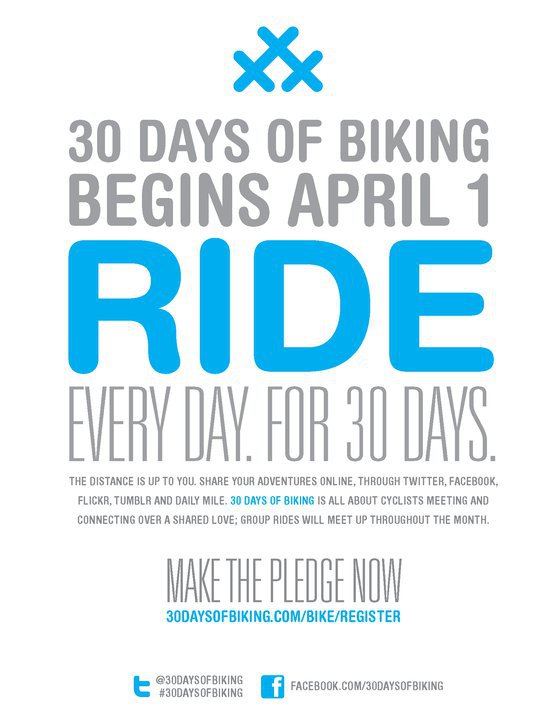 This is a great idea: 30daysofbiking.com
The rules are simple:
Register on the site.
Ride your bike. Ride to work. Ride around the block. Meet some friends and bike around town. If you're riding your bike, you're participating.
Share your story! Tweet about your bike ride, and include the hashtag #30daysofbiking. Read what others are tweeting, and join the conversation!
Repeat Steps 1 & 2 each day through the month of April. The only rule for 30 Days of Biking is that you ride your bike every day for 30 days, then share your adventures and stories with others on Twitter, Facebook, or your blog.
So that's what I'm doing, except I'm expanding on the concept a bit. In addition to riding every day, I'm going to try to post a picture every day.
If you want to follow along, watch for #30daysofbiking tags on my @KansasCyclist Twitter account, or follow KansasCyclist on Facebook.
When I'm done with the month, I'll re-post all the pictures here at DirtBum, all in one post.
If you're taking part in the challenge, whether or not you officially registered for it, feel free to post your stories and pictures on the Kansas Cyclist Facebook wall.
In the meantime, here are a few "Signs of Spring" photos from the last few days of March:
Not too many places in Johnson County still burn pasture land, but this farm a couple miles from my house does so every year. Love the new grass, post-fire.
A tiny little snake wriggling across the road.
A crawdad out for a morning walk. This is also a close look at a chip-sealed road.
March ended being not a great month for cycling for me, just 250 miles and only 9 car-free days. Hoping April will be better.
Biking every day, it should be!