As much as I enjoy riding in the snow, it does start to wear on me after awhile, and I find myself less motivated to get out in the gold and gray.
After a very snowy January and early February, we hit a nice stretch of warmer-than-normal weather, which melted all the snow, and whetted the appetite for more. Unfortunately, now it's snowed again, and the weekend is looking rather dreary. But the coming week looks promising, and in mid-March I'm planning to head down to Arkansas again. Yay!
So this is a catch-up post, with a few photos:
Bridge out, creek thawed. Time to turn back. This is the Ten Mile Creek Ridgeview Road Bridge just east of Spring Hill, Kansas.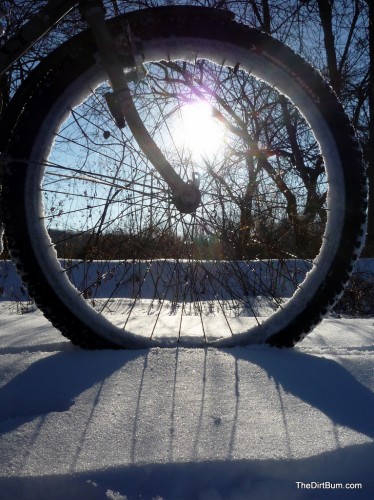 This was taken on the Flint Hills Nature Trail near Rantoul, Kansas. I only ended up riding about a mile on the trail, because the snow was just too deep and hard to pedal.
I was trying to reproduce this shot from Fat Tire MN, but didn't have fresh enough snow nor large enough wheels.
A nice shadow-and snow effect in Paola, Kansas.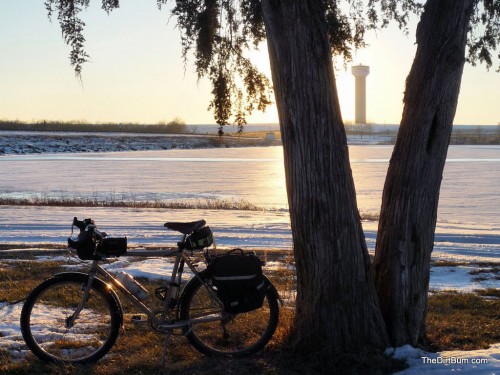 The ice-covered Lake Miola in Paola, Kansas.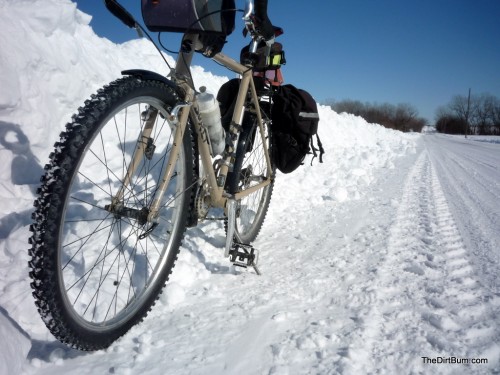 The next big round of snow was in early February, and once the plows made it through, conditions were actually pretty nice.
But, of course, with a few days of warmish weather, the gravel roads soon turned to muck.
This is Hillsdale Lake, iced-over and snow-covered, but not for long…
By mid-February, the temperatures were up into the seventies, which not only meant that the snow disappeared, but it was shorts weather, at least for a day!
This statue is called Pastoral Dreamer, and is located in Leawood, KS.
It was even nice enough for a night ride. This is a 60-second exposure on a quiet country road, with light from a full moon filtering through a line of trees. The dashes of light in the sky are stars, blurred by the rotation of the earth.
Late in the month, I got out for a group ride, and though the gravel roads were in fine form, we managed to find a minimum-maintenance road that turned out to be a little wetter than we'd hoped. There were several places along this mile-long stretch where I had to walk the bike.
The gumbo quickly filled the space between my tires and fenders, and eventually it stopped the front weel from turning. I had to take the front wheel off three times to clear the muck out.
It wasn't as bad as this ride, but it was close.
Here are the after-effects the next day. Oh well, the bike needed a good cleaning anyway.
January ended up being a good month for me, mileage-wise, with about 275 miles. February, unless I get a few in the next couple days, will end up at about 200.
Next month, with warming weather and a week in slightly warmer climes, should be well over 300, with any luck.
I doubt that we've seen the last of Winter, considering that there were late-March snowstorms each of the last two years, but Spring is definitely in sight. Finally!