These photos are actually from two rides in Miami County, Kansas on September 2nd and 3rd, 2009. For the first one, I parked at the Louisburg Cider Mill and rode south and then east, through Somerset and New Lancaster.
The next day, I parked at the Wal-Mart in Paola, and again rode south and east, this time through Block and Fontana.
Both rides covered nearly the same territory, and shared many of the same elements — some rolling hills, some quiet gravel roads, some lush farm country, some rugged terrain.
The obligatory sunflower photo, I just can't get over how abundant and beautiful the roadside flowers are this year. Just stunning.
Me on a small bridge just southwest of Somerset.
There are some good-sized hills in Miami County. Here's just a quick look at one nice roller-coaster.
Checking the map … now where the heck am I?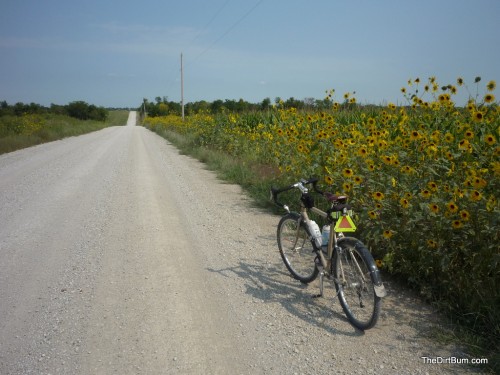 Sunflowers lining a gravel road near New Lancaster, KS.
This photo, along withe the next few, are from the Wea Mission Site near Paola, KS. In 1833, Presbyterian missionaries established the Wea Mission on this site to serve the Miami, Wea, Piankeshaw, Peoria, Kaskaskia, Potawatomie, and Shawnee Indian tribes who'd been relocated to this area from their native lands in the Great Lakes region.
I've driven (and even biked) by this site many times, but have never noticed it. But for some reason this time it caught my eye. There's no really anything here, except for the informational signs, but it's still pretty cool. I love this kind of historical stuff…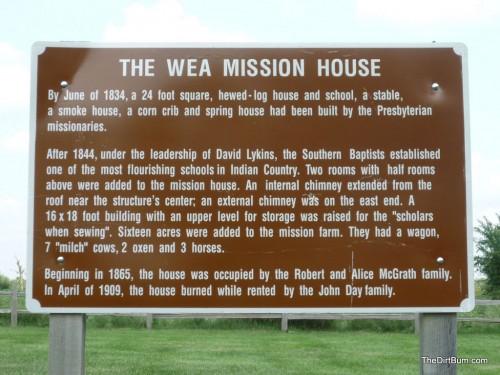 An old (and tiny) one-room schoolhouse near Osawatomie, KS. In surprisingly good shape for a structure that obviously hasn't been used for quite some time.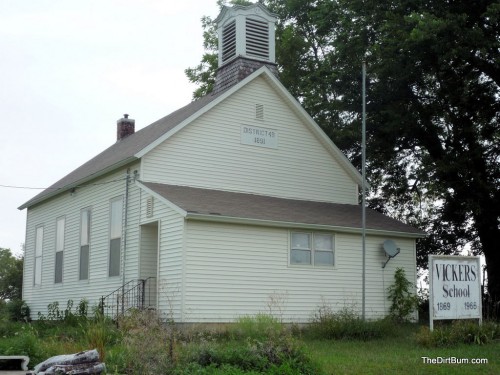 Vickers School, 1869 to 1966, near Paola, KS