The inaugural Farmhouse Classic Gravel Century took place on July 18th 2009 starting at a farm near Lathrop, Missouri. This was the first gravel century I completed, and it was quite a day.
Lets start off with the weather, which was amazing for mid-July — low 60°s to start, and mid-70°s by the end. There was a bit of wind, but it was light to start the day, as we were heading into it, and by the time it picked up strength, it provided a nice tailwind.
The route was at least 90% gravel (see map), heading northwest from Lathrop to Easton, then northeast past Stewartsville, then back south to the start.
The website for the ride showed big, chunky gravel, more like railroad ballast than the gravel I'm used to. I figured there was just a short isolated section of that stuff, but no, there was at least 20 miles of this — huge, freshly-laid, loose, walnut-sized hunks of rock across the entire width of the road, with no smooth parts to choose from. All you could do was hold on tight and grind through the stuff.
Once, as I was bouncing through a particularly rough section, I looked down at my arms as they held the handlebars, and the flesh on my arms was flying every which way — and I don't have fat arms!
The sections with rough gravel were just brutal. There may have been nice scenery there, but if so I didn't notice much of it. Keeping the bike upright and moving forward took all my concentration.
And interspersed with the chunky gravel were several miles of minimum-maintenance dirt roads. Mostly, these were a relief from the relentless pounding of the gravel, but there were some rough parts here, too. One mile-long piece had ruts that were at least two feet deep. I was able to ride between the ruts, but one little slip and I'll have crashed hard.
I did manage to crash once on these dirt roads. Silly me, trying to ride one-handed as I took pictures with my right hand. Hit a little rut across the road, and off-kilter I went. I tried to hang on and righten it, but ended up veering off into the ditch. A few bruises and abrasions, but otherwise no damage.
The first SAG was at the city park in Easton, with a nice spread of energy bars and gels and such. The next SAG was at a convenience store in Stewartsville where I refueled with beef jerky & Coke.
The next section of road was paved for awhile, then smooth gravel, then paved again. After so much rough rock (and with a tailwind to boot), it was just incredibly sweet to be rolling on smooth roads. My average speed, which was 14.4 MPH at the first SAG, and 13.2 at the next SAG, gradually started to climb.
We got lost a few times along the route, but nothing serious. But with the extra miles, we decided to short-cut the last leg of the route, and I rolled into the end with 101.3 miles, at an average speed of 13.7 MPH. A welcoming party at the end, with an awesome spread of food, was a great way to end the ride.
I especially appreciated the applause and congratulations from the previous finishers as I rolled in. The ends of previous centuries have been kind of anti-climactic, with hardly anyone left to share my sense of accomplishment. Having folk stick around to welcome the stragglers back home was a really classy touch.
The other cool thing about this ride was that I actually felt great at the end, better than I'd felt at any of my previous paved centuries. No saddle pain, no knee pain, no shoulder pain. I felt really strong at the end, and still had plenty of kick in the legs.
Considering the terrain — which, in addition to the rough roads, featured some tough little hills — that's pretty amazing.
Given the difficulty of the ride, and the distance, it wasn't a great day for pictures, but I managed a few:

Preparing to launch: Micah Bicker, Randy Gregorcyk, Mark Moerner

An old country church and cemetery

Cyclists getting buzzed by a crop-duster. Thankfully we didn't get sprayed with chemicals.

Our first section of dirt road – nice and smooth and dusty.

Pleasant Grove School, 1910 to 1941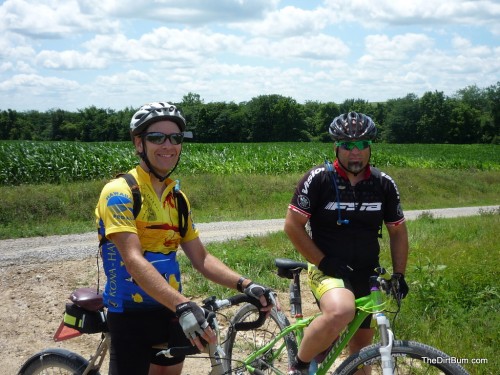 Taking a break before our next section of gravel (Randy R & Mark).

Taking a picture of Mark & Randy G. over my shoulder, seconds before I crashed.

Randy G, his Litespeed, and my Long Haul Trucker, on one of the only old bridges we crossed on the route.

Walking a particularly rough piece before hitting the dirt again.

Climbing some chunky gravel on a hill just north of Stewartsville.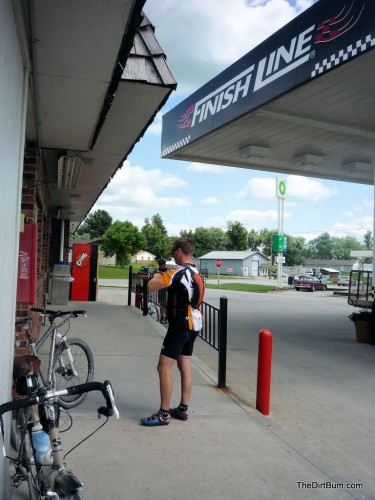 The c-store in Stewartsville. It was called the "Finish Line", but we had another 40+ miles to go after this.
Thanks for Joe Fox and family for organizing this great event, and thanks to Mark and Randy and Micah for riding along with me.