I was in the mood for a nice long ride today. I could have joined some friends on the Octoginta ride, but I did that ride last year. I would have enjoyed the company, but I didn't feel like getting up early and spending $25 to ride a route I already knew.
I got a late start, not getting away until about 12:30pm. With a strong and gusty wind from the southwest, I had mapped out a 74-mile route heading southwest towards Rantoul. The first and last part of the ride would be on familiar roads, but I was hoping to see some new sites along the way.
In the end, I rode 68.75 miles, and about 30 of it was on roads I'd never ridden before, so that's a pretty good percentage.
Heading into the wind, I wasn't out to set any speed records, so I made it a point to take it easy. Rather than fighting the wind, I acquiesced, just keeping moving, but not pushing it at all. It was a comfortable and relaxing way to ride, with no stress about keeping up to some arbitrary speed goal.
Midway through the ride, just before I turned north and caught the tailwind, I had about a 10.9 MPH average. Yeah, turtle slow. But that was fine by me.
Once I did get the tailwind, though, my speed picked up without much additional effort, and I ended the ride with a 12.34 MPH average. Still very slow, but so what?
The route had some flat sections and some hilly sections. Google Maps let me down once again. Part of the route near Rantoul showed a road, but when I got there, the road didn't look like much, and there was a steel cable stretched across the road with a "No Trespassing" Sign.
The map also mislead me with regards to a place called "Mears Park" in Franklin County. Google Maps (and Yahoo Maps as well) shows it as a substantial park, covering about an eight of a square mile. When I got there all I found was an overgrown field, a few rotting light poles, and "Private Property – Keep Out" signs. It looks like there might have been something there at one time, but nothing any time recently.
The clouds moved in towards sundown, robbing me of the chance for some good dusk shots, and by the time I reached home, it was nearly dark, and I ran with lights for the last half hour or so, just to play it safe.
The following are a few photos from the ride: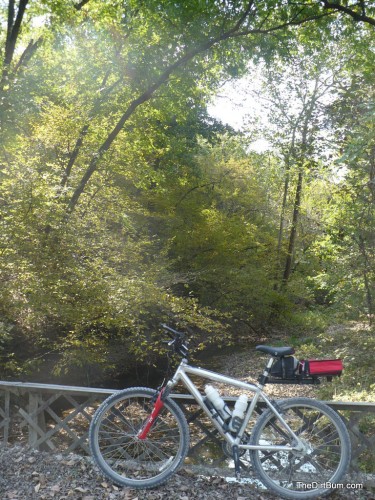 Taking a break on a secluded bridge near Hillsdale Lake.
At Hillsdale Lake – Yes, the wind was blowing pretty good.
I was sorely tempted, but I stuck to the plan…
A good crop of hay from this field…
Kansas does indeed have some nice vistas!
Whee! Curves ahead (and a downhill)!
A tough little hill in Franklin County.
Mmmm, soybeans (they really are quite tasty).