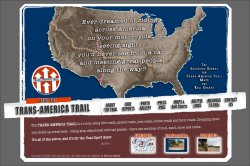 I came across another offroad motorcycle touring web site of interest, this one dedicated the Trans-America Trail, a (nearly) coast-to-coast, off-pavement route using dirt roads, gravel roads, jeep roads, forest roads and farm roads. Dropping down into dried-up creek beds. Riding atop abandoned railroad grades.
Note that this is a far different route than Adventure Cycling's TransAmerica Trail, which is routed on paved roads from Yorktown, Virginia to Astoria, Oregon.
This route starts in Northeastern Tennessee and ends at the Pacific Ocean in southwestern Oregon, and features about 4,800 miles of mostly off-pavement riding.
Sounds cool, but there are a few caveats.
First, the routes are set up for motorcycle travel, with distances and resupply points far different than what would be feasible for bicycles. They estimate an average of 200 miles a day. On much of the route, a bicycle would probably be doing good to average 50 miles a day. Not an insurmountable problem, but you'd need to be able to carry many days worth of food and water over some very rough terrain.
Secondly, the maps aren't free (neither are Adventure Cycling's, for that matter). They're not too expensive, though — $290.00 for all the maps, or you can purchase individual state maps for a lower price. The maps are provided as both folded maps and as roll charts.
Thirdly, the route doesn't go through Kansas — a huge oversight! However, it does cover 472 miles in Arkansas, 750 miles in Oklahoma, and 775 miles in Colorado, as well as other states. Obviously, with those mileages, you can see that they're not taking the most direct route through each state…
Still, this looks to be an outstanding resource for offroad touring, and definitely something to consider if you'd like to venture off into the wild on two wheels.
Also, to get a feel for the route, check out some of the YouTube videos related to the trail…