With the weather forecast calling for rain the next two days, I headed out for a gravel ride, heading due west to Douglas State Fishing Lake, north a bit, then back pretty much straight east.
It was an rather warm and humid day, but overcast with a wind form the east at 10 MPH or so.
The first mile or so was easy, then I hit some freshly-plowed gravel. It was big, chunky stuff the full width of the road, which made the going slow and painful:
This crud lasted for three miles, then I got a break for a few miles, then I hit another four-mile stretch of this. Must be the season for fixing up gravel roads for winter traffic (while making them rather torturous for bicycles).
My next stop was Douglas State Fishing Lake (which ironically, is currently closed for fishing). It's a nice little lake, but there was no one around except for me.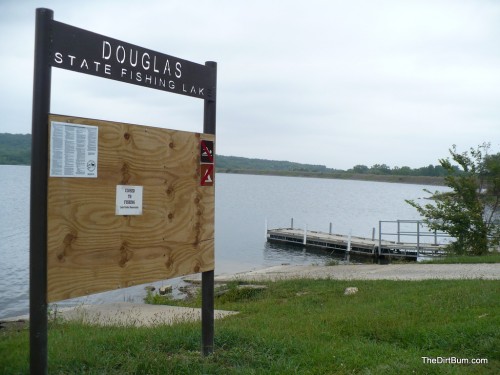 As I crossed the dam, I noticed that the wind had picked up, and I began to feel an occasional droplet of rain.
Wind-blown grass on the dam at Douglas State Fishing Lake.
As I turned north and began the homeward trek, I came across this scene:
Those are what, elk? It's kind of sad to see such beautiful creatures fenced in and farmed like cattle.
The remainder of the route back home was uneventful. At some point it began to rain a bit harder, and I stopped to pack away my phone and camera in a plastic bag, and to switch on my blinky light.
By the time I reached home, the ride had really turned into a slog. It wasn't that great of a distance — a little over 42 miles — and the pace wasn't that hot — 13.3 MPH. There were a few hills, and I was fighting the wind on the way back, but what I think did it was the rough gravel on the outbound leg. That beat me up pretty bad, I guess.
At least it never really let loose with the rain. I was damp, but not soaked.
I was, however, really tired by the time I pulled into the garage, and I was not feeling a lot of love from the new Pure V saddle, either. Even with my best shorts, it still felt too firm to me.
I think with a century coming up this weekend, I'll switch back to the Speed V, and switch back to sandals as well (I'm feeling a bit of knee pain). I'm still dialing in the new shoes and cleats…